1 Killed, 6 Injured After Nearly 50 Shots Fired At Apartment Complex In Spring Garden
PHILADELPHIA (CBS) - Six people were injured and one was killed in an overnight shooting in Philadelphia's Spring Garden section. The shooting started just before midnight Tuesday in the courtyard of the Spring Garden Homes on the 600 block of Perth Place.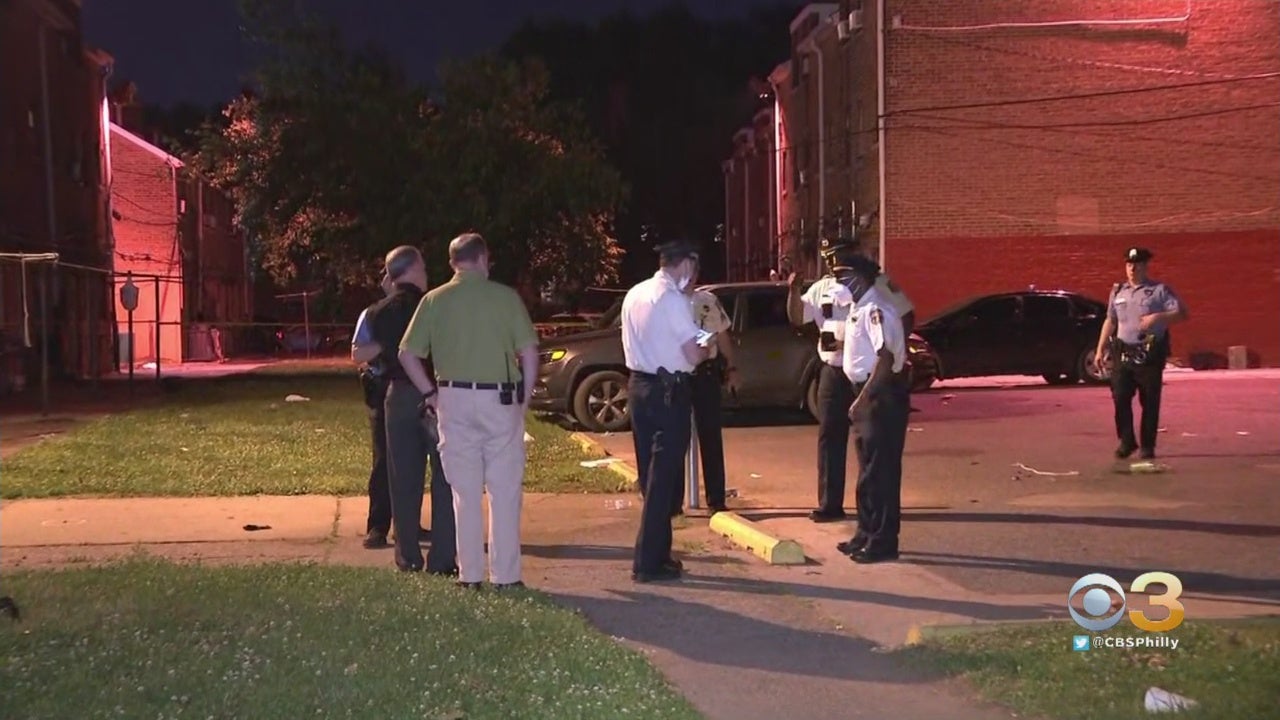 Police say roughly 50 shots were fired in the area.
"You got woken up out of your sleep with a barrage of bullets, and it sounded like it was right under my window sill," a neighbor said. "That's when I fell and hit the floor because I was scared it might come through the window."
Download The New And Improved CBS Philly App!
Neighbors living at the Spring Garden Homes were left shaken after a hail of bullets pierced everything from cars to home windows.
One bullet ended up in Alex Gonzalez's kitchen, as his disabled mother slept nearby.
"It sounded like it was a gun battle back here," Gonzalez said. "The bullet came in, we heard it. It shattered the window. Hit the wall. It's been a crazy morning."
At first, police believed there were six victims. Those victims showed up in private vehicles to Temple and Jefferson hospitals.
Police say one of those victims is a 57-year-old man and the rest are in their 20s, including one woman.
"When I looked out of my window, I saw a girl fall. Then I saw her get up limping. They put her in a car a rushed her to the hospital," a neighbor, who did not want to be identified, said.
Police say two of the victims were critically injured, including a 22-year-old man and a 24-year-old man who was shot 10 times.
As the investigation progressed, around 2 a.m., a seventh victim was found lying in a courtyard nearby on the 600 block of 8th Street. He was shot in the face and pronounced dead a short time later.
A stack of cash was also found at the scene.
"We know over 45 shots were fired from a semi-automatic weapon. We found multiple projectiles. We found four vehicles struck by gunfire. One vehicle still had its engine running and multiple strike marks. The shell casings, the strike marks, the vehicles, are all in the courtyard of the Spring Garden Homes," Philadelphia Police Chief Insp. Scott Small said. "We also found a large amount of cash in the courtyard."
Eyewitnesses News also spotted shell casings near 8th and Wallace Streets. But police say those were from a shooting that happened less than a week ago.
Neighbors have had enough.
"It's just sad. That's all I can say. I guess we need to pray more," a neighbor said.
At this time there is no motive for the shooting and no description of a suspect or suspects. Homicide detectives will be looking for surveillance video in the area, as well as eyewitnesses.
For a list of gun violence resources in Philadelphia, click here.
Thanks for reading CBS NEWS.
Create your free account or log in
for more features.