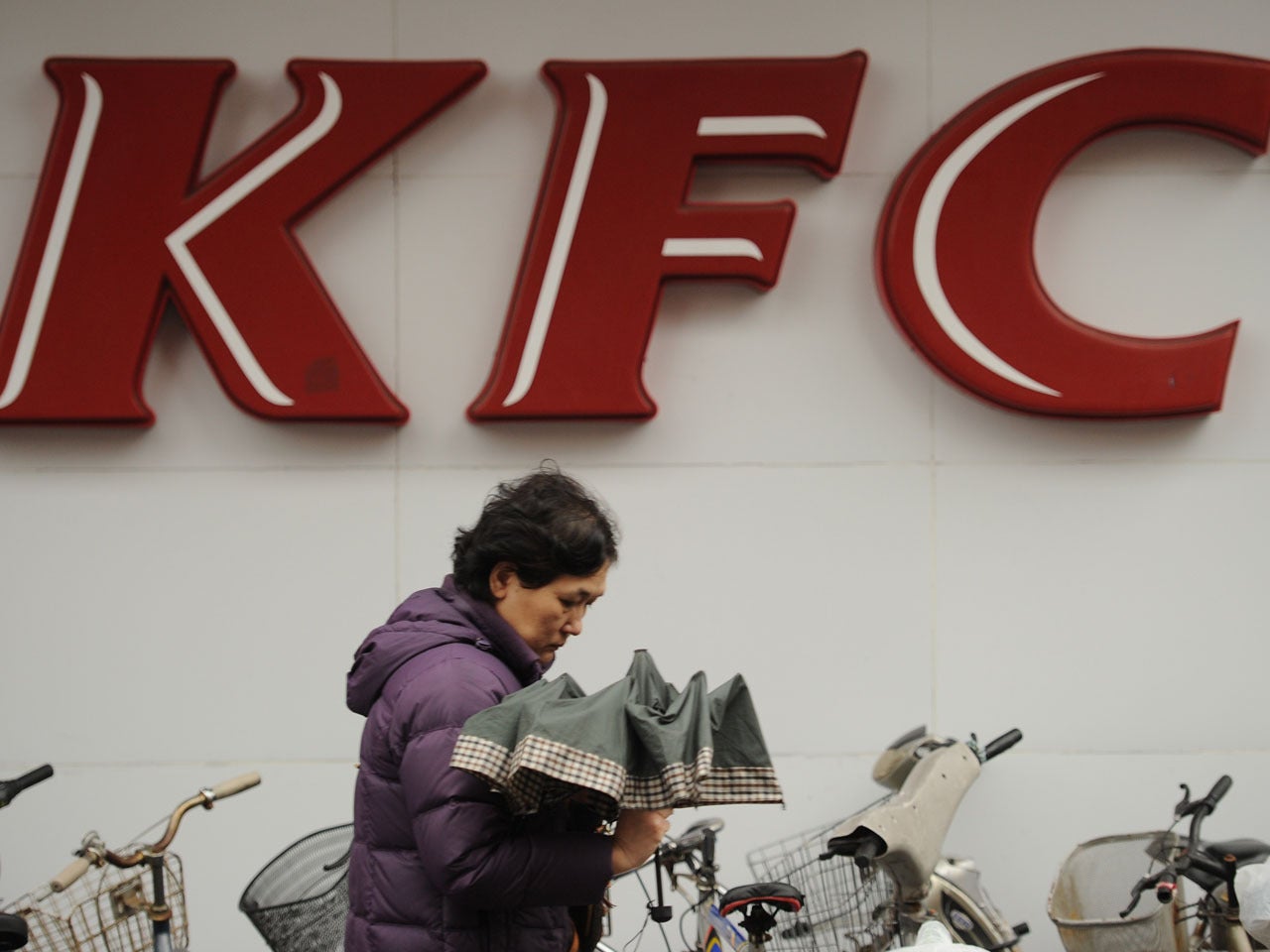 Yum! Brands' profit falls in second quarter
NEW YORK KFC's parent company Yum! Brands Inc. (YUM) says its profit fell in the latest quarter but that sales trends were recovering in its critical China division, which is working to recover from an Avian flu scare.
The company, which also owns Pizza Hut and Taco Bell, said sales restaurants open at least a year were down 10 percent in China for June, an improvement from the 19 percent drop in May.
In addition to the bird flu scare, Yum! is still trying to shake off the lingering effects of a controversy over its chicken suppliers late last year. The supplier controversy sprang up after Chinese TV report revealed in December that some suppliers were giving chickens unapproved levels of antibiotics.
"The news has dissipated regarding Avian flu and any of the residual effects of the antibiotic situation," said Jonathan Blum, a Yum! spokesman.
As such, he said the company is no longer actively running any marketing campaigns addressing either issue.
China is an important region for Yum!, which has benefited greatly from the country's rapid economic growth in recent years. The company has more than 5,900 locations in China, most of them KFC locations, making it the biggest Western fast-food operator on the ground. Although it has more than 37,000 locations globally, its China division has a disproportionate impact on profits because the company owns most its restaurants there, whereas it primarily franchises locations in the rest of the world.
Back at home in the U.S., sales at restaurants open at least a year rose 2 percent at Taco Bell, which has benefited enormously from the launch of Doritos-flavored tacos. The chain is trying to capitalize on the success of the tacos and recently rolled out a Cool Ranch variety, with another flavor expected soon.
The sales figure, which is an important indicator because it strips out the impact of newly opened and closed locations, rose 3 percent at KFC, which recently introduced new boneless chicken pieces.
At Pizza Hut, the sales figure fell 2 percent despite introductions such as the pie made with a crust of cheese-filled dough pockets. Pizza Hut is struggling at a time when other pizza chains such as Dominos and Papa John's are aggressively dangling deals.
"Frankly, our competitors have done a better job with providing compelling value," Blum said. He said the chain will be more "consistent" with its value message going forward.
The company, which is based in Louisville, Ky., says it earned $281 million, or 61 cents per share, for its second fiscal quarter. That's compared with $331 million, or 69 cents per share, a year ago.
Excluding one-time items, it earned 56 cents per share, which was above the 54 cents Wall Street expected.
Total revenue fell to $2.9 billion and fell short of the $2.93 billion analysts had forecast, according to FactSet.
Yum! stood by its guidance for the year, with earnings per share expected to fall in the mid-single digits. Its stock edged up almost 1 percent, to $72.85, in after-hours trading.
Thanks for reading CBS NEWS.
Create your free account or log in
for more features.