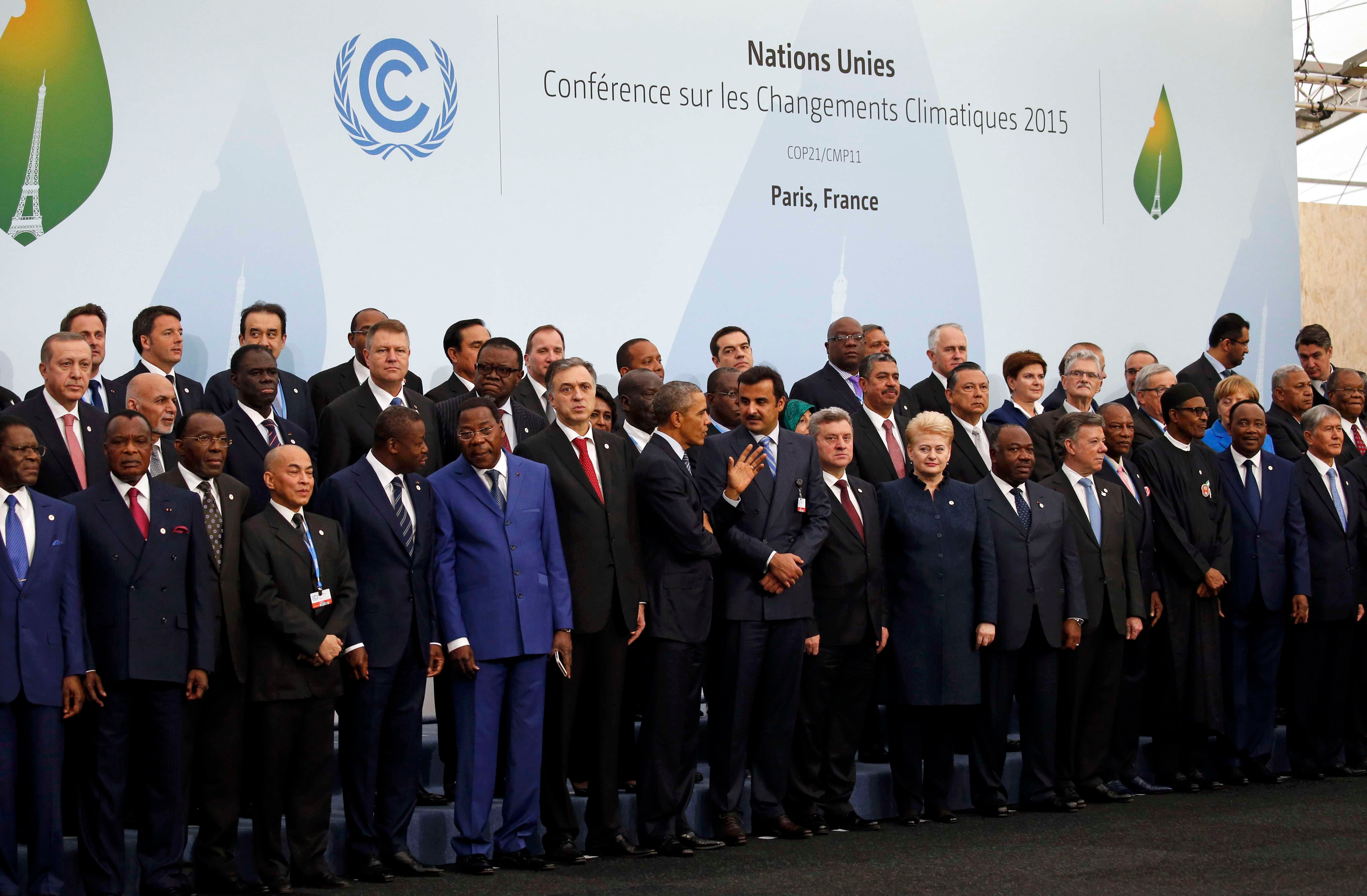 World leaders kick off Paris climate summit
LE BOURGET, France -- Addressing the twin threats of global warming and extremist violence, the largest group of world leaders ever to stand together kicked off two weeks of high-stakes climate talks outside Paris on Monday, saying that by striking an ambitious deal to cut emissions they can show terrorists what countries can achieve when they are united.
The meeting -- which includes more than 150 heads of state and representatives of 195 governments -- comes just two weeks after militants linked to the Islamic State of Iraq and Syria (ISIS) killed 130 people around Paris. Fears of more attacks have prompted extra-high security and a crackdown on environmental protests - and threaten to eclipse longer-term concerns about rising seas and increasingly extreme weather linked to man-made global warming.
"The challenge of an international meeting has never been so great because it's the future of the planet, the future of life," French President Francois Hollande said after a moment of silence for attack victims in France, Lebanon, Iraq, Tunisia and Mali.
"There are two big global challenges that we must face," he added, urging leaders to create a world free from both environmental destruction and extremist violence.
President Obama was among the many leaders to pay respects to the victims of the attacks on his way to the conference, visited the Bataclan concert hall after he arrived in Paris Sunday evening and placed a single flower at the makeshift memorial to mark where dozens were killed.
"We stand with Paris," said U.N. climate change agency chief Christina Figueres said at talks near Le Bourget airfield, just north of the city. "The city of light, now more than ever, is a beacon of hope for the world."
On Sunday, hundreds of thousands of people rallied around the world, calling on the leaders to make real progress at the talks. Violence erupted after one peaceful demonstration in Paris, and hundreds of people were arrested. U.N. Secretary-General Ban Ki-moon took note of the protests in his opening remarks.
"The future of the people of the world, the future of our planet, is in your hands," Ban told negotiators. "We cannot afford indecision, half measures or merely gradual approaches. Our goal must be a transformation."
Nations are working toward a global, legally binding agreement that will lower greenhouse gas emissions in order to keep global warming below 2 degrees Celsius (35.6 degrees Farenheit) - the critical number identified by scientists. Once global warming climbs beyond that threshold, they say, the earth's land, food and water supply would be harmed, endangering the planet's population.
The 2014 Intergovernmental Panel on Climate Change (IPCC) said the planet has already warmed by 0.85 degrees Celsius from 1880 to 2012 and could increase by another 1.5 to 4 degrees by the end of the century, compared to 1850. Ban, Hollande and other leaders called for a binding agreement and emphasized the role of private industry and money in solving what Hollande called "the climate crisis" and said the world must try to limit warming to an additional half a degree if possible half that to spare island nations threatened by rising seas.
Ahead of the conference, 181 nations announced pledges to combat man-made carbon dioxide pollution. Although those pledges will not be legally binding, negotiators hope to make some provisions of an agreement enforceable.
"We just have 11 short days before us," French Foreign Minister Laurent Fabius said as he took over as president of the negotiations. "Success is not yet assured, but it is within our grasp... The eyes of the world are upon us and there are great hopes."
Added the outgoing president, Peruvian Environment Minister Manuel Pulgar-Vidal: "We can show to the world that we can work together against climate change and against global terrorism."
At the opening session, Mr. Obama said that the assembled countries seek "not simply an agreement to roll back the pollution we put into our skies, but an agreement that helps us lift people from poverty without condemning the next generation to a planet that's beyond its capacity to repair."
"Here, in Paris, we can show the world what is possible when we come together, united in common effort and by a common purpose," he said.
Wide Paris-area highways usually packed with commuters were cordoned off to clear the way for all the VIPs. Riot police vans and plainclothes officers were stationed around the capital and by the national stadium, one of the targets of the Nov. 13 attacks that is near the climate conference venue.
The conference is aimed at the most far-reaching deal ever to tackle global warming. The current climate agreement, the 1997 Kyoto Protocol, came under scrutiny because it never required China and other developing nations to make cuts. As a result, the U.S. did not sign onto the agreement, and it covers only about 14 percent of global emissions. Another meeting in Copenhagen in 2009 failed to produce a meaningful agreement
Among several sticking points is money - how much rich countries should invest to help poor countries cope with climate change, how much should be invested in renewable energy, and how much traditional oil and gas producers stand to lose if countries agree to forever reduce emissions.
With that in mind, at least 19 governments and 28 leading world investors were announcing billions of dollars in investments to research and develop clean energy technology, with the goal of making it cheaper.
Backers include Obama, Microsoft co-founder Bill Gates, Facebook founder Mark Zuckerberg, billionaires George Soros and Saudi Prince Alaweed bin Talal, and Jack Ma of China's Alibaba.
Under the initiative, 19 countries pledge to double their spending on low- or no-carbon energy over the next five years. They currently spend about $10 billion a year, about half of that from the U.S., Brian Deese, senior adviser to Mr. Obama on climate and energy issues, told reporters in Washington.
Gates, the "intellectual architect" of the effort, committed $1 billion of his own money, U.S. Energy Secretary Ernest Moniz said.
"We'll work to mobilize support to help the most vulnerable countries expand clean energy and adapt to the effects of climate change we can no longer avoid," the president wrote on his Facebook page.
On Monday, the United States announced it would contribute $51.175 million to help the least developed countries fight climate change and its effects in 2015 and 2016, part of a $248 million pledge announced by the U.S., Canada and nine European countries.
"I've come here personally, as the leader of the world's largest economy and the second-largest emitter, to say that the United States of America not only recognizes our role in creating this problem, we embrace our responsibility to do something about it," Mr. Obama said Monday at the opening session of the conference.
The money will be made available to a fund for the least developed countries hosted by the Global Environment Facility, a major funder of environment projects worldwide. Other countries that contributed include Denmark, Finland, France, Ireland, Italy, Sweden and Switzerland.
Thanks for reading CBS NEWS.
Create your free account or log in
for more features.