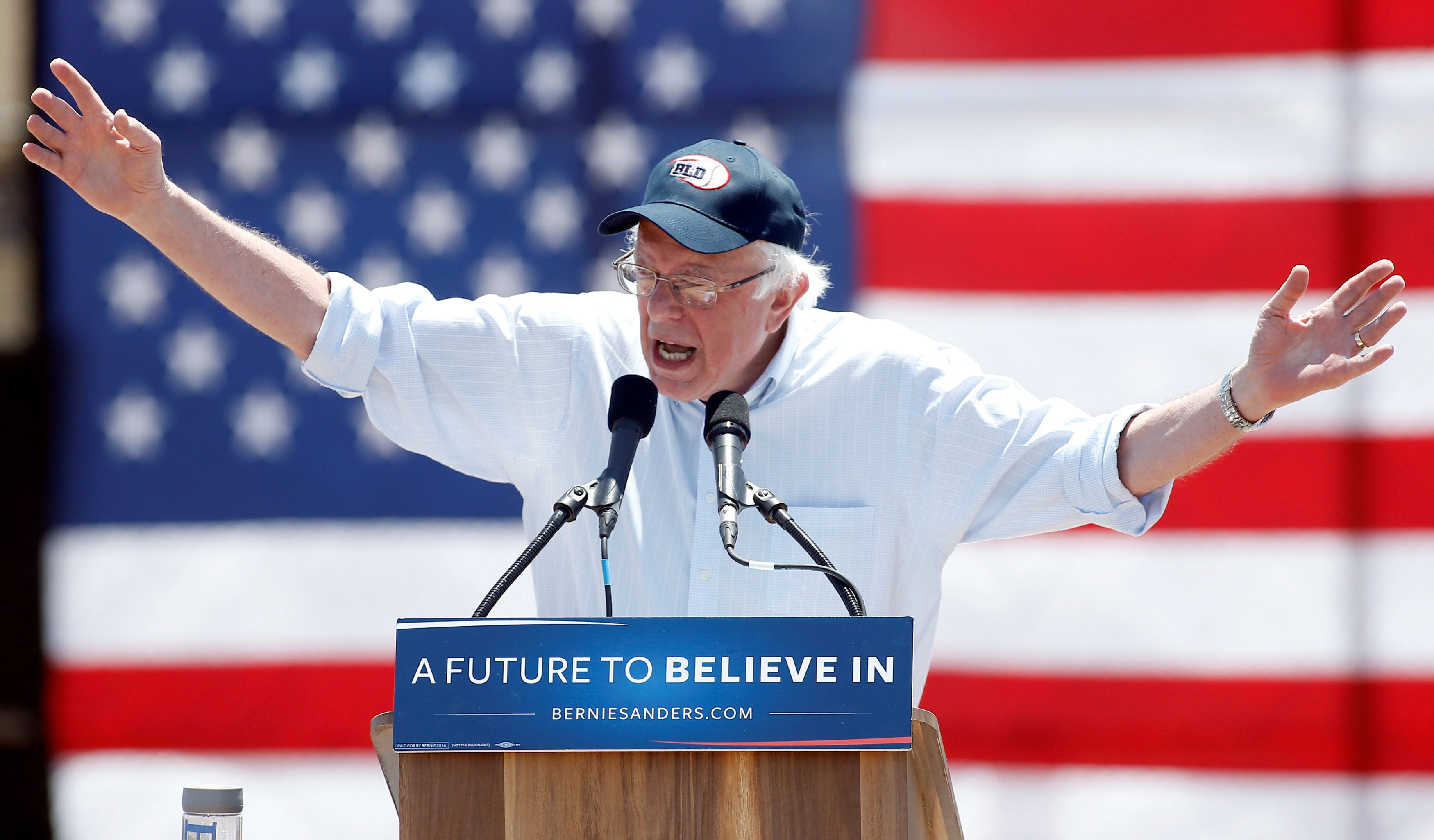 Will Democratic unity be threatened by Bernie Sanders' platform committee picks?
At least two people Bernie Sanders appointed to the Democratic Party's Platform Drafting Committee are critics of Israel, and their positions could be an obstacle to the party unifying at its July convention.
The Vermont senator, who's Jewish and who lived on an Israeli Kibbutz in the 1960s, appointed James Zogby, the president of the Arab American Institute, and Cornel West, who teaches philosophy at Union Theological Seminary. Both of them have advocated the rights of Palestinians and have condemned Israel's actions in the past.
"Justice for Palestinians cannot be attained without the lifting of the occupation," West told The New York Times in an interview in which he added that Israeli Prime Minister Benjamin Netanyahu has committed "war crimes" and that "the role of money and lobbies makes it difficult for there to be a candid dialogue" on Israel.
"Any honest assessment would say that the debate on this issue has shifted over the last 30 years and the platform has reflected that but lagged slightly behind, and it's now time to catch up," Zogby also told the Times in an interview. "Clearly most Democrats agree. But we will see what happens."
West and Zogby are among five people Sanders appointed to the 15-person committee. Hillary Clinton appointed six people and Democratic National Committee Chairwoman Debbie Wasserman Schultz.
While Sanders has described himself as "100 percent pro-Israel," he has also criticized the Israeli government's decision to attack Gaza in the summer of 2014 even though Hamas was launching rockets at Israel from Gaza. He said that position doesn't make him "anti-Israel."
"Of course Israel has a right not only to defend themselves, but to live in peace and security without fear of terrorist attack. That is not a debate," Sanders said at the New York debate with Clinton ahead of the state's primary in April. "Now, if you're asking not just me, but countries all over the world, was that a disproportionate attack, the answer is that I believe it was," he added, referring to the 2014 conflict.
Clinton was asked if Israel committed a disproportionate attack two years ago, but she evaded the question and instead touted her role as secretary of State in negotiating a ceasefire between Israel and Hamas in 2012.
She also said that "you have a right to defend yourself" when you are under constant threat of a terrorist attack or rockets raining down on your country.
Even if West and Zogby move to change the party's platform on the Israeli-Palestinian issue, it's unclear whether they'd have much influence since the appointees from Clinton and Wasserman Schultz would outnumber Sanders' appointees and Wasserman Schultz is staunchly pro-Israel.
A request for comment from a convention official was not immediately returned.
The Times noted that at the 2012 Democratic convention, delegates booed officials who reinstated the party platform that recognizes Jerusalem as the capital of Israel--a position that even the U.S. government doesn't hold because it believes its status must be negotiated between the Israelis and Palestinians.
Thanks for reading CBS NEWS.
Create your free account or log in
for more features.