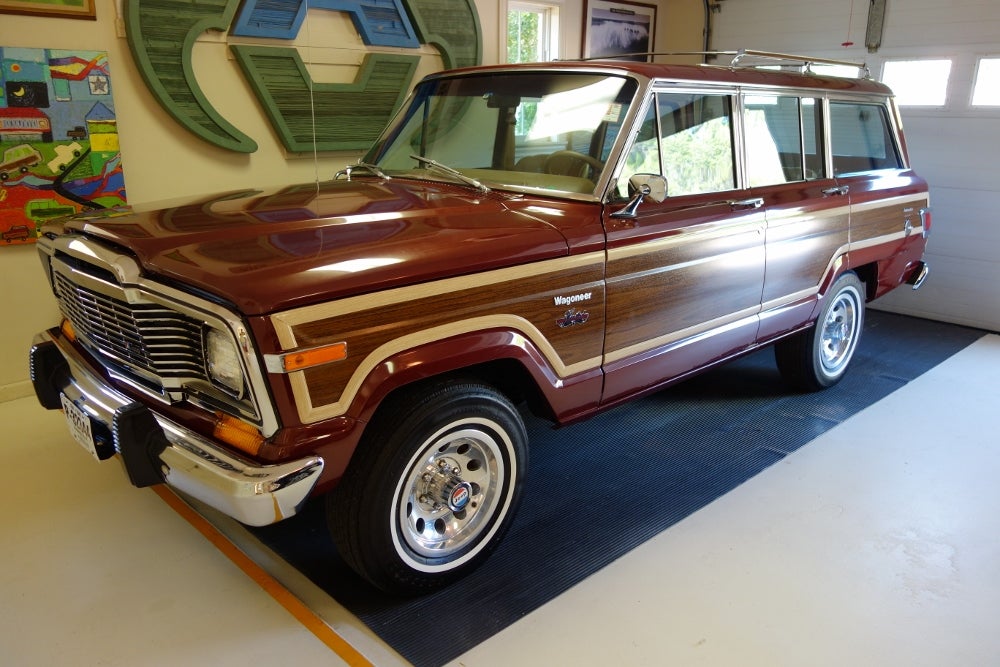 Will Chrysler's revived Wagoneer be a new Woody?
Fiat Chrysler (FCAU) is bringing back the Jeep Grand Wagoneer, one of the first luxury SUVs, in 2018 after a two-decade absence. And that's leading to speculation that the automaker will also resurrect the vehicle's iconic (though fake) wood panel design known as a "woodie," or in the Wagoneer's case, "the Woody."
The automaker isn't commenting on a possible return of the Woody, but that hasn't stopped media speculation from reaching a fever pitch. Ad Week, for instance, noted that fans of the vehicle are "freaking out about its possible return." Automotive News has discussed it as has Car and Driver. A column on Bloomberg recently urged people to buy Jeep Grand Wagoneers made between 1984 and 1991 ahead of the expected rollout of the new iteration.
"They weren't without their flaws," said Chip Miller, who runs Wagonmaster, a Texas business in Kerrville, Texas, that restores and sells the vehicles, in an interview with CBS MoneyWatch. "They are a vehicle some people love and some people love to hate."
Kaiser Jeep first introduced the Wagoneer in 1963, with faux-wood trim a few years later. The vehicles soon became part of popular culture, thanks to the iconic 80s' TV show "Magnum PI." Nostalgia for the Woody seems to be strong among people who grew up with them.
Data from classic vehicle insurance expert Hagerty cited by Bloomberg shows that average prices for the vehicles have surged more than 35 percent in the last five years. Some higher-end examples fetch prices of about $70,000. Dealers don't expect the newer Grand Wagoneers to depress the demand for the classic ones and note fans are awaiting their return.
"They have got a beautiful, timeless look," Jeff Kobs, who owns a Richardson, Texas, dealership that restores Grand Wagoneers, told CBS MoneyWatch, adding that many buyers have "memories associated" with Woodys. "They feel like there's cookie-cutter vehicles on the road today, and they want something that's a little bit different, something that's unique."
Fiat Chrysler has brought back legacy brands in recent years such as the Barracuda, Charger and Dart along with the Hemi engines, which makes car experts think that the automaker will do the same with the Woody. Resurrecting the brand also makes sense given Jeep's current market position. According to the automaker, Jeep sales surged 18 percent in August, the most of any of the company's brands.
"This is a no-brainer for Jeep because they are on fire with their sales," said Eric Lyman, an analyst with TrueCar, in an interview with CBS MoneyWatch. But lacking an SUV with three-row seating is "a gaping hole in their lineup."
Most people don't use that third row but like to have it available for times when they do need it and are willing to pay for it. Fiat Chrysler has said the new Wagoneer will compete with upper-end SUVs such as Range Rover.
One of the many questions about the potential return of the Woody is whether the panels would actually be made of wood this time.
"Stranger things have happened in the automotive industry," Lyman said. "If this vehicle were to launch today ... (and) they had a low-volume, special edition, very pricey kind of top-line model that's real wood and was a throwback to the vehicles that were out 30, 35 years ago, it would do really well."
Indeed, the power of nostalgia may prove to be too strong for Fiat Chrysler to ignore.
Thanks for reading CBS NEWS.
Create your free account or log in
for more features.