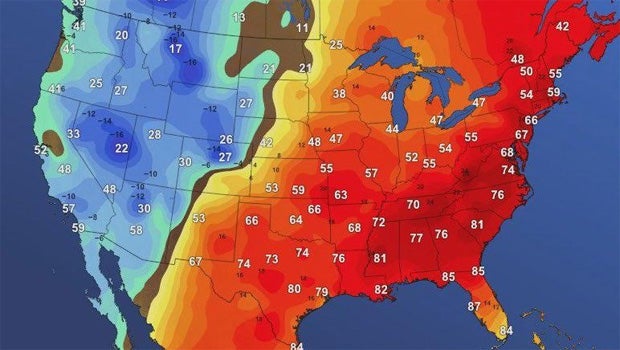 ​Wild December weather, thanks to El Niño
Tornadoes ripping through Texas yesterday. Earlier in the week, there were some 18 deaths from twisters and flooding in the Southeast; and of course, there were record highs in the East. What's going on with all this MOSTLY STRANGE weather? Our Cover Story is reported by Mark Strassmann:
Last Christmas, Buffalo, N.Y., looked like the North Pole. This year? Santa wore shorts. A few flakes finally fell last week -- smashing a 116-year record for the longest streak with no snow.
In cities up and down the East Coast, Christmas Eve was the warmest ever. It felt like summer in the Big Apple, with temperatures in the 70s.
"Oh, this is awesome," said one boy. "Being able to see 70 degree weather in New York City on Christmas Eve, is something really cool to experience."
"Where's the nearest beach?" one guy said.
This month's wacky warm weather has broken more than a thousand records from coast to coast.
"This December has been exceptional for a lot of areas of the country," said Eric Fisher, chief meteorologist for CBS Station WBZ in Boston. "You look into the Northwest where the rain and snow has been nonstop. You look into the Northeast, Mid-Atlantic, upper Midwest -- winter completely on pause, and temperatures that are so far above average they'll be smashing records before we're done.
"To me, this is the most staggering thing: In the Boston area we're going to see the coldest winter month ever recorded and the warmest winter month ever recorded in the same year in 144 years of records."
The nation's weather map essentially is divided in half: In many Eastern cities, temperatures are as high as 30 degrees above normal.
Out West, it's colder and wetter than it's been in years. Two weeks ago, dangerous floods in Oregon swallowed homes and prompted terrifying rescue missions.
So what's up? Scientists say what's behind this weather madness, in part, is a phenomenon that goes back millennia: El Niño. It's a year-long warming that takes place along the equator in the eastern half of the tropical Pacific, related to changes in the trade winds.
Nate Mantua, a climatologist with the National Oceanic and Atmospheric Administration in Santa Cruz, California, has been studying the effects of El Niño for 30 years. Every four to seven years, he says, those Pacific trade winds weaken. "And when that happens, there's a massive shift in rainfall patterns in the tropics. So wet places end up being really dry, and normally dry places end up getting lots of rainfall."
Mantua says the current El Niño is among the three strongest since 1950, at least. "So it's among the strongest in the historical record."
So strong that the effects of this El Niño can be seen on every weather forecaster's radar the world over.
Louis Uccellini, director of the National Weather Service, says El Niño causes the temperature of the Pacific Ocean to increase up to ten degrees -- and triggers a ripple effect across the globe.
"Wetter than normal [in the West]," he said, "and as we see the El Niño pattern evolve, we should see a more active storm track along the South, so wetter and warmer [there]."
And as if right on cue, over the last five days, killer tornadoes swept across the South, killing more than 20 people from Texas to Tennessee.
Strassmann asked, "So what, to you, is worrisome about all this?"
"There are parts of the globe that are impacted by El Niño that do suffer form those impacts," Uccellini replied. "Increased drying in Brazil and Indonesia with possibility of forest fires. Increased precipitation over Africa, central Africa and east Africa, which lends itself to the the increased likelihood of disease outbreaks like malaria and dengue fever."
But can these alarming weather events also be blamed on climate change? Scientists say, not so fast.
"Maybe climate change adds a couple more warm days, or makes the warmest temperatures a little bit warmer," said Eric Fisher. "I don't think that you can just say that because it's a warming world, we're seeing a record warm December. You might be enhancing the normal pattern that would have happened anyway by a little bit."
In California, oceans that were already warming are getting even hotter. And that has created a crisis for creatures who live in it.
Shawn Johnson directs the Marine Mammal Center in Sausalito. He says that in the past two years, 90 percent of California's sea lion and fur seal pups have died. When critically-ill animals wash up on beaches, the staff tries to nurse them back to health.
"2015 has been one for the record books," said Johnson. "Typically we rescue 600-800 animals. We're almost to 1,800.
"Because the water is so warm, it's pushed all the feeder fish -- the foraging fish for their mothers -- farther out to sea, deeper in the water column, or farther north. What it's come down to is, all the animals have a lack of food. There's not enough food right in this area for them right now."
Relief will come eventually, because historically, El Niño is followed by La Niña, characterized by cooler ocean temperatures.
But at least for the next few months, the world will continue to feel El Niño's effects -- both on land and in the ocean.

For more info:
Thanks for reading CBS NEWS.
Create your free account or log in
for more features.