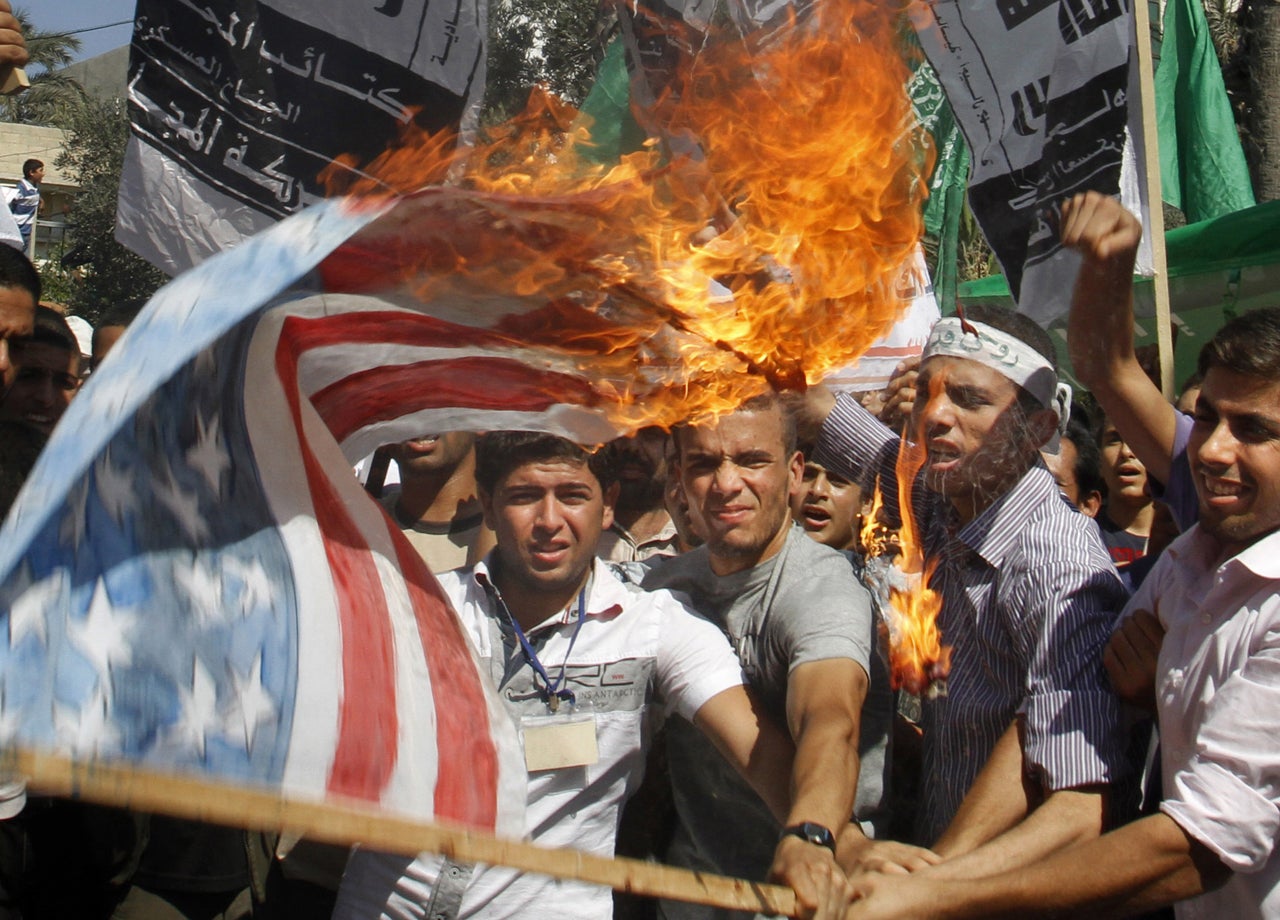 Widespread protests against U.S. over anti-Muslim film
Last Updated 5:22 p.m. ET
(CBS/AP) Angry demonstrations against an anti-Islamic film shot in the United States spread to their widest extent yet around the Middle East and other Muslim countries Friday, as protesters smashed into the German Embassy in the Sudanese capital, stormed the U.S. Embassy compound in Tunisia's capital, and set fire to a nearby American school.
Security forces in Egypt and Yemen also fired tear gas and clashed with protesters to keep them away from U.S. Embassies. Other smaller protests erupted all over the Middle East, from Gaza City to Pakistan, after weekly Friday Muslim prayers. At least 4 people throughout the region were killed in the chaos.
Two protesters died and at least 29 were injured in clashes with police at the embassy in Tunisia, according to the country's official news agency. Another protester was killed in the northern Lebanese city of Tripoli after a crowd set fire to a KFC and Arby's restaurant. At least 25 were wounded in Tripoli, 18 of them police.
Dozens storm, breach wall of U.S. Embassy in Tunisia
And a 20-year-old Egyptian protester died from wounds sustained by rubber bullets during clashes in Cairo, a morgue official said.
Media reports say as many as four people were killed during clashes in Sudan's capital, Khartoum, but these reports have not been confirmed.
The U.S. sent three separate 50-man Marine anti-terrorist teams to Libya and Yemen to quell the violence, reports CBS national security correspondent David Martin. CBS News also confirmed that Marines were sent to Sudan. Another team in Rota, Spain were on six-hour alert of needed.
Friday's wave of protests comes after attacks earlier this week on U.S. Embassies in Cairo and the Yemeni capital Sanaa and on a U.S. consulate in Libya, where the ambassador, two former Navy SEALs and an Air Force veteran were killed.
Official: Libyan insiders may have aided assault
A low-budget, recently released online film that mocks the Muslim prophet Muhammed is at the center of the protests. National security experts note, however, that most of countries experiencing violence - Egypt, Tunisia, Libya and Yemen - all rid themselves of decades-long dictatorships in what became known as the Arab Spring last year, pointing to shaky security and unrest that has all but disappeared from the region.
Anger over blasphemous film
The movie, called "Innocence of Muslims," ridicules the Prophet Muhammad, portraying him as a fraud, a womanizer and a child molester.
The Muslim Brotherhood had called for more demonstrations today in Cairo, as did authorities in Iran and the Gaza strip. Large protests were expected in Baghdad and Iraq's second-largest city, Basra, as well as Amman, Jordan. Israel was stepping up security in anticipation of demonstrations after Muslim prayers.
However, a statement on the Muslim Brotherhood's Twitter account said that it has called off the large protests Friday and will instead stage a "symbolic" demonstration against the movie in Tahrir Square.
Police in Cairo have nonetheless prepared, reports correspondent Holly Williams from Cairo. They erected a 10-foot high concrete barrier, blocking the way to the U.S. Embassy. But crowds of young men have clashed with Egyptian police near the embassy for more than 48 hours.
The Egyptian Government knows that these protests are damaging, and they've come at a time when they're trying to rebuild the country after the Arab Spring, and attract foreign investment. However, the government draws its support from conservative Muslims - President Morsi himself belongs to the Muslim Brotherhood - and many of them are still furious about the film made in America that sparked these protests.
And so, said Williams, authorities can't afford to crack down on them too hard.
On Friday Morsi released a statement saying it's up to Muslims - as part of their Islamic duty - to protect embassies and foreign diplomats who are guests in the country. "I call on all to consider this, consider the law, and not attack embassies, consulates, diplomatic missions or Egyptian property that is private or public, " he said.
He denounced the killing of the American ambassador in Libya. "This is something we reject and Islam rejects. To God, the attack on a person to Allah is bigger an attack on the Kaaba," he said, referring to Islam's holiest site in Mecca.
Still, protests broke out in several cities, fanned by clerics.
Leaders of Egypt's Jihad group (a former militant organization) held a conference in the Egyptian city of Alexandria and said anyone involved in "defamation" of the prophet should be killed. They called on Morsi to cut relations with U.S.
"I appeal to President Mohammed Morsi to cut our relations with those monkeys and pigs," said Rifaei Taha, a leading member of the group.
Additional protests were reported in Nigeria; Jalalabad, Afghanistan; Indonesia; Malaysia; Kashmir, India; Islamabad, Pakistan; Bangladesh; Istanbul, Turkey; Lebanon; Jerusalem, the West Bank and Gaza; Qatar; Kuwait; Bahrain; Jordan; Syria; Iran; and outside the U.S. Embassy in London, where around 120 demonstrators burned American and Israeli flags.
Libya: 4 arrested over coordinated attack against U.S.
4th American killed in Libya attack ID'd
Al Qaeda offshoot a prime suspect in Libya attack
Angry Egypt protests reveal anti-U.S. tensions
African protests
Several dozen protesters briefly stormed the U.S. Embassy compound in Tunisia's capital, throwing stones, setting fire to cars and raising a flag with the Muslim profession of faith written on it.
Outside the embassy, thousands of demonstrators gathered, including stone-throwing protesters who clashed with police, an Associated Press reporter on the scene said. Officers responded with tear gas and gunshots.
The U.S. ambassador to Tunisia retreated to the safe room in the compound.

Protesters also set fire to an American school adjacent to the embassy compound, and firefighters were prevented from approaching by the large crowd. Thick columns of black smoke wafted through the neighborhood. The group that breached the embassy's outer wall was pushed back outside by police and special forces.
Two Navy ships armed with cruise missiles are monitoring the situation off the coast of Libya, CBS News' Martin reports, but for now have not been given any mission other than to hold station and military action is not necessarily imminent.
In Sudan, a prominent sheik on state radio urged protesters to march on the German Embassy to protest alleged anti-Muslim graffiti on mosques in Berlin and then to the U.S. Embassy to protest the film.
"America has long been an enemy to Islam and to Sudan," Sheik Mohammed Jizouly said.
Soon after, several hundred Sudanese stormed into the German Embassy, burning a car parked behind its gates and setting fire to trash cans. Protesters danced and celebrated around the burning barrels as palls of black smoke billowed into the sky.
Police firing tear gas drove the protesters out of the compound. Some then began to demonstrate outside the neighboring British Embassy, shouting slogans, while others left, apparently heading to the American Embassy, which is outside of the capital.
Defense Department officials also confirm reports of an attack on one of the camps of the Multinational Observers & Force in Sinai, CBS News' Martin reports. About 600 American reservists serve there but there were no U.S. casualties, although there are reports of injuries to soldiers of other nations.
Middle East protests
In Iraq thousands of protesters, both Shi'ite and Sunni, marched through the southern port city of Basra on Friday, burning U.S. and Israeli flags.
The demonstration was led by the Supreme Islamic Iraqi Council (SIIC), one of Iraq's largest and most powerful Shi'ite political parties.
Tribal leaders in Basra said they wanted the U.S. missions shut down, while Sheik Abu Kifah al-Bakhatri also called for a boycott of U.S.-made goods.
In east Jerusalem, Israeli police stopped a crowd of around 400 Palestinians from marching on the U.S. consulate to protest the film. Demonstrators threw bottles and stones at police, who responded by firing stun grenades. Four protesters were arrested.
The U.S. sent a rapid response team of Marines to the capital of Yemen, Sanaa, Friday as security forces shot live rounds in the air and fired tear gas at a crowd of around 2,000 protesters trying to march to the U.S. Embassy there. Though outnumbered by protesters, security forces were able to keep the crowd about a block away from the mission.
In Damascus about 200 protesters waved the Syrian flag and shouted anti-American slogans outside the long-closed U.S. Embassy. Banners read: "He who curses the Prophet doesn't seek democracy," and "A nation whose Prophet is Mohammad, would never kneel down."
In Iran, thousands shouted "Death to America" and "Death to Israel" at a demonstration in Tehran. Some burned the American and Israeli flags.
In Bahrain more than 2,000 protesters chanted against the film and burned American and Israeli flags after Friday prayers in a Shiite mosque in Diraz, outside the capital, Manama. Security forces were absent. Separately, Bahrain's Interior Ministry ordered media regulators to attempt to block access to the film clip in the Gulf kingdom.
Al Arabiya is reporting Bedouin gunmen stormed a U.N. peacekeepers camp in the Sinai peninsula, injuring 3 Colombian peacekeepers.
South Asia and Pacific protests
Hundreds of Afghans -- some shouting "Death to America" -- burned the U.S. flag and an effigy of President Barack Obama on Friday during a protest against an anti-Islam film outside the eastern city of Jalalabad.
Mohammad Zhirullah, a protester who spoke to The Associated Press on the phone from the site, said the crowd called on Afghan President Hamid Karzai to sever relations with the United States.
"When the movie was shown around the world, it broke the heart of every Muslim," Zhirullah said. "We condemn this act and those who are behind it should be put on trial and should be hanged to death. ... It cannot be tolerated by the Afghan people."
Hundreds of hardline Muslims held peaceful protests against the film throughout Pakistan, shouting slogans and carrying banners criticizing the U.S. and those involved in the film.

In Jakarta, about 200 Indonesians showed their anger over the anti-Islam film Friday by chanting "death to Jews!" and "death to America!" in a largely peaceful protest outside the heavily guarded U.S. Embassy.
They waved black flags and held signs that read: "America has to be responsible for Islamophobia worldwide" as they marched in the capital of the world's most populous Muslim nation.
About 20 protesters outside the U.S. Embassy in Kuala Lumpur shouted "Allahu akbar!" and handed reporters a letter addressed to the American ambassador in Malaysia that expressed their anger over the movie and called for greater respect for religions.
Indonesia's government has been working to block access to clips of the film online, and a prominent cleric has urged calm. But others are calling for Muslims worldwide to defend the dignity of the Prophet Muhammad.
Hizbut Tahrir Indonesia, a branch of the international network that advocates a worldwide Islamic state and the ones who organized the protest, on its website blamed the U.S. government for allowing the film to be produced and released, calling it "an act of barbarism that cannot go unpunished."
"Why do these people seek problems by disturbing our peace? They knew the risk they were facing by angering people," said Muhammad Al-Khaththath, leader of another hardliner group. "There's only one way to stop our anger: Give the death penalty to the filmmaker and the actors."
Reaction in Washington
The Obama administration was caught by surprise by the ferocity of the attack on Tuesday against the U.S. Consulate in Benghazi, Libya.
White House press secretary Jay Carney told reporters in Colorado, "It is important to note that as these protests are taking place in different countries around the world, responding to the movie, that Friday, tomorrow, has historically been a day when there are protests in the Muslim world. And we are watching very closely for developments that could lead to more protests. We anticipate that they may continue."
The U.S. put all of its diplomatic missions overseas on high alert, and Secretary of State Hillary Rodham Clinton delivered an explicit denunciation of the video as the administration sought to pre-empt further turmoil at its embassies and consulates.
"The United States government had absolutely nothing to do with this video," she said before a meeting with the foreign minister of Morocco at the State Department. "We absolutely reject its content and message.
"To us, to me personally, this video is disgusting and reprehensible," Clinton said. "It appears to have a deeply cynical purpose: to denigrate a great religion and to provoke rage."
Clinton navigates diplomatic storm
U.S. officials said they suspect that the attack at the Benghazi consulate, which had also been the target of an unsuccessful attack in June, may have been only tangentially related to the film.
A radical Islamic group called Ansar al Sharia is the leading suspect in the attack on the U.S. Consulate in Benghazi, reports CBS News correspondent David Martin, citing U.S. officials. The name means "Supporters of Islamic law," and U.S. officials describe it as an offshoot of al Qaeda.
U.S. officials also stressed there had been no advance warning or intelligence to suggest a threat in Libya that would warrant boosting security, even on the 11th anniversary of the terror attacks of Sept. 11, 2001.
"As we did with all of our missions overseas, in advance of the September 11 anniversary and as we do every year, we did evaluate the threat stream and we determined that the security at Benghazi was appropriate for what we knew," State Department spokeswoman Victoria Nuland said.
Intelligence leading up to the attacks will be examined to "see if there was any way of forecasting this violence," as in any violent incident, House Intelligence Committee member Adam Schiff, D-Calif., said in an interview Thursday. But he said the focus now "has to be on finding out who is responsible and bringing them to justice."
The president of the Libyan National Council, Mohamed Magariaf, confirmed to correspondent Charlie D'Agata that four arrests have been made, and said he is confident there will be more. But he added, it is "too early" to identify the group responsible for the attack.
President Obama, speaking a campaign event in Golden, Colo., also vowed that the perpetrators would be punished.
"I want people around the world to hear me," he said. "To all those who would do us harm: No act of terror will go unpunished. I will not dim the light of the values that we proudly present to the rest of the world. No act of violence shakes the resolve of the United States of America."
Despite the belief that the militants who hit the consulate did so separately from the protests over the film, U.S. officials are deeply concerned that extremists may take advantage of non-violent demonstrations to copycat the Benghazi raid, or that otherwise peaceful protesters may be incited to attack because of the video, particularly on Friday.
It's virtually impossible to predict when a crowd might form and turn violent, according to retired U.S. Ambassador John Negroponte, who served as chief of mission at five posts, including Iraq, and is a former director of national intelligence.
"These things can be mobilized on the spur of the moment, set off by a spark," especially in places such as Egypt and Libya where the ruling strongmen have just fallen, Negroponte said Thursday. "When you get rid of authoritarian regimes, there's little or no institutional framework left. ...That's why there's disorder and chaos" that is so easily hijacked, he said.
Thanks for reading CBS NEWS.
Create your free account or log in
for more features.