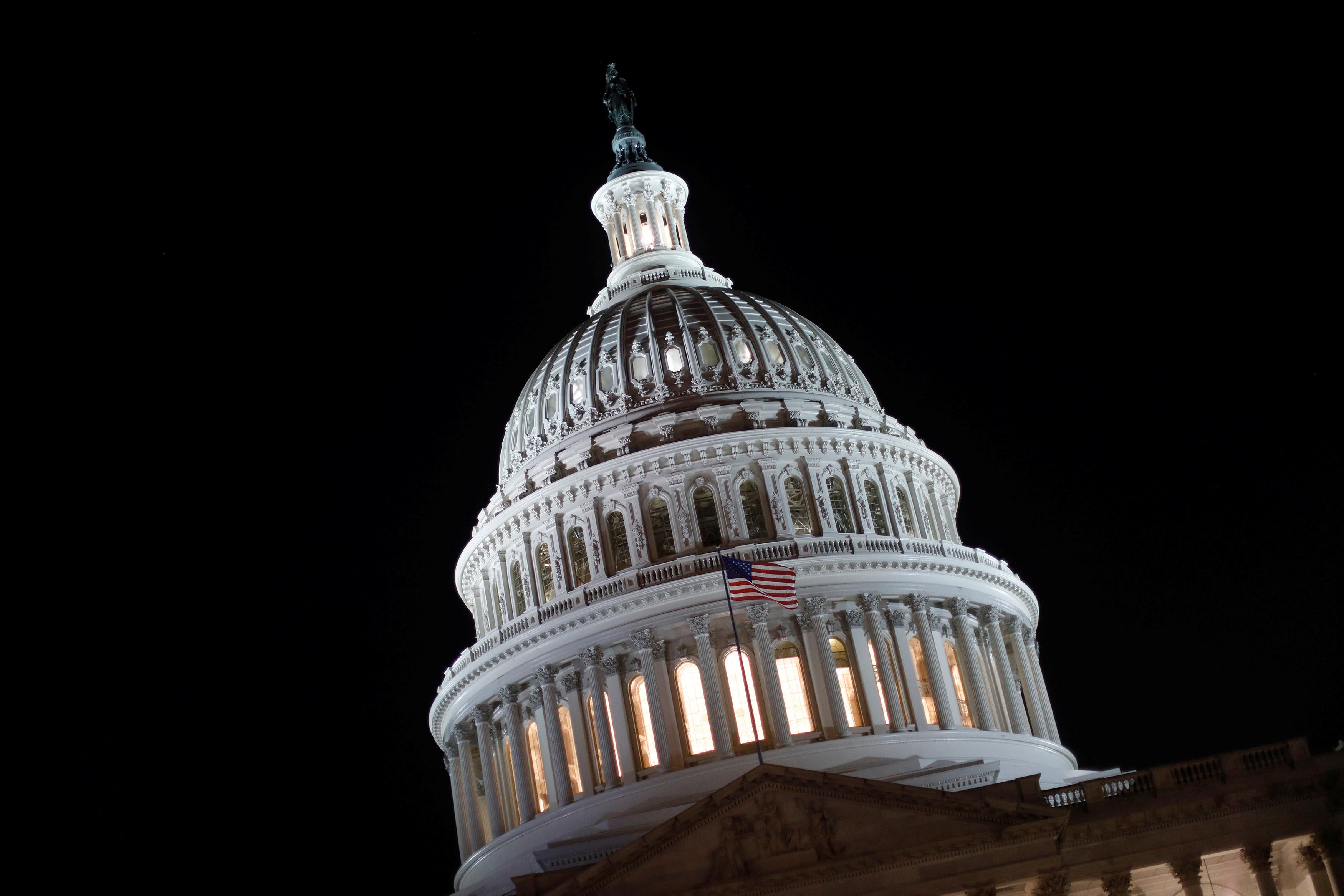 Why raising the debt ceiling won't be easy
The White House has made raising the debt ceiling this fall seem like a simple task, but a looming conservative uprising will likely make it a highly contentious and complicated effort.
Trump administration officials have made their request to Congress crystal clear: Pass the "cleanest possible" debt limit increase despite calls from conservatives who demand spending cuts to go along with it. Office of Management and Budget Director Mick Mulvaney delivered that message at a briefing with reporters earlier this month once the House had already left Capitol Hill for a month-long recess.
The hike, Mulvaney said, should be tied to a continuing resolution (CR) that would keep the government funded past Sept. 30 and would prevent a shutdown. This would likely extend the debt limit and government funding battle into December.
That proposal won't fly with the conservative Freedom Caucus in the House.
"We just don't think that's the right approach," a Freedom Caucus source told CBS News. "Why when we have Republicans in the House, the Senate and the White House are we doing what we criticized Democrats for doing for eight years, which is just clean raising of the debt ceiling without big structural reforms?"
Rep. Mark Walker, R-North Carolina, the chairman of the conservative Republican Study Committee, has echoed that position in an op-ed in the Washington Examiner, arguing against a "clean" increase. Walker says that any legislation should reflect the Republicans' support for a smaller federal government.
"It is what our voters expected when they brought this historic party unity, and it is how they will measure our success. The buck stops with us," he wrote.
Treasury Secretary Steve Mnuchin has been calling on lawmakers for months to raise the debt ceiling to avoid defaulting on the nation's debt. Congress will likely have to pass an increase by the end of September because the beginning to middle of October has been eyed as the drop-dead deadline. The government has been relying on so-called extraordinary measures to continue borrowing and have sufficient cash to make its usual payments since mid-March, when the suspension of the debt ceiling expired.
Mnuchin huddled with Republican and Democratic leaders -- Mitch McConnell and Chuck Schumer -- at the beginning of August to discuss the plan to lift the debt ceiling when Congress returns to Washington in September.
"We are going to be looking for a way forward to do that together to make sure America continues to never, ever default," McConnell told reporters.
The bipartisan nature of the initial discussions so far is unusual considering the fact that Republicans have always put up a fight over the debt ceiling when President Obama was in office, and now they are in control of the White House and Congress. But they may have come to terms with two issues: the Senate's 60-vote procedural hurdle and the fact that they are way behind on their legislative agenda. The GOP Congress hasn't passed a budget resolution or tax reform, they've failed to pass a plan to repeal and replace Obamacare, and they haven't passed an infrastructure package or border wall funding.
Jim Dyer, principal at Podesta Group who specializes in budget and appropriations, suspects that GOP leaders will have to make a sales pitch on the debt ceiling to conservative members that could sound along the lines of, "'Look, if you really believe that tax reform may be the key to your political survival, then you have got to be with us and you have got to support us, keeping the levers of power going until we can accomplish these things.'"
Still, conservatives are going to make their frustration heard when they return to Capitol Hill.
Heritage Action Vice President Dan Holler said that a debt ceiling hike should be paired with "serious spending reforms" that begin to reduce federal spending, adding that "Congress cannot simply kick the can down the road."
However, Bill Hoagland, senior vice president at the Bipartisan Policy Center, thinks that kicking the can down the road is inevitable. This partly stems from the fact that the House is only scheduled to be in session 12 days in September.
"I'm beginning to think that we're looking at a suspension of the debt limit for a period of time as we continue to negotiate," he said. "I just don't think 12 or 17 days in September is going to be enough time to work out all these angles."
Lawmakers last lifted the debt ceiling almost two years ago as part of a bipartisan budget agreement that also lifted spending levels for two years for both defense and non-defense domestic programs. Those spending caps will expire at the end of September and more serious limits on spending set by a 2011 law will return in 2018 unless Congress passes a similar deal.
There may be an appetite for another budget agreement -- after all, Congress has twice approved a budget deal of this kind since 2013. In fact, Speaker Paul Ryan, R-Wisconsin, negotiated the first one with Sen. Patty Murray, D-Washington, when they chaired the Budget Committees.
The support among President Trump and congressional Republicans for an increase in military spending could also justify one. Democrats, however, have always made clear that they wouldn't agree to an increase in defense spending unless it's coupled with a boost to nondefense programs, which cover the Department of Homeland Security and Department of Veterans Affairs, for example.
Tying a "clean" debt ceiling increase to a budget deal that lifts spending caps likely would not be supported by the Freedom Caucus, which plans to continue exert pressure on the White House and leadership in September.
"I do think that the base cares about [the debt limit] so I'm guessing the White House is going to hear a bit of pushback and maybe that will change things," the Freedom Caucus source said.
The Freedom Caucus came out against a "clean" debt ceiling hike in May, and has proposed a menu of options that could get its members to back an increase. The group, for instance, would support measures that would pay interest on the debt and put structural reforms in place.
Another idea that's being circulated is codifying into law one of the president's executive orders on regulations. This would open up the possibility of the Freedom Caucus supporting a debt ceiling increase if it were tied to a measure that would require the elimination of two former regulations for every new regulation.
Nothing is set in stone: "House Republicans discussing [the plan] with the Senate and the administration, and we will act before the deadline," said AshLee Strong, spokeswoman for Speaker Ryan.
In the last two debt limit debates, leadership eventually ignored the Freedom Caucus and turned to Democrats to pass an increase.
"I think you get to a point around here where you're not going to let these people run the place," Dyer said. "It's going to be run by the leadership and they're going to do what they have to do to get these things done because their agenda is not going anywhere without some government continuity here."
Thanks for reading CBS NEWS.
Create your free account or log in
for more features.