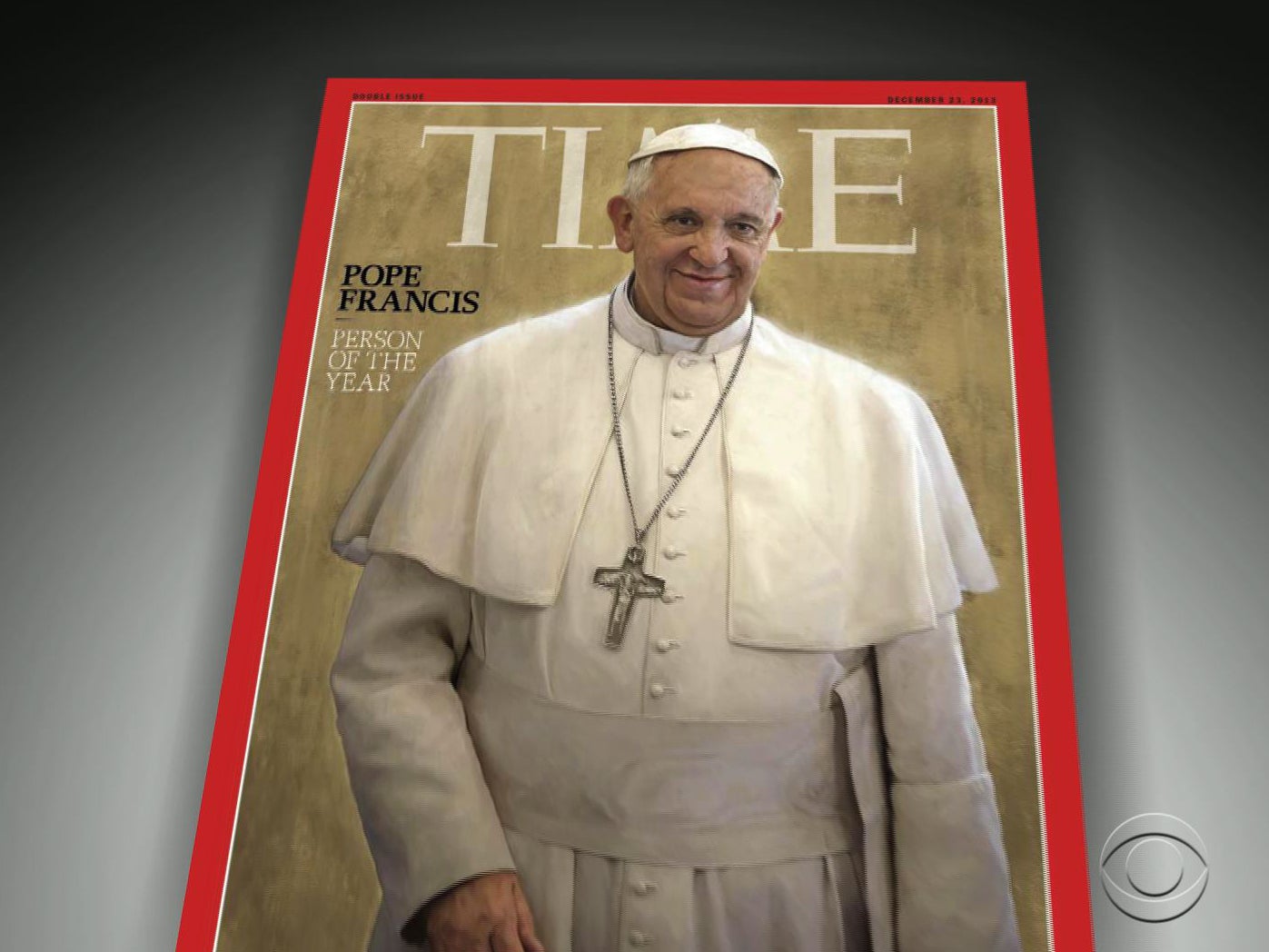 Why Pope Francis is Time magazine's Person of the Year
CHICAGO -- Popes have quite a few titles. Francis is also – among other things – Bishop of Rome, Vicar of Christ and Supreme Pontiff of the Universal Church.
On Wednesday, he got one more: Time magazine named him Person of the Year, saying his message of compassion and humility had captured the imagination of millions.
Pope Francis has been a vigorous, accessible, even affectionate leader of 76 who is as different from his reserved predecessor, Benedict XVI, as water is to wine.

The Argentine sees the world as his parish and very publicly follows the preachings of Jesus, especially with respect to the poor.

CBS News was with him in Brazil in July on his first major trip, and there was a widely held view that the church had settled on someone who could relate to the streets as well as the Scripture.

"It's a marvelous thing to see. He's caught the imagination of the world," said Cardinal Francis George of Chicago.

George voted in the conclave that elected Francis. He said that when he was choosing a candidate in the Sistine Chapel, he was "looking for someone who could govern and someone who had a heart for the poor."


Francis, said George, has turned out "to have that – and a lot more."

There is the pope's tone. He said of gays, "Who am I to judge?" Of a poor woman seeking an abortion, "Who can remain unmoved?"

Nor is it necessary, he said, to talk about those issues all the time.
Liberal Catholics worry that he is all talk and no action. Conservatives are afraid doctrinal change will follow the talk.

"Pope Francis is running the risk of alienating two diametrically opposed groups and what that probably suggests is that he is a moderate," said University of Notre Dame theologian Candida Moss.

And one who is just nine months into his papacy that could last years.

George says the new pope has changed the conversation about the church.

"It has changed," said George. "We no longer have every story starting 'scandal-ridden Catholic Church.' "

The pope's first Christmas present to the world's 1.2 billion Catholics.

Thanks for reading CBS NEWS.
Create your free account or log in
for more features.