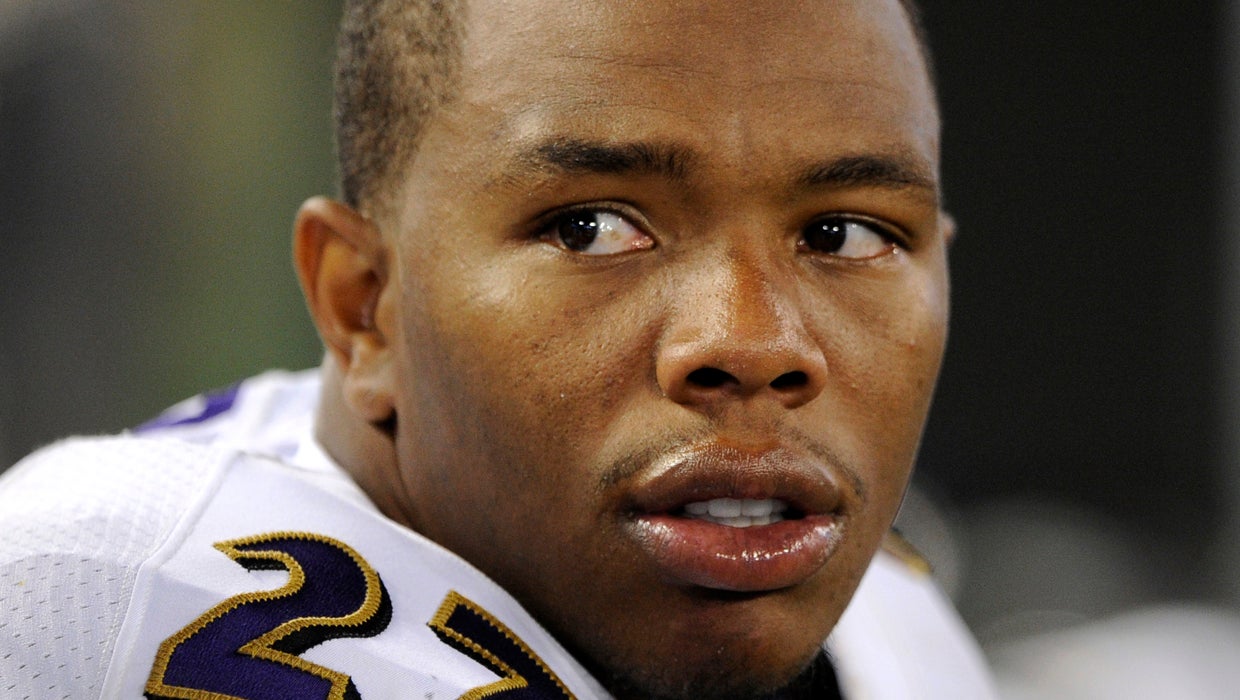 Why isn't Ray Rice facing a criminal trial?
There's video of NFL star Ray Rice apparently hitting his then-fiancée Janay Palmer in an Atlantic City elevator, knocking her off her feet, into a railing and rendering her unconscious -- yet prosecutors declined to put him on trial for felony aggravated assault, even after a grand jury indicted him.
Instead, the 27-year-old was accepted into a pretrial intervention program for first-time offenders, which allows him to avoid jail time and could lead to the charge being erased from his record entirely.
So why is the NFL star escaping trial and potentially more severe punishment, if the prosecutors had that disturbing video of the February 15 elevator altercation between Rice and Palmer?
Following Rice's admittance into the pre-trial intervention program in May, Atlantic County Prosecutor Jim McClain said the "decision (not to go to trial) was arrived at after careful consideration of the information contained in Mr. Rice's application in light of all of the facts gathered during the investigation. After considering all relevant information in light of applicable law it was determined that this was the appropriate decision."
A May 20 press release from the prosecutor's office went on to describe the program as being similar to probation "in that it avoids incarceration and requires the satisfaction of prescribed conditions. The program ranges in duration between 6 months and 4 years. Successful completion of the program by a defendant results in the dismissal of criminal charges."
AnneMarie McAvoy, a former federal and state prosecutor, told 48 Hours' Crimesider that it's "very unusual" for someone to go from being charged with aggravated assault - a third degree felony punishable by up to 5 years in prison - to being admitted into a program in which there is hardly any punishment at all.
However, McAvoy acknowledged that it's challenging to bring domestic violence cases to trial - especially when the victim doesn't want to cooperate, something she says likely played a large part in prosecutors deciding not to pursue a harsher punishment against Rice.
But Jim Cohen, a Fordham law professor and New York City defense attorney, says it would be nonsense for prosecutors to blame the victim's lack of cooperation in not seeking a harsher punishment.
"In these kinds of cases, prosecutors deal all the time with reluctant witnesses. They have ways to persuade the witness that she needs to speak up. They obviously didn't exercise any of those ways," Cohen told Crimesider.
"I think the prosecutor did not do its (sic) job," he continued, adding that the prosecutor should have instead insisted on either a felony trial or a plea.
Initially, the 26-year-old Palmer and Rice were each charged with simple assault in the incident, but the Atlantic County prosecutor's office later dropped the charge against Palmer. The couple married one day after Rice was indicted on March 27 on the felony aggravated assault charge.
Even if Palmer didn't want to cooperate with prosecutors in building a case against her husband, they still could have gone to trial if they felt they had enough evidence to prove their case beyond a reasonable doubt, McAvoy says.
To do that, McAvoy says it would be important for prosecutors to have not only the video evidence but also witnesses to testify and medical evidence.
"Even if a grand jury decided to indict him, it doesn't mean a jury will convict him," she added.
A longer, more detailed video of the fight obtained by the Associated Press on Tuesday shows Rice and Palmer shouting obscenities at each other, and she appears to spit in the face of the three-time Pro Bowl running back before he throws the knockout punch and then drags Palmer from the elevator.
"If she spit on him as well, now you're starting to get into who started it. Is that enough provocation? Could somebody on the jury think that? It's possible," McAvoy says.
If Palmer didn't testify, that also could have weighed on the minds of jurors.
"[The jury] may be impressed with him. He's a famous person. ...They could question her motivations and why she's not cooperating," McAvoy says.
Shortly after TMZ released elevator surveillance video of the incident on Monday, the Baltimore Ravens cut Rice and the NFL suspended him indefinitely. On Tuesday, the fallout continued with Nike severing business ties with Rice and the video game publisher Electonic Arts saying they would scrub all traces of his image from the Madden '15 game.
Before the video surfaced, Rice had only been suspended for two games and coaches had praised his behavior since his February arrest.
Ravens coach John Harbaugh said he met with the team's owner Steve Bisciotti, team president Dick Cass and general manager Ozzie Newsome Monday after the elevator surveillance video of the incident was made public, and they made the decision to let Rice go.
"It's something we saw for the first time today, all of us," Harbaugh said. "It changed things, of course. It made things a little bit different."
NFL Commissioner Roger Goodell told CBS News Tuesday in his first interview since suspending Rice from the league that no one in the NFL - to his knowledge - had seen the video from inside the elevator until Monday, despite having requested it from police.
"We were not granted that," Goodell told CBS News' Norah O'Donnell of the elevator surveillance tape. "We were told that was not something we would have access to. On multiple occasions, we asked for it. And on multiple occasions we were told no. I understand that there may be legal restrictions on them sharing that with us. And we've heard that from attorneys general and former attorneys general."
Goodell went on to say that the league did not attempt to request the video from the casino where the incident took place saying, "We are particularly reliant on law enforcement. That's the most reliable. It's the most credible. And we don't seek to get that information from sources that are not credible."
Thanks for reading CBS NEWS.
Create your free account or log in
for more features.