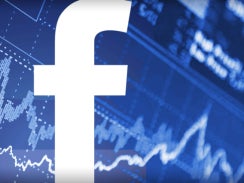 Why Facebook's IPO was a success
(MoneyWatch) On "Meet the Press" this weekend, Jim Cramer called Facebook's (FB) initial public offering a total fiasco and "one of the worst handled things I've ever seen." That's because the stock climbed only 23 cents, or just over 0.6 percent, from the $38 offering price. Indeed, LinkedIn (LNKD) shares popped from the start in the professional networking company's 2011 IPO and more than doubled in the first few days. Many said Facebook fizzled.
A surging stock on the first day of trading is certainly a success for those insiders with relationships to the investment bankers who can make an instant bundle. And the investment banker also does better under that scenario. In the case of Facebook, bankers are said to have bought Facebook stock during its first day of trading to support the initial $38 stock price.
When your 401(k) will own Facebook

Facebook IPO: More whimper than bang
Facebook IPO: Lackluster trading after all the hypeCBS MoneyWatch's complete coverage of the Facebook IPO
But my definition of a successful launch of a new publicly traded stock doesn't rest on how much money the investment bankers make. It rests on how close the offering price is to where the stock actually trades. The fact that Facebook shares closed at nearly their offering price tells me that that investors thought it was fairly priced. That's pretty amazing, in my view, given all the hype over Facebook.
Thus, there was no transfer of wealth to those in the financial services industry. This wouldn't have been the case had the $34 offering price not been raised days before the offering. So my take is that this new $104 billion stock was a smashing success. Great job Mark Zuckerberg! You created a world phenomenon and limited Wall Street to a fair gain, which is relatively rare. That deserves a nice honeymoon in my book.
Thanks for reading CBS NEWS.
Create your free account or log in
for more features.