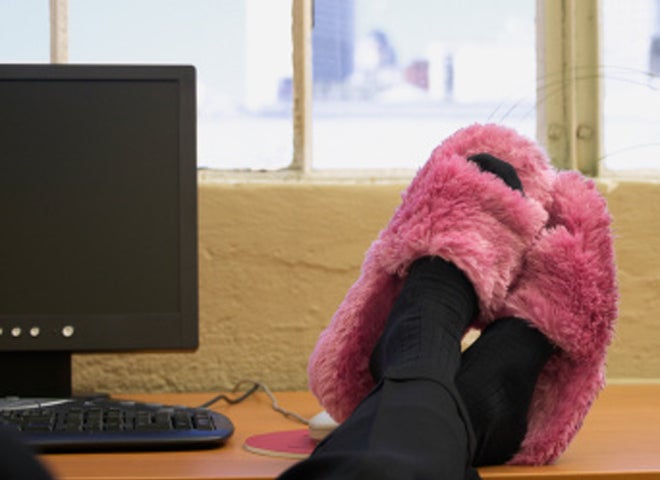 When the workplace is your own home
(CBS News) Oh, the joys of working at home. With a home office, you can sleep later, avoid the dreaded morning rush -- and your boss in the bargain. But before you join this growing trend, watch what Martha Teichner discovered in our "Sunday Morning" Cover Story.
It's 5:58 a.m. Dr. Samir Shah, a radiologist who lives outside Pittsburgh, is about to start his morning commute.
It takes him less than 10 seconds, as he walks downstairs.
Nothing like the full hour it used to take -- each way -- on top of the 60-plus hours a week he spent doing his job when he worked in a hospital.
Looking at images practically identical to those he would see there, now he sits in his basement office, reading X-rays, CT scans and MRIs from all over the United States that his employer, Minnesota-based Virtual Radiologic (or VRAD) sends his way.
Dr. Shah is a full-time telecommuter. He works set shifts, and then actually gets to spend time with his family.
"My whole life is better now; I feel like I'm the luckiest guy in the world to have this job," said Dr. Shah. "I feel like I do my job better, and I feel like I'm a better dad. I feel like I'm a better husband."
Does this sound like work heaven? What does it say that the alternative has become the subject of screen comedies like "Office Space"?
To commute, or telecommute? That is the question at the heart of what may or may not be a fundamental change in the way Americans work.
"The biggest misconception is that a lot of people are doing it," said sociologist Jennifer Glass, a professor at the Univ. of Texas at Austin who studies telecommuting.
"It has not by any means taken over the occupational landscape," she said. "It's still very, very restricted."
There are no definitive statistics; the numbers depend on who's doing the counting, and how they define "telecommuting."
In a recent CBS News poll, 24 percent said they telecommute regularly for their jobs.
The dirty little secret is what telecommuting means to most telecommuters. To what extent is the fancy title "telecommuting" just another way to get sucked into being at work, or available to work, 24/7?
"It's still very much about taking work home," said Glass. "It's about overtime telecommuting, when you've already put in a substantial amount of time, full-time, at the office."
But look which days people are most likely to work from home: Monday (38%) and Friday (38%). Employers often complain that telecommuting is just another word for goofing off. In our CBS News poll, 40 percent of telecommuters say they work fewer hours at home than at the office; but a total of 60 percent say they work the same hours or more.
Most telecommuters are higher-paid salaried workers or professionals, but the number of hourly employees who telecommute is rising.
Each day, Michelle Muir puts on her jetBlue T-shirt and her jetBlue airplane slippers. She handles reservations from 7 to 5, with a couple of breaks.
What the airline calls its customer support team -- more than 1,900 employees -- work from home in and around Salt Lake City. The arrangement saves the company a lot of money on office space.
For Muir, a devout Mormon, it means she can be the homemaker, wife and grandmother she wants to be.
"It's the extra income that we need," she said. "so it works great for us. And who would want to give up this little guy and not see him?" she added, kissing the baby.
But how does jetBlue know Michelle Muir is actually working? All her calls are recorded -- and her supervisor can see and hear exactly what she's doing.
Rebecca Ludlow works from jetBlue's customer support center a few miles away -- except when she, too, telecommutes one day a week.
Ludlow regularly critiques Muir's calls:
"The first column here is "Be in blue always." I'm gonna say you did a great job being in blue, you represent jetBlue very well . . . "
So you've got jetBlue (known for its customer service) on lists of good companies to work for, committed to telecommuting.
Then there's Zappos.com, the Las Vegas-based online shoe and accessory retailer, also known for customer service, and on lists of the best employers. It discourages telecommuting. The wide-open office spaces where its 1,400 employees work together are famously funky.
Zappos' Tony Hsieh steps lively
"Our number-one priority is company culture," said Zappos CEO Tony Hsieh. "And our whole belief is that if we get the culture right, then most of the other stuff will be a natural by-product of that.
"So we encourage our employees to actually interact as much as possible, both inside and outside of the office. That's hard to do from a telecommuting position."
When Yahoo's new CEO, Marissa Mayer's bombshell was leaked last February that she was ending telecommuting as part of her turnaround strategy for the ailing tech giant, Zappo's Hsieh publicly defended her in a May 2013 Fortune article.
Hsieh believes that great ideas comes from those water cooler moments he calls "collisions."
The company's nearly-completed new headquarters is all about engineering those creative collisions, including by limiting the number of ways into and out of the building.
Zach Ware oversaw the transformation of the old City Hall complex in downtown Las Vegas into Zappo's campus.
"The average office has anywhere from 150 to 200 square feet per person, when you combine all the space and divide it by the number of employees," Ware told Teichner. "When we open this building, we will be at roughly 90 square feet per person."
Why?
"By minimizing the amount of space between two people, we are maximizing the opportunities for them to connect with each other," Ware said.
But sociologist Jennifer Glass thinks telecommuting is the future, especially considering research done on the Millennial Generation: "They've grown up with technology. They're used to using it, and they expect to use it in their job. They place a very high value on autonomy, and they want the ability to telecommute."
A good example of what she considers the inevitability of its growth: Dr. Samir Shah. His employer, VRAD, already has over 400 radiologists to service the needs of 2,700 medical facilities.
"Just in a few years, we have become a real option for many of the top graduates of the best training programs," said Dr. Shah, "and we are flooded with applications because they all realize that this is a great choice for lifestyle and realize that it's actually a less stressful job overall."
Gallery: Zappos.com's office of the future
For more info:
Thanks for reading CBS NEWS.
Create your free account or log in
for more features.