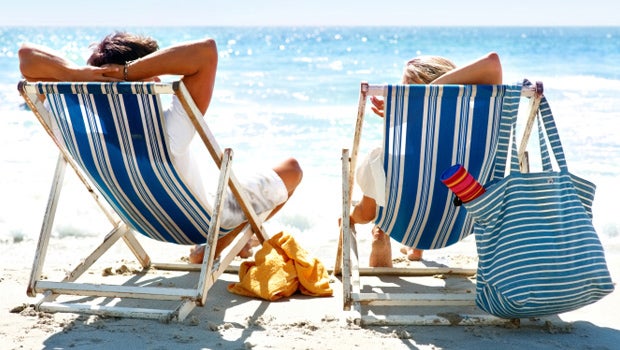 When it comes to vacations, the U.S. stinks
(MoneyWatch) The U.S. has a unique tradition when it comes to celebrating holidays: It doesn't.

"The United States is the only advanced economy that does not guarantee its workers any paid vacation time and is one of only a few rich countries that does not require employers to offer at least some paid holidays," concludes a new report by the Center for Economic and Policy Research, a Washington think-tank.

The study, which reviewed labor laws in 21 countries (including 16 European nations, along with Australia, Canada, Japan and New Zealand), found that roughly a quarter of U.S. workers receive no paid vacation or holiday time. That is by design -- under U.S. law, employers aren't required to provide any paid holidays. Overall, 77 percent of employers in the U.S. offer paid vacations and holidays.

Not surprisingly, low-income earners are less likely to get paid time off. Less than half of lower-paid hourly wage workers get a paid vacation. Small businesses (fewer than 100 workers) are less likely to provide employees with paid leave, with 69 percent offering paid vacation and holiday days.
Wish you were here

The typical U.S. worker at a private company gets 10 days of paid vacation and six paid holidays per year. That is markedly less than what employees in Europe receive. France has the most generous vacation policy, mandating a minimum of 30 paid days off per year. The U.K. comes in at No. 2, at 28 vacation days, followed by Denmark, Finland, Norway and Sweden (25 days).

This, too, is a matter of law. The European Union in 1993 required all member countries to set a minimum of 20 days of paid vacation days per year. Only Japan is stingier with paid time off than the U.S. among advanced economies, with the average worker there getting no paid holidays along with 10 paid vacation days.
The upshot, as American workers get set to fire up their barbecue grills in time for the Memorial Day weekend: The total number of paid vacation and holidays private-sector workers get in the U.S. -- 16 days -- would fall short of the minimum paid time off guaranteed to employees in the 19 other wealthy countries examined in the study.
It wasn't always this way. John Schmitt, senior economist at CEPR and co-author of the report, notes that in the 1970s U.S. leave policies were roughly on a par with comparably rich European countries. Since then, other nations have left us in the dust, a trend he attributes in part to rising income inequality in the U.S.

"A key issue is that we're a more unequal society than all of the countries we looked at, and that creates a different work environment where people feel they may be penalized for taking time off," Schmitt said in an interview.
In the states, that fear at least partly reflects the widening gap between what top corporate managers earn and what rank-and-file workers bring home, Schmitt suggested. In the U.S., where corporate culture often seems to equate taking time off with slacking, many employees feel they are effectively penalized for going on vacation, as promotions and other rewards go to people more able and willing to work around the clock.

By contrast, there tends to be less reluctance to take a break in countries where mid- and even lower-level employees don't earn significantly less than higher ranking staff. In other words, even if your cubicle mate gets that plum position by burning the midnight oil, chances are you're stilling earning a decent wage.

"There's a fear factor around using vacation" in the U.S. said Schmitt, who traces the lack of progress on leave policies to a broader erosion in health care, retirement and other employees benefits over the last three decades. "We haven't internalized the idea that paid time off and paid holiday and sick days are what we think of as part of a job."
Some lawmakers want to change that. Rep. Alan Grayson, D.-Fla., has introduced a bill that would require companies to offer workers at least one week of paid vacation annually. That would also cover part-timers who have been employed for a least a year and work a minimum of 25 hours per week.
Thanks for reading CBS NEWS.
Create your free account or log in
for more features.