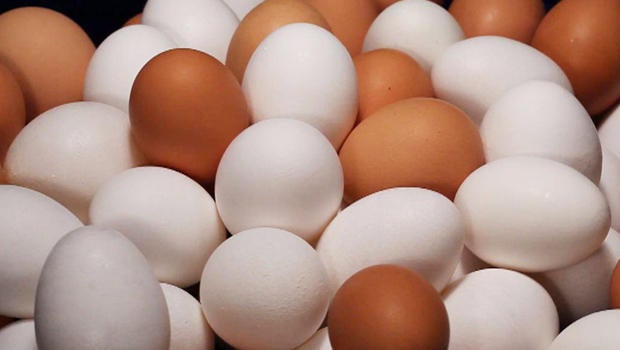 Food lovers will welcome any word that things once thought to be bad for your health might actually be GOOD. Serena Altschul has news of exactly that:
Terry Golson is a good egg. Just ask her chickens. Wow, they look very happy!
Happy to be home, all THIRTEEN of them, living in Golson's backyard outside Boston.
"So, do you look at them as the daughters that you didn't have?" Altschul asked.
"Not quite that far!" Golson laughed. "I do recognize that they're chickens."
And from chickens, come eggs.
Golson has two eggs every morning. A professional cook, she dedicated an entire cookbook to this single subject. Talk about putting all your eggs in one basket!
So, Altschul had to ask: "Which came first, the chicken or the egg?"
"I liked eggs before I had my chickens," Golson replied, "but it was only after I got the chickens and started eating eggs that were so good, that I realized that eggs could really stand alone."
But for decades, eggs were a no-no because they were linked to high cholesterol. Well, guess what: Recent research suggests eggs are okay again.
So get 'em while they're hot!
"The entire egg is just so luscious and wonderful," said Golson. And Americans agree. We spent about $6.7 billion on eggs over the past year alone.
Does Golson think she has a sort of love affair with eggs? "Oh, I definitely have a love affair with eggs, I do!" she replied.
Now THAT'S something to cluck about.
Recipes from "The Farmstead Egg Guide & Cookbook":

Check out:

For more info:
Thanks for reading CBS NEWS.
Create your free account or log in
for more features.