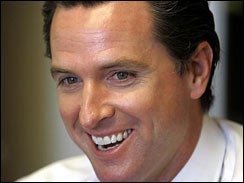 What you need to know about Tuesday primary elections
There are eight states holding primaries on Tuesday, June 5: Alabama, California, Iowa, Mississippi, Montana, New Jersey, New Mexico and South Dakota. That makes Tuesday one of the most anticipated days in politics before November's midterm elections.
House primaries
The Democrats need to flip 23 Republican-held districts to take control of the House of Representatives this fall, and CBS News rates 13 of the House districts facing primary elections on Tuesday as "very likely" or "probably" competitive in November (seven in California, four in New Jersey, and two in Iowa). California is of particular importance to the Democrats in their quest to take back the House -- in 2016, Hillary Clinton won seven of the districts held by House Republicans. The Democrats have their sights set on turning as many of these seats blue as possible.
Senate primaries
California, Mississippi, Montana, and New Jersey each have one U.S. Senate primary election on Tuesday. In California, incumbent Democratic Sen. Dianne Feinstein is being challenged on the left by state Senate leader Kevin de León. In Mississippi, incumbent Republican Sen. Roger Wicker is running for re-election.
The special election to replace retiring Republican Senator Thad Cochran will not take place until November 6. Since Mississippi special elections are nonpartisan, all candidates will run together on a single ballot in November, regardless of political party. If no one receives more than 50 percent of the vote, the top two vote-getters will advance to a runoff three weeks later.
Also on Tuesday, Republican Montana voters will determine who will challenge incumbent Democratic Sen. Jon Tester this fall - state Auditor Matthew Rosendale or former Yellowstone County District Judge Russell Fagg. In New Jersey, incumbent Democratic Sen. Bob Menendez is expected to win the nomination and will likely face off against Republican challenger Bob Hugin, a former Celgene Corp. executive, in November.
Gubernatorial primaries
There are gubernatorial primaries in Alabama, California, Iowa, New Mexico, and South Dakota on Tuesday.
In Iowa, the Democrats will decide who will take on Republican Gov. Kim Reynolds this fall. In New Mexico, Democrat Michelle Lujan Grisham is hoping to receive the nomination for governor. If she wins in the fall, she would take over from another Hispanic female governor, Susana Martinez, who is term limited.
In California's gubernatorial race, President Trump recently endorsed Republican candidate John Cox amid worries that another Republican challenger, state Assemblyman Travis Allen, could splinter the GOP vote. If Cox does not receive enough support, there could be two Democrats on the ticket for governor this fall, likely Lt. Gov. Gavin Newsom, the frontrunner, and former Los Angeles mayor Antonio Villaraigosa, who is battling Cox for the number two slot in the state's "jungle primary." In South Dakota, Rep. Kristi Noem is vying against state Attorney General Marty Jackley to be the GOP gubernatorial nominee in that heavily Republican state.
What to watch for in the Tuesday primaries
The struggle for the heart of the Democratic Party -- Is too much enthusiasm a bad thing?
The Democratic party has no shortage of grassroots energy or candidates this year, many of whom were inspired to get involved in politics after Mr. Trump's presidential victory. But is there such a thing as too much enthusiasm? Tuesday night's jungle primary in California will help shed some light on this question.
Under California's open primary system, all candidates run on the same ballot, regardless of political affiliation. The top two finishers will compete against each other in the November general election. This has presented a particular challenge for the Democratic party in Orange County, where there are so many candidates running in three target competitive House districts that the party leaders worry they could split the vote and prevent any Democrat from being on the general election ticket this fall. CBS News rates these three Orange County districts (CA-39, CA-48, and CA-49) as very likely to be competitive this fall, but this could change if the Democrats box themselves out of the general election. Hillary Clinton won all three districts in 2016.
CA-39 Summary: Republican incumbent Ed Royce is retiring, making this an open seat. This is the most diverse district in Orange County's competitive GOP-held seats, with both the Latino and Asian population comprising a quarter of the total population in the district. More on the Democratic candidates from the Washington Post here: "National Democrats recruited a veteran and former Republican, Gil Cisneros, who has millions to spend after winning the lottery. But that didn't stop Andy Thorburn, a Bernie Sanders-style candidate, from getting in. Same with Vietnamese immigrant and Harvard-educated physician Mai Khanh Tran, who has the backing of the powerful abortion rights political group, Emily's List." On the GOP side, the top three Republican candidates are Young Kim, Shawn Nelson and Bob Huff. All three advocate for increased border security and to renew Trump's tax reform plan. Kim has raised the most money of the three, and she has been named a "contender" by Young Guns, a GOP group founded in part by Speaker Paul Ryan and Rep. Kevin McCarthy to recruit strong candidates across the country. She was born in South Korea and has appealed to voters with her family's immigrant story.
CA-48 Summary: The Democrats are hoping to unseat incumbent Republican Dana Rohrabacher, who is being challenged on the right by Scott Baugh. Worried that the two Republicans could end up in a one-on-one race this fall, outside Democratic groups are spending money attacking Baugh. More from the New York Times here: "The main House Democratic 'super PAC' is pouring over $600,000 into commercials in the Los Angeles market, which reaches 27 congressional districts, to try to drive down Republican candidate Scott Baugh's share of the vote against Mr. Rohrabacher, in hopes that a Democrat can finish in the top two and face the incumbent in November." Meanwhile, the Democratic Congressional Campaign Committee (DCCC) initially encouraged stem-cell scientist Hans Keirstead to run for the seat before breaking with the state Democratic Party to endorse Harley Rouda. Even more, the national campaign committee is spending money to make sure that voters know that five Democratic candidates who remain on the 16-person ballot have actually dropped out of the race. Per the NYT: "Two of the former candidates are women and could draw latent support from voters eager to support them. So paid canvassers are handing out pamphlets that cross out the names of some of the candidates who have withdrawn while noting two of them have endorsed Mr. Rouda."

CA-49 Summary: The 16-candidate race to replace retiring Republican Darrell Issa has become the most expensive House race in the nation, with a combined $14.9 million spent by candidates and outside groups according to the Orange County Register. On the Republican side, the top contenders include Diane Harkey, who has been endorsed by Issa as well as the San Diego and Orange County Republican parties, and Rocky Chavez, a California Assemblyman and retired Marine colonel. On the Democratic side, per the Washington Post, "the Democratic contest began as a battle between unsuccessful 2016 candidate Doug Applegate, a retired colonel, and Mike Levin, a lawyer. But both have been heavily outspent by real estate investor Paul Kerr and Obama administration veteran Sara Jacobs, whose grandfather Irwin co-founded mobile giant Qualcomm." Jacobs has the endorsement of EMILY's List, and Levin has the endorsement of California Rep. Adam Schiff, the Sierra Club and the California League of Conservation Voters. Meanwhile, the DCCC has not officially endorsed anyone, but it has spent nearly $1.6 million attacking Chavez in order to avoid two Republicans advancing to the primary. More from the Orange County Register: "The TV attack ads have highlighted Chavez's vote for a bipartisan bill extending California's landmark cap-and-trade program in 2017. That has put national Democrats in the awkward position of attacking a GOP candidate for supporting Democrat-led legislation, causing some pundits to criticize the DCCC for discouraging bipartisan efforts."
Who will come out victorious in crowded Democratic primaries, and what does that mean for 2020?
The DCCC has often tried to recruit, support, and endorse candidates that it believes will have a better chance of winning in the general election, hoping support would coalesce behind a single candidate.
But in many cases, including in California's 39th district where DCCC-backed candidate Gil Cisernos faces strong opponents to his left, they nevertheless have a divided field. In New Jersey's 2nd district, which includes Atlantic City and CBS News rates as very likely competitive in November, the DCCC's endorsement of Jeff Van Drew to fill retiring Republican Rep. Frank LoBiondo's seat left many progressives frustrated. Per Politico, Van Drew "has voted against raising the minimum wage and gay marriage. He often sides with industry on environmental issues and carries an A rating from the NRA."
Will moderate Democrats or progressive Democrats prove victorious in Tuesday's primary elections? And will candidates be pushed further to the left given their tough primary opponents? The Associated Press takes a look at the California Senate race here: "26-year incumbent Dianne Feinstein is shifting to the left in the face of a challenge from state Sen. Kevin de Leon, who argues she hasn't done enough to stand up to Trump. In recent weeks, she reversed her long-held support for the death penalty and softened her opposition to legal marijuana. In the past, a strong incumbent such as Feinstein could have largely ignored a lesser-known foe from the left, knowing she would make it through the primary and face a Republican. But with the top-two primary system and no serious Republican challengers, de Leon is likely to be a thorn in her side all the way into November."
How will Tuesday's House primary victors influence the vote of independents and female, educated voters in the suburbs? If progressives are victorious and/or call for Mr. Trump's impeachment, will independents be drawn closer to Republicans running on the economy and tax reform?
How will the primary outcomes influence future 2020 Democratic presidential primary candidates, the national Democratic party and its agenda? At the annual Center for American Progress Ideas Conference in May, at least 10 potential presidential candidates spoke. While some midterm candidates are calling for impeachment, the potential 2020 hopefuls did not. Rather than focusing on anti-Trump rhetoric, most of the speakers pitched policy proposals to move the party forward. Their policy prescriptions were far from uniform, however, covering everything from women's rights, pot legalization, economic justice and climate change.
Healthcare
The Democrats are hoping healthcare will be a winning message for them this fall, but there are divisions within the party over whether to support a single-payer healthcare system or to expand existing Affordable Care Act (ACA) provisions.
On Tuesday, several Democratic candidates are calling for Medicare-for-all, including Katie Hill, who at 30 is the youngest candidate running in California's 25th district. In this ad about how her husband's lung collapse during a short period where they didn't have health insurance left them $200,000 in debt, she declares "healthcare is a moral issue."
CBS News ranks Iowa's Republican-held third congressional district, which stretches from Des Moines to the Nebraska border, as probably competitive as the Democrats hope to unseat Republican incumbent David Young. According to the Des Moines Register, Democratic candidate Pete D'Alessandro favors Medicare-for-all, while candidates Eddie Mauro and Cindy Axne "both favor public insurance options as a a first step toward addressing health care issues, while working to find ways to drive down the costs of prescription drugs." If candidates supporting Medicare-for-all are victorious in the primaries, will their policies be too progressive to win in the general election in the fall?
The transformation of the Republican party
The Republican House and Senate campaign strategies are very different -- the path to keeping the House relies on suburban voters, while control of the Senate hinges on states that Mr. Trump won in 2016. But what appears to be consistent in both is that most Republican candidates on House and Senate tickets are running toward President Trump, not away from him. Those who did not are facing consequences this fall -- in Alabama's 2nd district, for example, incumbent Republican Rep. Martha Roby faces a primary after saying she wouldn't support Mr. Trump in 2016.
But could this embrace of Mr. Trump and his policies to appeal to his base backfire? Republican incumbent Rep. Mimi Walters is running for re-election in California's 45th district, which Hillary Clinton carried in 2016. Although she stands with Mr. Trump on Obamacare repeal and the tax bill, she knows that support for his policies alone cannot carry her campaign.
Walters, like other Republican House candidates across the country, is hoping that her efforts to repeal the gas tax will help her hold onto her seat this fall. But will Mr. Trump's unpopularity in California be too costly?
In the Montana Senate race, the Republican primary hopefuls vying to take on incumbent Democratic Sen. Jon Tester are aligning themselves with Mr. Trump and his policies. Tester was one of the most vocal critics of Ronny Jackson, Mr. Trump's nominee to be Veterans Affairs Secretary. Mr. Trump attacked him for this, but as the New York Times points out, Montanans, one in ten of whom are veterans, may be the wrong audience for such attacks. After his 12 years in Washington, Tester tells the NYT he believes that his constituents know where he stands, and one conservative-leaning Montanan told the paper: "I have a real problem with him being attacked just for raising [the issues with Jackson]...I don't believe for a minute Jon was making things up."
Immigration
The demographics of California are changing. Per the LA Times, "Non-Hispanic whites, at just 38 percent of the population, no longer even constitute a plurality in California. The state's white working class, the core of Trump's base, is, in percentage terms, among the smallest in the nation." How will Mr. Trump's messaging and policies on immigration affect voter turnout in California? Republican incumbent Rep. Jeff Denham, who is seeking re-election in California's 10th district, which CBS News ranks as competitive, is leading the charge in Washington to force a vote on protecting the "Dreamers" on the House floor.
Tax Reform
Republicans are hoping that tax reform will be a winning message for them this fall. But people living in wealthy suburbs – particularly in Southern California, New Jersey and New York – may feel differently. Their paychecks are likely higher under the new tax code, but many are also losing their ability to write off their high state taxes. How will this affect the votes and turnout of traditionally conservative voters in California and New Jersey, who may not be happy with Mr. Trump's rhetoric?
Women
Will the wave of women candidates continue? How many women and newcomers will prove victorious in Tuesday's primaries, particularly on the Democratic side?
Thanks for reading CBS NEWS.
Create your free account or log in
for more features.