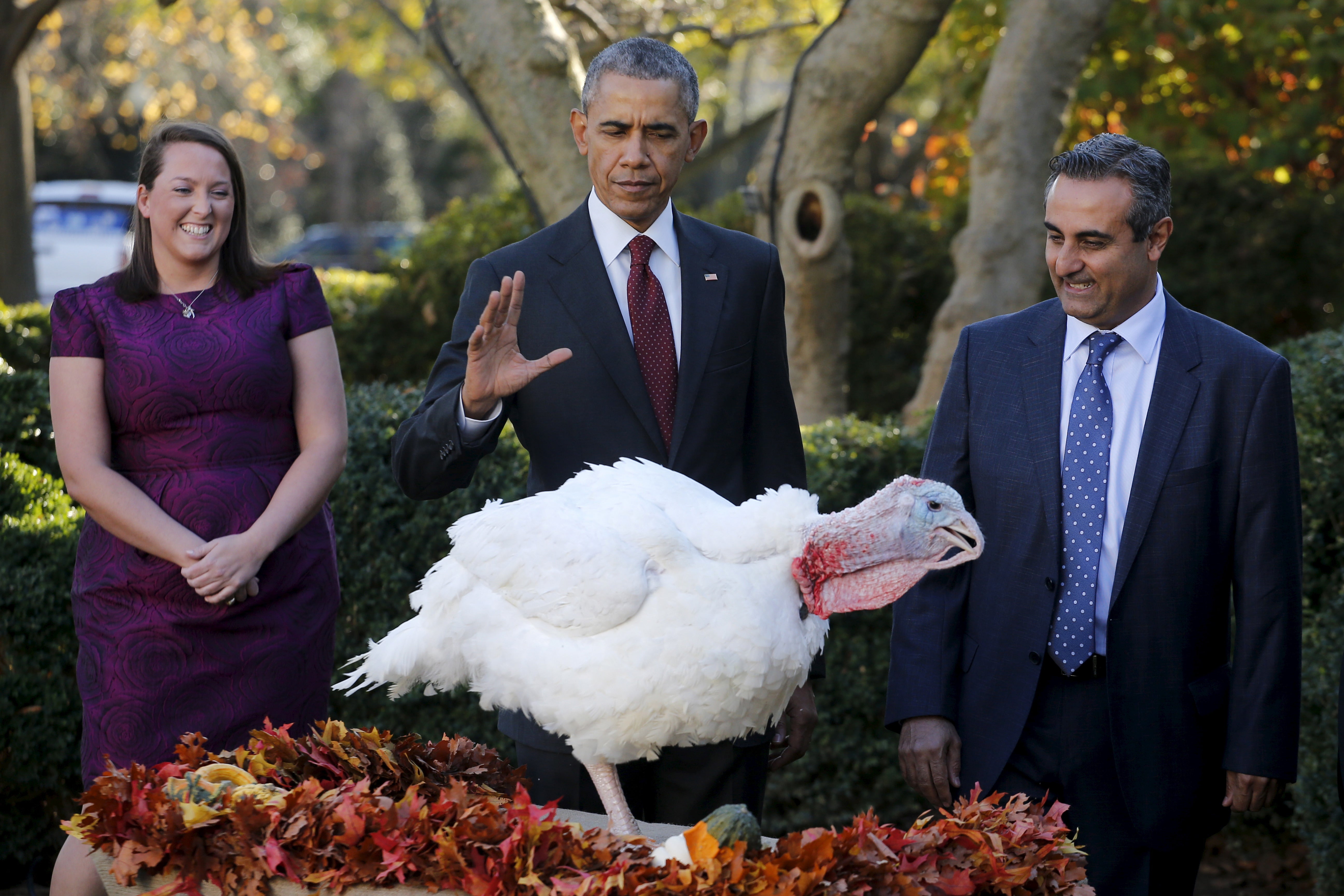 What is the White House turkey pardon all about?
President Obama on Wednesday afternoon will continue the annual tradition of pardoning a turkey, and its alternate, at the White House for his eighth and final time.
"Honest" and "Abe" were the two turkeys that were let off the hook last year, and this year, "Tater" and "Tot," both 18 weeks old and 40 pounds each, will be saved from a trip to the slaughterhouse.
The history behind which president started the Thanksgiving week ritual has caused some confusion over the years. President Harry Truman was the first to have a White House photo-op with a turkey that he received as a gift from the National Turkey Federation and Poultry and Egg National Board. The White House claims that Truman, therefore, kicked off the tradition, but the Truman Library and Museum has disputed that he actually pardoned one.
"The Library's staff has found no documents, speeches, newspaper clippings, photographs, or other contemporary records in our holdings which refer to Truman pardoning a turkey that he received as a gift in 1947, or at any other time during his presidency," the library said in 2003, which also said Truman sometimes indicated that the turkey he received was destined for their dinner table.
At one point, Truman even said he would send his turkey home to Missouri where he suggested it would feed his 25 relatives.
Some have also wondered whether the ritual began with President Abraham Lincoln when his son Tad begged his father to pardon the turkey their family had planned to eat for Christmas, and he let the bird go. Several years later, during President Ulysses S. Grant's presidency, a Rhode Island poultry dealer, Horace Vose, began the tradition of sending turkeys to the president for a few decades. In 1902, a story in The New York Times, said that the bird given to President Theodore Roosevelt "will be killed tomorrow and will be in the hands of the president's cook very soon afterward."
A few days before President John F. Kennedy was assassinated in 1963, he decided to send back the turkey he received at the White House and said, "We'll just let this one grow." He never formally pardoned it though. While Presidents Lyndon Johnson, Richard Nixon, Gerald Ford, Jimmy Carter and Ronald Reagan all had photo-ops with turkeys, none appeared to have pardoned them.
In 1989, in the White House Rose Garden, President George H.W. Bush made the tradition official, announcing that the bird he received would be pardoned.
"Not this guy -- he's granted a presidential pardon as of right now -- and allow him to live out his days on a children's farm not far from here," he said, and the pardoned turkey was then sent to a farm in Herndon, Virginia.
Since then, presidents have embraced the humorous tradition, which has led to some hilarious moments. When President Ronald Reagan received a turkey in 1984, for example, the bird leapt from the table it was standing on.
"The turkey, the pick of a pampered flock of 10, leaped off a table in the White House rose garden with a flurry of wings and strutted away from the president toward a dozen television cameras," an Associated Press story said at the time.
In 1998, a handler had to chase the turkey that President Bill Clinton was in the middle of pardoning in the Rose Garden.
"I must say, of all the years I've been here, this is the most adventurous turkey we've ever had," he joked.
To ensure there's no repeat of a turkey going wild, they practice standing on podiums in advance of the big day.
Previously, the lucky turkeys have been sent off to Disneyland or Disneyworld or they've retired at an historic turkey farm in Virginia. This year, they're heading to college for the first time. After the pardoning ceremony, they will live in an enclosure called "Gobbler's Rest" at Virginia Tech where the public can visit the turkeys and learn about the university's programs in animal and poultry sciences as well as veterinary medicine.
The turkeys this year hail from a family farm in Iowa and shared their trek across the country on Twitter.
Thanks for reading CBS NEWS.
Create your free account or log in
for more features.