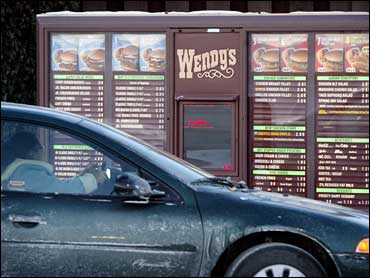 Wendy's Tosses 'Biggie' Size
"Biggie" fries and drinks at Wendy's have been demoted.
The Biggie portion size, formerly the fast food restaurant's equivalent of a large, will now be called a medium. It's only a name change, and the portion customers get — the equivalent of almost three cans of soda for the drinks — won't get smaller.
Wendy's International Inc. research shows demand for big drinks, but people were confused by the designation of Biggie and Great Biggie, the former extra-large size, spokesman Denny Lynch said. Switching to a more straightforward listing of small, medium and large sizes made sense, he said.
The nation's third-largest burger chain has used the Biggie designation since the early 1990s.
"I personally never liked the name," said Steve Tourzinsky, of Westerville, Ohio. "It's the whole fast-food connotation in it, that the food is not very healthy."
The Great Biggie, equal to 3½ cans of soda, will now be classified as a large. Medium portions will be bumped down to small sizes.
The move might help appease critics who accuse the fast food industry of inflating portions and contributing to the nation's obesity problem, said restaurant analyst Dennis Lombardi, of WD Partners in Columbus.
Removing the Biggie designation makes size "less of an issue for people who want to talk about restaurants, especially fast-food restaurants, that offer excessively large portions," he said.
McDonald's Corp. phased out its extra-large "Supersize" fries and drinks in 2004 amid pressure to provide healthier options.
Wendy's says it has made several changes to give customers healthier choices, including offering salads, chili, baked potatoes or yogurt instead of fries with combo meals.
The company, based in Dublin, Ohio, also announced Thursday that it is abandoning its cooking oil for a healthier non-hydrogenated oil, a move that will slash the amount of artery-clogging trans fat it its food.
Thanks for reading CBS NEWS.
Create your free account or log in
for more features.