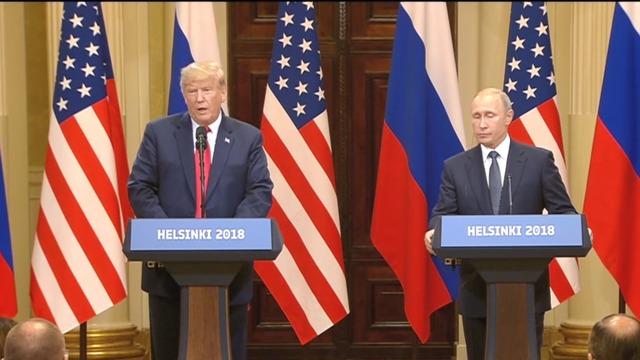 Washington reacts to Trump-Putin press conference with dismay
Republicans and Democrats alike are dismayed by President Trump's comments at his joint press conference with Russian leader Vladimir Putin on Monday. Mr. Trump stunned onlookers by repeatedly defending Putin during the press conference from allegations that Russia interfered in the 2016 election and casting doubt on conclusions to that effect made by U.S. intelligence agencies.
Sen. John McCain, R-Arizona, called the media event "one of the most disgraceful performances by an American president in memory."
"President Trump proved not only unable, but unwilling to stand up to Putin," McCain said in a statement. "He and Putin seemed to be speaking from the same script as the president made a conscious choice to defend a tyrant against the fair questions of a free press, and to grant Putin an uncontested platform to spew propaganda and lies to the world."
"Disgraceful" is also the word former Republican presidential nominee and current Utah senate candidate Mitt Romney used to describe the press conference. Romney, who was famously mocked for calling Russia "our number one geopolitical foe" during the 2012 presidential campaign, appeared to reference the line in his Monday evening statement.
Sen. Susan Collins, R-Maine, who also sits on the Senate Select Committee on Intelligence, acknowledged Russian meddling in the 2016 U.S. presidential election and was also critical of the Trump-Putin conference.
"The President's statements today in Helsinki demonstrate his continued refusal to accept the unanimous conclusions of U.S. intelligence leaders and the bipartisan findings of the Senate Intelligence Committee," she wrote in a statement. "This position is untenable and at odds with the forceful response this moment demands."
Even House Oversight and Government Reform Chairman Trey Gowdy, who last week hounded former FBI lawyer Peter Strzok for issues relating to his alleged anti-Trump bias and Russian interference in the election, said that Russia is an enemy.
"Russia is not our friend," Gowdy said in a statement. "Russia attempted to undermine the fundamentals of our democracy, impugn the reliability of the 2016 election, and sow the seeds of discord among Americans."
Ultimately, he called on individuals within the Trump administration to communicate with Mr. Trump that Russia did indeed meddle in the 2016 election "without delegitimizing his electoral success."
Senate Minority Leader Chuck Schumer, criticized Mr. Trump's willingness to side with Putin over the American intelligence community's conclusions, calling Mr. Trump's words at the press conference "thoughtless, dangerous and weak." The Democratic leader also called for Mr. Trump to sit for an interview with Special Counsel Robert Mueller.
"The President is doing grave harm to the standing of these United States while kowtowing to the number one enemy we probably have on the globe, Vladimir Putin," Schumer said. "He will continue to do so if he isn't checked."
Ari Fleischer, a Republican and prominent Trump defender who served as former President George W. Bush's press secretary, said that while he still does not believe Mr. Trump colluded with Russia in the 2016 elections, he understands now why people think he's being blackmailed.
"I continue to believe there was no collusion between the Trump campaign and Russia. But when Trump so easily and naively accepts Putin's line about not being involved, I can understand why [Democrats] think Putin must have the goods on him," Fleischer tweeted.
Outside of his office, Sen. Bob Corker, R-Tennessee, said that Putin gained a "tremendous amount" from Monday's conference and that Putin is probably celebrating with "caviar."
"He gained a tremendous amount," Corker told a press gaggle. "It was almost an approval, if you will -- a public approval by the greatest nation on Earth towards him. He knows he gained a lot. I would guess he's having caviar right now."
At an Atlantic Council panel discussion, both Sens. Marco Rubio, R-Florida, and Mark Warner, D-Virginia, denounced Mr. Trump's behavior.
Warner called the president's actions "outrageous" while Rubio said that Putin's behavior Monday was very calculated, or "by design" and touching "certain pressure points."
In a series of tweets after the press conference, South Carolina Republican Sen. Lindsey Graham, an ally of Mr. Trump, called the meeting with Putin a "missed opportunity" that would be perceived by "weakness" by Russia. Graham also said that, if it were up to him, the soccer ball Putin gave Mr. Trump would be checked for "listening devices" and never be taken into the White House.
Retiring Arizona Republican Sen. Jeff Flake, one of Mr. Trump's most outspoken critics in the GOP, called the press conference "shameful."
Nebraska Republican Sen. Ben Sasse, a sometime critic of Mr. Trump, took issue with the president's claim that the U.S. is in part to blame for the state of Russo-American relations. Following up on a tweet he posted early Monday morning, Mr. Trump said at the press conference that he holds "both countries responsible" for tensions between the nuclear powers.
"This is bizarre and flat-out wrong," Sasse said in a statement. "The United States is not to blame. America wants a good relationship with the Russian people but Vladimir Putin and his thugs are responsible for Soviet-style aggression. When the President plays these moral equivalence games, he gives Putin a propaganda win he desperately needs."
Meanwhile, Republican House Speaker Paul Ryan was more circumspect in his comments, but said Mr. Trump "must appreciate that Russia is not our ally."
"There is no question that Russia interfered in our election and continues attempts to undermine democracy here and around the world," Ryan said in a statement Monday afternoon.
"That is not just the finding of the American intelligence community but also the House Committee on Intelligence. The president must appreciate that Russia is not our ally. There is no moral equivalence between the United States and Russia, which remains hostile to our most basic values and ideals. The United States must be focused on holding Russia accountable and putting an end to its vile attacks on democracy."
Democrats also criticized Mr. Trump's performance. John O. Brennan, who ran the CIA under President Obama, called Mr. Trump's comments at the press conference "nothing short of treasonous."
"Donald Trump's press conference performance in Helsinki rises to & exceeds the threshold of 'high crimes & misdemeanors.' It was nothing short of treasonous," Brennan tweeted. "Not only were Trump's comments imbecilic, he is wholly in the pocket of Putin. Republican Patriots: Where are you???"
And Democratic House Minority Leader Nancy Pelosi said the press conference proves "that the Russians have something on" Mr. Trump.
"President Trump's weakness in front of Putin was embarrassing, and proves that the Russians have something on the president, personally, financially or politically," Pelosi said in a statement. "This is a sad day for America, and for all Western democracies that Putin continues to target."
Thanks for reading CBS NEWS.
Create your free account or log in
for more features.