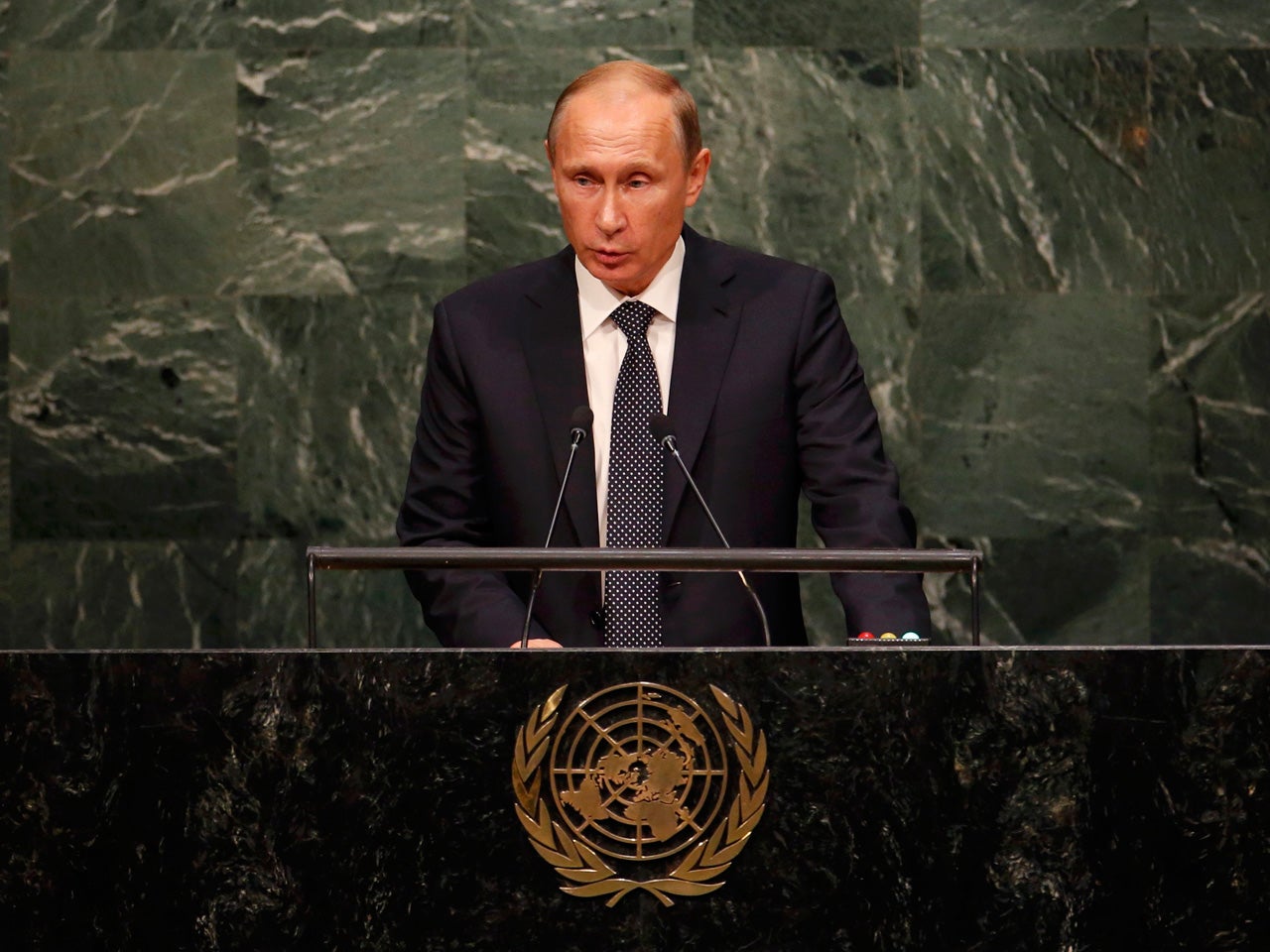 Putin: "We can no longer tolerate the current state of affairs in the world"
NEW YORK - Russian President Vladimir Putin took a defiant tone in his highly-anticipated United Nations address on Monday, ahead of a planned meeting with President Barack Obama.
Putin spent much of the speech delivering the Russian perspective on world affairs, which he said is nothing more than "honest and frank." Putin dismissed many Western officials' expressed fears about Russian expansionism, saying the Kremlin has been accused too often of "growing ambitions."
"It's not about Russia's ambitions but recognition of the fact that we can no longer tolerate the current state of affairs in the world," Putin said.
The Russian president also mocked Western ideals and how they were applied to the Arab Spring, singling out Libya as an example of how things can go wrong. Instead of the promise of democratic reform, "we got violence, poverty and social disaster," Putin said.
Putin said the "export of revolutions" continue to fail. He slammed unnamed countries' "policies of self-conceit and a belief in exceptionality that has never been abandoned."
The Russian president also continued to defend his support for embattled Syrian President Bashar Assad, just as he did in a "60 Minutes" interview with Charlie Rose before his U.N. speech.
"We think it is an enormous mistake to refuse to cooperate with the Syrian government and its armed forces who are valiantly fighting terrorism face to face," Putin said. "We should finally acknowledge that no one but President Assad's armed forces and (Kurdish) militia are truly fighting (the Islamic State of Iraq and Syria) and other terrorist organizations in Syria."
Those sentiments echo the argument Putin made on "60 Minutes," but in the earlier interview he also conceded that "there is no other solution to the Syrian crisis than strengthening the effective government structures and rendering them help in fighting terrorism, but, at the same time, urging them to engage in positive dialogue with the rational opposition and conduct reform."
At his U.N. speech, Putin also urged the creation of a broad anti-terror coalition, similar to the "anti-Hitler" coalition that formed during World War II.
NATO was also specifically called out by Putin as having sown disorder in the world.
"NATO continues expanding," he said, adding that it offers "poor former Soviet countries a false choice, either be with the West or the East."
He blamed that expansionism and false choice on the chaos in Ukraine, where Putin said the the "discontent of the population was manipulated" and ended in "a military coup orchestrated from outside."
While Putin didn't name America directly in his speech, he appeared to accuse recent presidential administrations in Washington of trying to force their will on others, and implied only the U.N. stands in the way of the U.S.' global domination.
"After the end of the Cold War, the single center of domination has emerged in the world," Putin said. "Those who have found themselves on top of that pyramid were tempted to think that since they are so strong and singular, they know what to do better than others and it's unnecessary to pay any attention to the U.N."
Thanks for reading CBS NEWS.
Create your free account or log in
for more features.