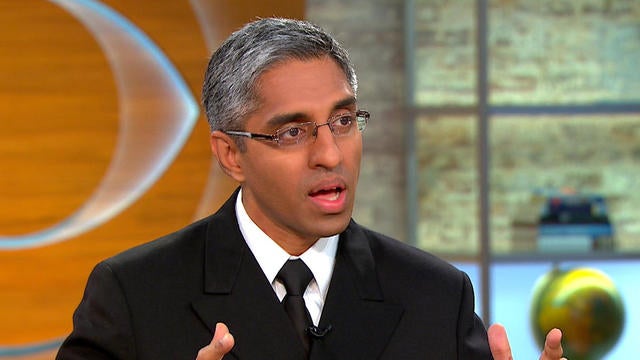 Surgeon general takes unprecedented step amid opioid epidemic
Opioids cause more than 1,000 emergency room visits and kills 78 people every day.
"I think this is one of our greatest public health threats and it's one that we have to respond to with speed and with urgency," U.S. Surgeon General Vivek Murthy told "CBS This Morning" Thursday.
From health care practitioners with inadequate training and tools, to pharmaceutical companies who aggressively market pain medications and to policy makers who do little to increase funding or treatment programs, Dr. Murthy said "all of us have had a role to play" and called for all members of the community to be a part of the solution.
Now, to tackle this health crisis, Dr. Murthy is taking the unprecedented step of mailing letters to the 2.3 million prescribers in America, urging them to to do three things.
"Number one is to sharpen their prescribing practices, to make sure that we are treating pain safely and effectively. Number two, it's to connect people to treatment who need it, and right now we have a major treatment gap in this country that we have to close," Murthy said. "But the third is we're asking clinicians to help us change how our country thinks about addiction."
These measures described in the letter are voluntary, but Dr. Murthy believes doctors won't hesitate to go on board. From touring some of the areas in the nation hit hardest by the opioid epidemic, Murthy said he's encountered people who want to address the problem.
"I think they will because clinicians, doctors, nurses, dentists all came to their profession almost exclusively with the sense of idealism, with the same sense of wanting to improve the lives of other people and reduce suffering," Murthy said. "In fact, when I talk to clinicians, as I have as I've traveled the country.... I found clinicians who are eager to help and we want them to be a part of the solution."
The surgeon general also addressed another health crisis close to home. In South Florida -- where Murthy is from -- 43 locally transmitted Zika cases have been reported. His wife who is pregnant with their first child had actually planned to visit Miami, but changed plans because of the growing crisis.
Murthy said he believes the CDC and state government is collaborating and are taking good measures against the virus, including its education efforts, controlling the virus as well as testing pregnant women and others who are at risk. But he believes more can be done.
"Absolutely, we need to invest more in addressing the Zika problem because one thing that were missing right now is a vaccine for Zika," Murthy said. "Now we have started phase one clinical trials but without additional funding to support the Zika response, were not going to have the funds to continue that vaccine development ever."
Thanks for reading CBS NEWS.
Create your free account or log in
for more features.