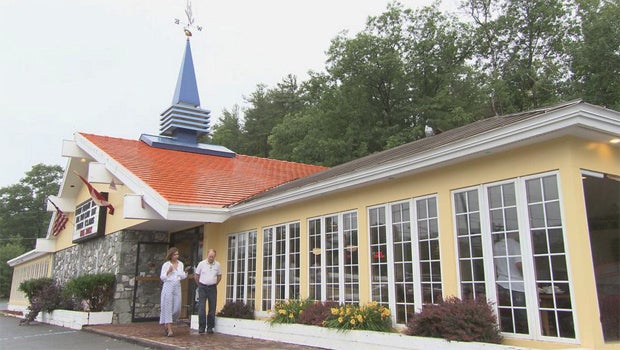 ​Visiting the last surviving Howard Johnson's
Remember those bright orange roofs along the roadside? Kristine Johnson takes us on a journey back through time:
There's a place in Lake George, New York, where the past is a thing of the present.
"Welcome to Howard Johnson's. Can I get you anything started this morning?"
Howard Johnson's, founded near Boston in 1925 by Howard D. Johnson, was once the biggest restaurant chain in the country, with roughly a thousand locations nationwide during the 1970s. Their desserts were staples for so many Americans growing up in the "Mad Men" era.
Families would pile into station wagons and go to Howard Johnson's. "Whether it was breakfast time, lunchtime, or dinnertime, that's what they did," said businessman John LaRock. And he's betting they'll do it again.
Howard Johnson's restaurants all but disappeared by 1990, eaten up by the competition. But LaRock spent more than $200,000 to re-open the last free-standing Hojo's, a location that dates back some 60 years. It sports the original, distinctive orange roof.
"Was there any hesitation on your part?" asked Johnson.
"No, not really," said LaRock. "If you believe in it, you can make it work."
He believes in it because he's lived it, starting as a dishwasher three decades ago.
And now he's running the business, "which is something I never thought I would do in a million years. But here we are and we're doin' it. And I'm glad."
He's painstakingly preserved authentic details. "It still feels like the original restaurant," said Johnson.
"These are the old tables," said LaRock. "They don't make 'em like this anymore."
And then there's the menu, with classics like the root beer float, the clam fry, and liver and onions.
But what many customers relish most are the memories.
"I grew up in Howard Johnson's, practically," said one woman.
"It feels innocent to me," said Cathy Harris. "It feels like an innocent time of my life."
"Does it feel like you're getting old?" asked Johnson.
"Feels like that every day!" laughed Bob Thomas.
LaRock says diners come from all over simply for a serving of nostalgia. "They even asked for my autograph," he remarked, "because I think, maybe once I'm gone, Howard Johnson's itself may be gone."
But save that thought for another summer. Right now, the hot cakes are selling like ... hot cakes.

For more info:
Thanks for reading CBS NEWS.
Create your free account or log in
for more features.