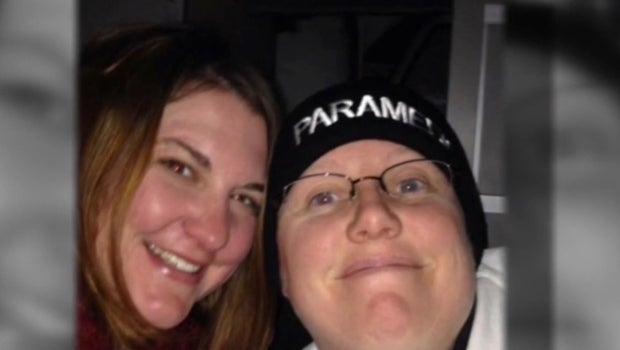 Lesbian couple speaks out on judge's order to remove baby
SALT LAKE CITY -- Two lesbian foster parents ordered by a juvenile court judge to give up their baby for placement with a heterosexual couple for the child's well-being aren't giving up without a fight.
"We're not just going to sit back and take it," one of the parents, Beckie Peirce, told CBS affiliate KUTV.
Peirce and her wife, April Hoagland, hired an attorney after Tuesday's order by Judge Scott Johansen. It calls for the baby girl they have been raising for three months to be taken away within a week.
The ruling in the central Utah city of Price raised concerns at the Utah Division of Child and Family Services, agency spokeswoman Ashley Sumner said. Its attorneys plan to review the decision and determine what options they have to possibly challenge the order.
Utah Gov. Gary Herbert, a Republican, told reporters Thursday that he's puzzled by the ruling. He criticized "activism on the bench in any way, shape or form" and said the judge should follow the law even he doesn't like it.
The ruling came during a routine hearing for Hoagland and Peirce. They are part of a group of same-sex married couples who were allowed to become foster parents in Utah after last summer's U.S. Supreme Court ruling that made same-sex marriage legal across the country, Sumner said.
The couple told KUTV that they didn't sleep the night the judge issued the order.
"Are we going to win this? Are we going to be able to keep our daughter? Am I going to have to say goodbye to her on Tuesday?" said Hoagland of the questions that kept her up through the night.
They said the judge cited research that children do better when they are raised by heterosexual couples. Hoagland believes Johansen actually imposed his religious beliefs.
"We are shattered," she told KUTV. "It hurts me really badly because I haven't done anything wrong."
Johansen is precluded by judicial rules from discussing pending cases, Utah courts spokeswoman Nancy Volmer said.
A full transcript of his ruling has not been made public and may not be because court records of cases involving foster children are kept private to protect the kids, Sumner said.
Sumner said she can't speak to specifics of the case but confirmed that the couple's account of the ruling is accurate - the judge's decision was based on the couple being lesbians. The agency isn't aware of any other issues with their performance as foster parents.
State officials don't keep an exact count but estimate there are a dozen or more foster parents who are married same-sex couples.
All couples are screened before becoming foster parents.
"We just want sharing, loving families for these kids," Sumner said. "We don't really care what that looks like."
The ruling has generated national buzz, triggering a heated response from the Human Rights Campaign. The gay rights group called the order shocking, outrageous and unjust.
Democratic presidential candidate Hillary Rodham Clinton also tweeted about it.
Thanks for reading CBS NEWS.
Create your free account or log in
for more features.