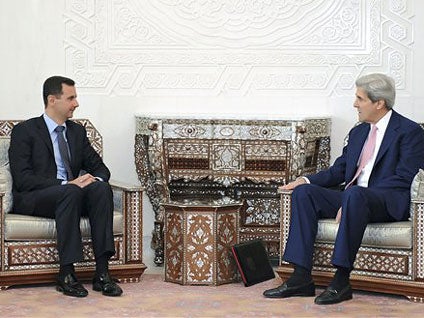 U.S. Sees Talks with Syria as a Priority
Syrian President Bashar Al-Assad on Thursday met with Sen. John Kerry (D-Mass.) who is seeking to thrust Damascus's support in Middle East peace efforts in yet another sign Washington is determined to engage a country it long treated as a rough state.
Washington's ties with Damascus have been strained by Syria's three-decade alliance with Iran and U.S. allegations of meddling in the affairs of its eastern neighbor, Iraq.
Syrian support for Lebanon's Shiite group Hezbollah and the Palestinian Islamist movement Hamas, which rules Gaza, have also proved a stumbling block.
President Obama this year appointed a new ambassador to Damascus, ending a five-year hiatus. Washington recalled its ambassador in 2005 following the assassination of former Lebanese Premier Rafik Hariri. The killing was widely blamed on Syria, which has roundly denied any involvement.
"Let me just say that I am convinced, and it's why I come back here, and it's why I am engaged in this effort. I am absolutely convinced that carefully calibrated diplomacy, that if that is what we engage in, that Syria will play a very important role in achieving a comprehensive peace in the region and in putting an end to the five decades of conflict that have plagued everybody in this region," Kerry told reporters after a three-hour meeting with Assad.
"That's our hope, that's our challenge, and we're committed to continue to work at it," said Kerry, who arrived earlier Wednesday from Lebanon for a two-day visit.
Kerry's visit is the latest by several American officials. He separate talks later in the day with Syria's Foreign Minister Walid Moualem. Syria is a key to the Middle East conflict because Damascus hosts the leaders of Hamas and supports Hezbollah, an anti-Israeli Shiite group. Also, Syria and Israel have been embroiled in a dispute over Shebaa Farms, a tiny, well-watered slice of land that Syria and Lebanon say is Lebanese territory that is occupied by Israel.
"Assad renewed Syria's stance for achieving just and comprehensive peace and underlined the importance of the U.S. role in support of the Turkish role in the peace process," a Presidential spokesman said, adding that the Syrian leader warned against Israel's "grave practices in the occupied Palestinian territories and from the dangers of the Jewish State's rejection of peace requirements."
A summit of Arab leaders over the weekend ruled out renewed Palestinian-Israeli peace talks unless Israel halts all settlement building, particularly in annexed Arab East Jerusalem. The U.S. has been exerting efforts and had offered a plan to launch four-month proximity talks between Israel and the Palestinians. However, these efforts failed amid Israel's insistence to continue with settlement construction.
"Syria is an essential player in bringing peace and stability to the region. Both the United States and Syria have a very deep interest, a mutual interest in having a very frank exchange on any differences that may exist, but also on the many, many agreements that we have about the possibilities of peace in this region," said Kerry, who is the chairman of the Senate Foreign Relations Committee.
He suggested that Washington's decision to send an ambassador to Damascus was evidence that engagement with Syria was a U.S. priority at the highest levels.
"There are things that the United States can do. There are things that Syria can do. There are things that Israel can do, Turkey can do. Some are unilateral. Some are multilateral. But all of us have to work together in order to seize real opportunities," Kerry said after his talks with Assad.
In Beirut, a U.S. official had similar talks with Lebanese Prime Minister Saad Hariri, President Michel Suleiman and Nabih Berri, Speaker of Parliament. He pointed out from the Lebanese capital that finding a path to achieve progress on the peace process between Israel and the Palestinians is a top subject for his conversations with the Syrian president.
More Syria Coverage
U.S., Syria Hold Talks on Mideast Peace
Syria Dismisses Calls to Cut Ties to Iran
Obama Taps Veteran Diplomat for Syria Post
Thanks for reading CBS NEWS.
Create your free account or log in
for more features.