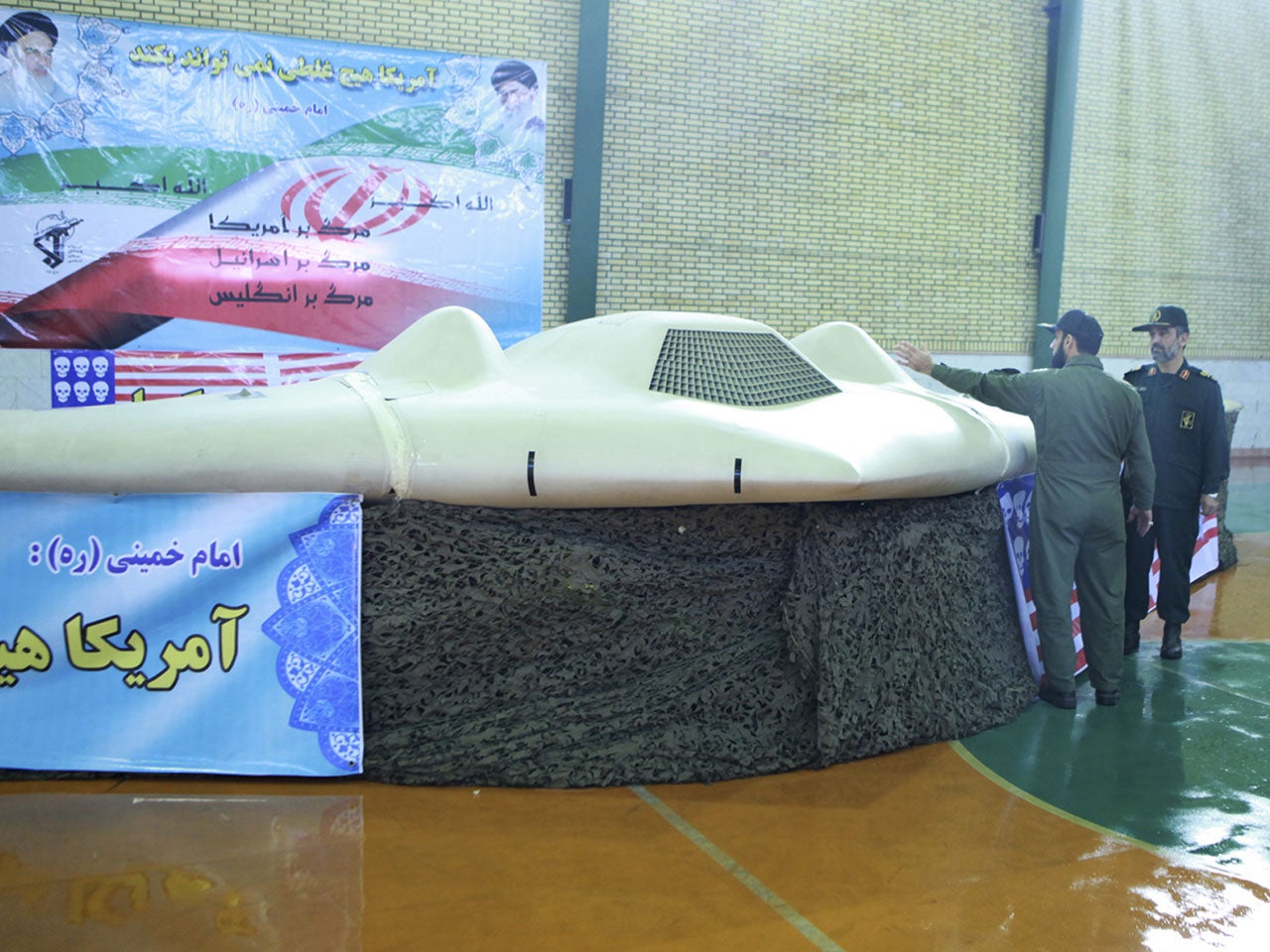 U.S. official: Iran does have our drone
A U.S. official tells CBS News that there is "high confidence" that a captured American aircraft shown on Iranian television today is, in fact, one of this country's most sophisticated spy planes.
The Pentagon declined to comment, but the American official says analysis of the video confirms the RQ-170 unmanned drone was captured. Exactly how that happened is still being analyzed.
CBS News correspondent Bob Orr reports that the aircraft presented as the unmanned U.S. surveillance drone appeared to be nearly intact, though the undercarriage was obscured by propaganda banners draped below the wings.
The message on the left proclaimed, "America cannot do any harm to us." And on the right, against a background of American flags and skulls, the message read: "We have trampled on America."
U.S. officials - still studying the video - are convinced the aircraft is the stealth drone reported lost over the weekend. But, the Pentagon declined comment, with spokesman George Little citing intelligence concerns.
"We did have a UAV go missing, but when it comes to sensitive reconnaissance missions, we call them sensitive for a reason," Little said.
U.S. drones have been spying on Iran for years
Officials: Drone downed in Iran on CIA mission
Iran shows intact drone, boasts of cyberattack
Satellite images show damage to Iranian missile compound
Military officials originally said controllers lost contact with an RQ-170 drone as it flew over Western Afghanistan. However, sources say the spy plane was actually on an intelligence-gathering mission deep inside Iran.
The stealth drones, capable of sending back real-time streaming video, have been used for several years to monitor Iran's nuclear sites and search for other covert operations.
U.S. officials have denied Iran's shifting claims that the drone was either shot down or commandeered by a cyber attack.
But, the displayed aircraft showed no signs of a crash impact, meaning it came down in a relatively flat, controlled descent. U.S. officials cannot explain how the plane landed apparently undamaged.
Iran appeals to the U.N. on downed drone, calls surveillance an "act of provocation"
Iran now says it will exploit its propaganda prize by reverse engineering the classified systems and sensors. But weapons expert Joseph Cirincione says that may prove difficult.
"You can get dimensions, you can get chemical composition, but it's very hard to duplicate the performance of the parts you're trying to reverse engineer," Cirincione says.
Still, the U.S. is clearly concerned secrets could be compromised. Sources say officials considered launching a mission to either recover or destroy the downed drone, but ultimately concluded there was no workable option.
While getting much out of the downed plane will be difficult, the Iranians can glean details about the aircraft's mechanisms and sensors, and, worse perhaps, share that with Russia or China.
Thanks for reading CBS NEWS.
Create your free account or log in
for more features.