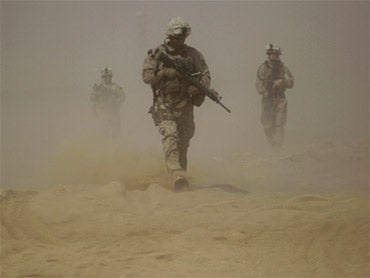 U.S. Marines headed back to Taliban hotspot 2 years after pull-out
KABUL, Afghanistan -- The United States will send some 300 Marines back into Afghanistan's southern Helmand province for the first time since the end of America's combat mission in 2014.
CBS Radio News correspondent Cami McCormick reports the Marines' mission will be to train and advise Afghan national security forces, who have struggled to drive Taliban insurgents out of the opium-rich region.
The Marines' commander, Brigadier General Roger Turner, admitted to CBS News, however, that it is a high-risk mission and the American troops will encounter the full spectrum threat from the Taliban insurgency.
The 300 Marines are currently in training for the mission at Camp Lejeune, North Carolina, and will deploy this Spring.
McCormick says about half of the Marines on this mission have been deployed to Helmand in the past. They will be located in different areas of Helmand, but some will stay at Camp Leatherneck, which was handed over to the Afghans in 2014.
The U.S. Army has had soldiers at Leatherneck since the handover, again, advising and training, because the Taliban has made some significant advances. There have also been American Special Operations Forces for the duration, but McCormick reports the renewed presence of U.S. Marines will signal a new level of commitment.
Some of them are "senior" troops, having served in Helmand on multiple previous tours. They know the Afghans there, according to their commander, who was in Helmand in October ahead of the deployment, and the level of training they'll provide is more sophisticated because of that past experience.
U.S. Navy Capt. Bill Salvin, a spokesman for the U.S. mission in Afghanistan, said the Marines will remain in the province for nine months, where they will work with the Afghan army and militarized national police.
"The Marine Corps has a long operational history in Afghanistan, particularly in Helmand Province. Advising and assisting Afghan defense and security forces will assist in preserving gains made together with the Afghans," he said.
The U.S. and NATO formally concluded their combat mission in Afghanistan at the end of 2014, but thousands of troops remain in the country, where they train and assist Afghan forces and carry out counterterrorism operations.
The Taliban are battling Afghan forces on a number of fronts, and the fighting has been particularly intense in Helmand, where the insurgents have repeatedly assaulted the provincial capital, Lashkar Gah, in recent months.
Helmand is the main source of poppies for Afghanistan's thriving opium trade, which is worth an estimated $4 billion a year, much of which funds the insurgency. Provincial officials estimate the Taliban controls 85 percent of the province, up from just 20 percent a year ago.
Thanks for reading CBS NEWS.
Create your free account or log in
for more features.