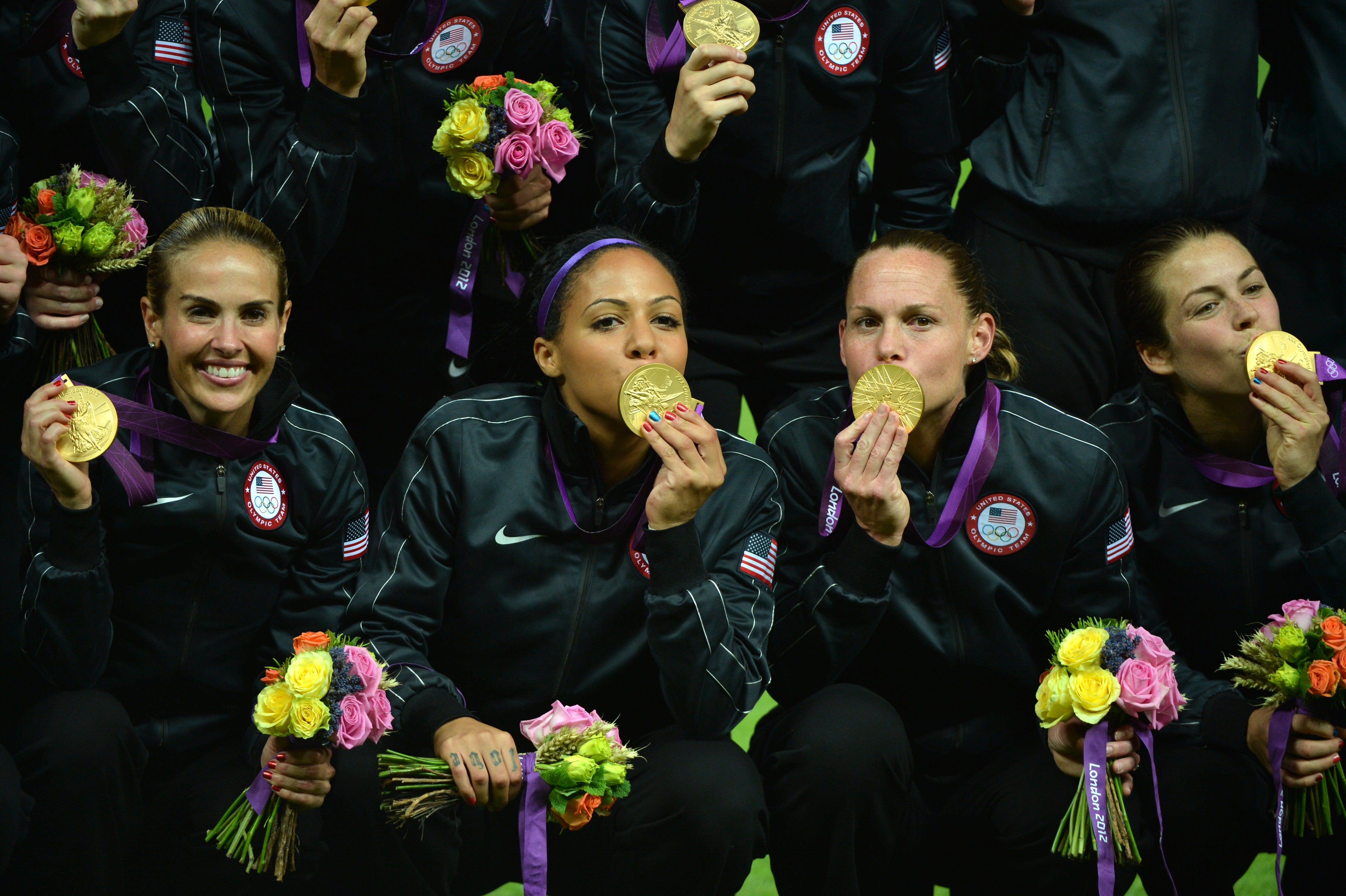 U.S. dominates Olympics with 46 gold medals
(AP) LONDON (AP) - By any measure, the 2012 London Games will be considered a booming success for the United States.
When the U.S. men's basketball team won the Olympic title Sunday, it clinched the 46th gold medal for Americans in London, marking the highest total the nation has ever taken home from a "road" Olympics. The U.S. - winners of 104 medals overall in London, easily the most of any nation - won 45 golds at Paris in 1924 and Mexico City in 1968.
"It means everything," U.S. basketball player LeBron James said.
The final numbers for the Americans in London won't go down as record-setting, not coming close to the 83 gold medals at the 1984 Los Angeles Olympics, and the 239 total from St. Louis in 1904, when U.S. athletes won roughly seven out of every eight medals awarded.
Different eras, different dynamics.
Many thought this would be the Olympics where the Chinese went home with more medals than the Americans, and that didn't come close to happening. China won 38 golds, its most ever on foreign soil, but finished 17 medals behind the U.S. overall and took a major step back from when it served as the host team four years ago.
"We are immensely proud of the success that our athletes had in London," U.S. Olympic Committee CEO Scott Blackmun said Sunday.
Host country Britain also had plenty of celebrate at these games: 29 gold medals, 65 medals overall, riding the wave of home-field energy for its best Olympic showing in more than a century to deliver on a promise of greatness in 2012 - and possibly set the stage for continued emergence down the road.
"What I've witnessed in the last couple of weeks has been both uplifting and energizing," London Games chief Sebastian Coe said. "I don't think any country that has staged the games or any city that staged the games is ever the same afterwards."
Celebrations weren't limited to the big nations - Grenada won its first Olympic gold, with Kirani James winning the men's 400-meter dash. And six other countries hit the Olympic podium for the first time.
"I think these games were absolutely fabulous," IOC President Jacques Rogge said.
Well, for most, anyway.
Australia won only seven gold medals in London, half as many as it did in Beijing - and no individual gold medals in the swimming pool for the first time since 1976, something that would have seemed unthinkable a few years ago when the likes of Ian Thorpe were among the world's very best.
And Brazil, which will host the 2016 Olympics in Rio de Janeiro, has some work to do over the next four years, in addition to all the construction that comes with getting ready to be the site of sport's largest spectacle. The Brazilians won three golds in London, those coming in women's volleyball, judo and gymnastics, and their overall medal haul of 17 was its best at an Olympics.
Still, that's a far cry from what fans of the home team at an Olympics have come to expect. The Brazilians already have plans in place for an Olympic Training Center to be built in Rio, and levels of funding for athletes and teams to develop will likely be unprecedented for the South American nation.
The IOC clearly hopes whatever Brazil invests now will pay off in 2016.
"We need gold medals up front," Rogge said. "That is so important for the mood of the public, of the general atmosphere of the games."
Michael Phelps ended his Olympic career in London with a record 22 medals, the last six of them won here, the most of any athlete in London, as his amazing run ended with - what else? - a splash. Four other athletes in London won five medals, three of them American swimmers, including 17-year-old Missy Franklin.
"We're Americans and we're human," said Teresa Edwards, the USOC's chef de mission for London. "When I was competing, when I went up against another country, I felt they wanted the same thing I wanted. But we were given an opportunity to prove it at that moment, and that's what these games give us."
Swimming and track combined to deliver 60 medals for the U.S., and to the athletes, the medal count most definitely mattered.
"I do feel it's important for us to be the No. 1 team because we've held that title and to lose that title would be somewhat disappointing," said U.S. women's 4x400-meter relay gold medalist Dee Dee Trotter. "We just want to maintain the level of talent and the level of medals we always bring home, and if we fall short of that would mean we're not bringing our 'A' game. So, yes, absolutely important for us."
Blackmun said the medals are just a part of what he'll remember about London.
Sure, there were the stars - Phelps, the fastest-man-ever from Jamaica Usain Bolt, British cyclist Chris Hoy - but there also were those who just missed, like triathlete Sarah Groff and modern pentathlete Margaux Isaksen, both fourth-place finishers.
"They fell just short but inspired us with their determination," Blackmun said. "Just as importantly, all of our athletes were good ambassadors, and we have no doubt that they left a positive impression both in London and with the hundreds of millions of Americans who were watching back home."
Thanks for reading CBS NEWS.
Create your free account or log in
for more features.