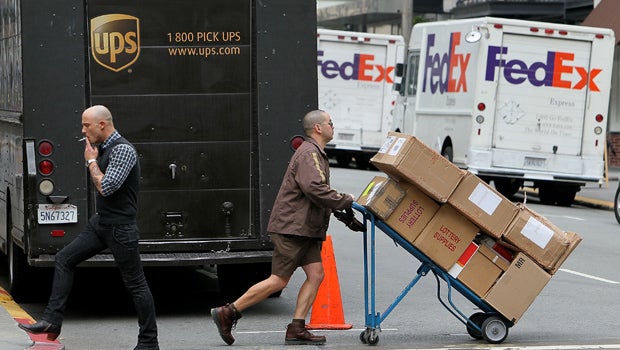 UPS to pay $40 million to end federal investigation into illicit drug deliveries
NEW YORK Shipping company UPS (UPS) agreed Friday to pay $40 million to end a federal criminal probe connected to deliveries it made for illicit online pharmacies.
The U.S. Department of Justice announced that the Atlanta-based company would also "take steps" to block illicit online drug dealers from using its delivery service.
"Good corporate citizens like UPS play an important role in halting the flow of illegal drugs that degrade our nation's communities (sic)," said U.S. Attorney Melinda Yaag in a statement to CBS MoneyWatch on Friday.
The DOJ said the fine amount is the money UPS collected from suspect online pharmacies. UPS won't be charged with any crime. Its biggest rival, FedEx (FDX), has also been a target of the federal investigation.
The investigation of the two companies stems from a global campaign to shutter illicit online pharmacies launched in 2005. Since then, dozens of arrests have been made and thousands of websites closed worldwide as investigators continue to broaden the probe beyond the operators.
Earlier this week, Chris Napoli, the operator of Safescripts Online, was sentenced to four years in prison and ordered to forfeit $24 million in revenue the illicit pharmacy took in between 2004 and 2006. Two other men were sentenced to prison along with Napoli.
Receipts from UPS and FedEx were used as evidence in the trio's trial last year.
Seven others have been convicted of operating illegal pharmacies in San Francisco federal court last year.
In 2011, Google (GOOG) agreed to pay $500 million to settle allegations by the Justice Department that it profited from ads for illegal online pharmacies.
UPS and FedEx each disclosed they were the target of a federal investigation in regulatory filings last year.
UPS signaled at the time it was working on a resolution with the DOJ. The company said in a statement on Thursday that "UPS believes it has an obligation and responsibility to help curb the sale and shipment of drugs sold through illegal internet pharmacies."
FedEx, on the other hand, asserted no wrongdoing and said it would not accept a plea bargain.
Thanks for reading CBS NEWS.
Create your free account or log in
for more features.