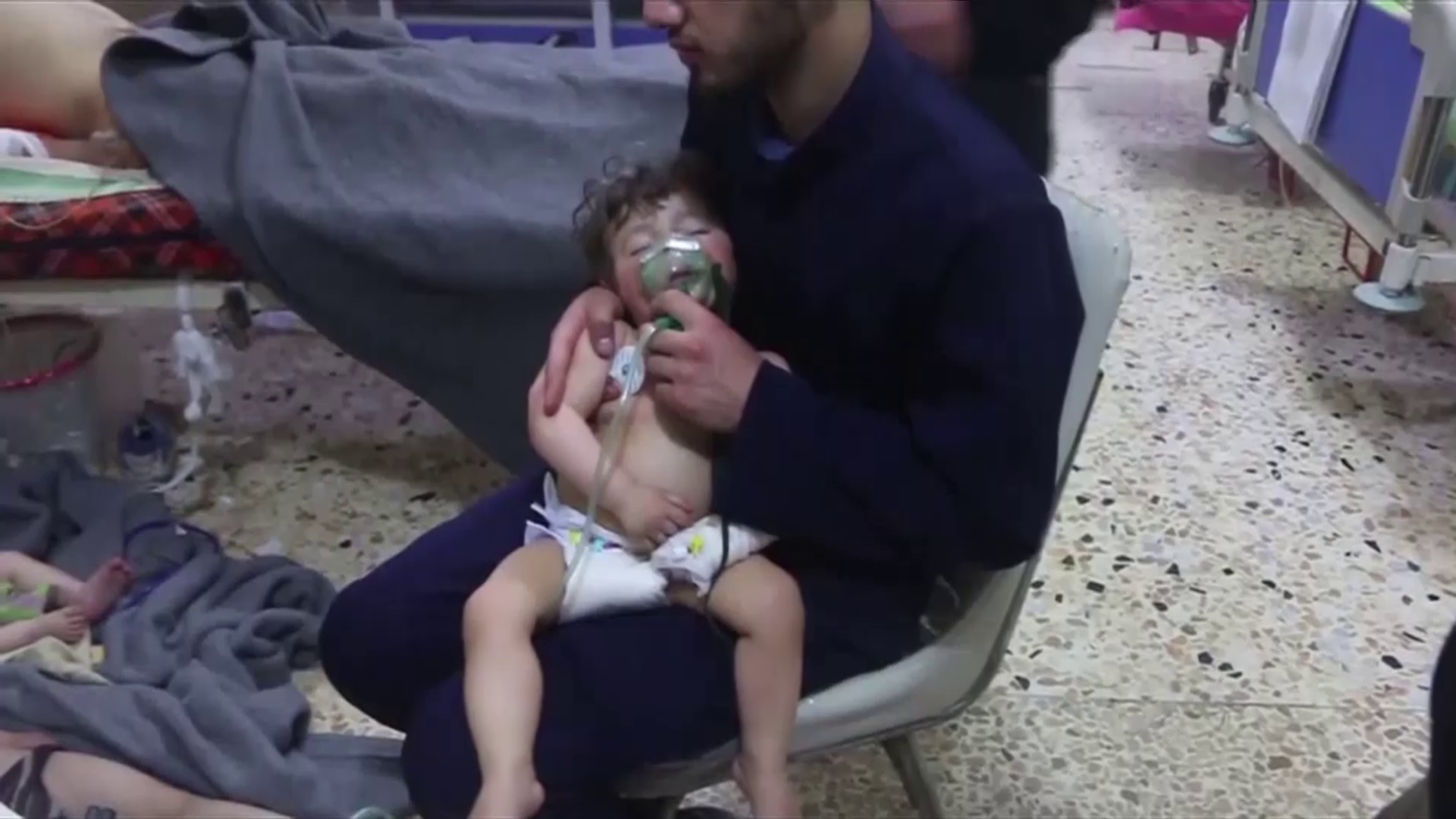 U.N. Security Council to meet over alleged chemical attack in Syria
The U.N. Security Council is set to hold an emergency meeting Monday on Syria following a deadly apparent chemical weapons attack on Saturday. Rival meetings were originally planned; one called by the U.S. and eight other members of the Council to hold those accountable and to demand an investigation and access to victims; and a second called by Russia on threats to international peace and security, presumably to set a course to deflect international condemnation.
In the end the Council will hold one meeting to address the concerns of all member states. The diplomats will meet hours after Russia and Syria accused Israel of carrying out a deadly airstrike inside Syria, targeting an air base where Iranian forces are believed to have been hit. Syrian state media initially accused the U.S. of carrying out the strike, but the Pentagon quickly denied having carried out any strikes in response for the suspected chemical attack on Douma, outside Damascus.
On Sunday, President Trump and France's President Emmanuel Macron spoke out about the incident and, according to a White House statement, "agreed that the [Syrian President Bashar] Assad regime must be held accountable for its continued human rights abuses."
After a Sunday threat by President Trump that there would be a "big price to pay" for the attack against civilians, Russia was the first to call for a Monday meeting. The meeting comes as the new National Security Advisor, John Bolton, a hawk on Syria, was to begin work at the White House.
"Yet again, there are reports of what appears to be a chemical weapons attack in Syria," U.S. Ambassador Nikki Haley said in a statement Sunday.
"Unfortunately, chemical weapons use to injure and kill innocent Syrian civilians has become all too common.. The Security Council has to come together and demand immediate access for first responders, support an independent investigation into what happened, and hold accountable those responsible for this atrocious act," Haley said.
Haley warned last month that Washington "remains prepared to act if we must."
World leaders and the U.N. Secretary General on Sunday responded with horror to a new chemical weapons attack in Syria that killed at least 40 civilians in the town of Douma, near Damascus, during a new offensive by Syrian government forces, after the collapse of a truce with opposition groups.
Although the Syrian government and its ally, Russia, denied any involvement in the alleged gas attack and have blocked the continuation of an accountability mechanism, the U.N. Security Council is likely to consider next steps with some Council members already talking about a referral to the international criminal court.
Although Council members have expressed horror at the repeated chemical weapons attacks against civilians, particularly children, the division between western nations and Russia has left the U.N. in a stalemate.
The dual meetings shows just how divided the Council is on what to do in Syria to stop the slaughter, in light of repeated Russian vetoes.
Thanks for reading CBS NEWS.
Create your free account or log in
for more features.