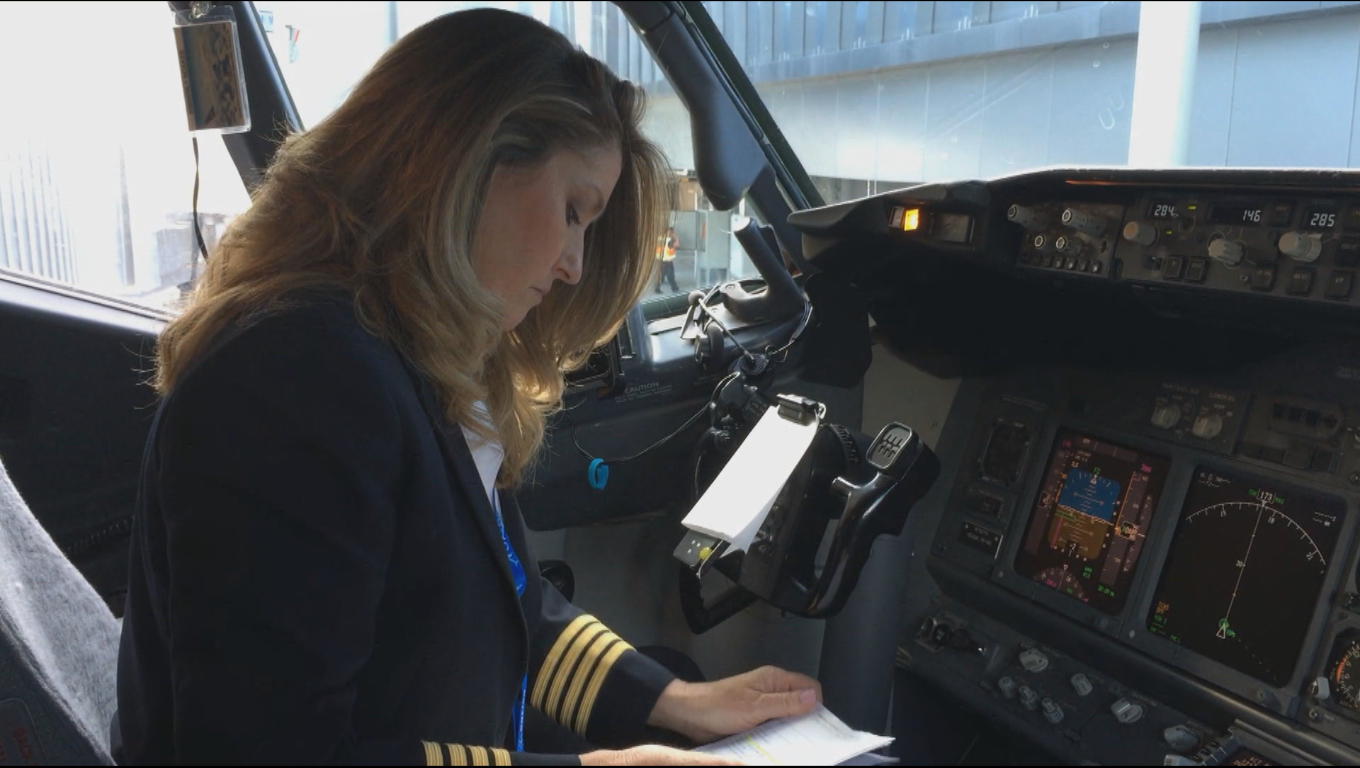 All-female flight crew inspires new generation of women pilots
Airlines are looking to diversify their pilot corps, but women still make up only a fraction of the applicants.
In the U.S., women make up only about six-and-a-half percent of all pilots.
But on one San Francisco-to-Maui United Airlines flight, the pilots, flight attendants, gate agents and even some of the ground crew were all women - a rare occurrence in the male-dominated world of aviation.
"I never thought it would be like this but it's really wonderful that it is," said United Airlines Captain Wanda Collins.
Collins joined the airline in 1999 and is a former Army reservist. Before coming to United, she competed in air shows.
"I'm really looking forward to it and seeing more women in the future. Just being a female pilot gives you the opportunity to prove to people that you can be strong," Collins said.
The number of women licensed to fly an airliner has grown by more than 800 between 2010 and 2014, but make up only about 4 percent of licensed airline pilots.
Studies like one from 2006 found that "in aviation, masculine beliefs, values and perceptions... appear to continue to dominate the industry," and "has led to female pilots experiencing sexism, discrimination, prejudice, hostility and inappropriate discourse."
"Sometimes it's hard because you feel like nobody takes you serious, but for as many times as you get that feeling, you also get the feeling of people looking at you and they're inspired by you," Collins said.
Major U.S. airlines are looking to replace as many as 18,000 retiring pilots over the next seven years. But even as airlines are poised to hire thousands of new pilots, the number of women remains small. Of the 1,700 pilots attending the job fair at the Annual Women Aviation Conference, just 200 are women.
"We still have a ways to go," said Peggy Chabrian, the group's president and founder. "When women first became airline pilots back in the 1970s, sometimes senior level management asked them not to make the PA announcements. They were afraid that the general public would be afraid that there was a woman flying the airplane. I think those perceptions will start to change."
Pilot Shannon Gross came to the conference hoping to land a job with JetBlue.
"I think it's the serenity that I felt up in the air. I get up there and everything just goes away," Gross said.
On that full flight to paradise, the fact that the entire crew were women got the attention of seven-year-old Faith Glatzhofer.
"There's not many pilots around that are women," said Faith, who says she is inspired that she could one day become one too.
That's exactly what Captain Kim Noakes wants to hear.
"You can do this. We did it. Hey, I did it. So anybody can do it," Noakes said.
Thanks for reading CBS NEWS.
Create your free account or log in
for more features.