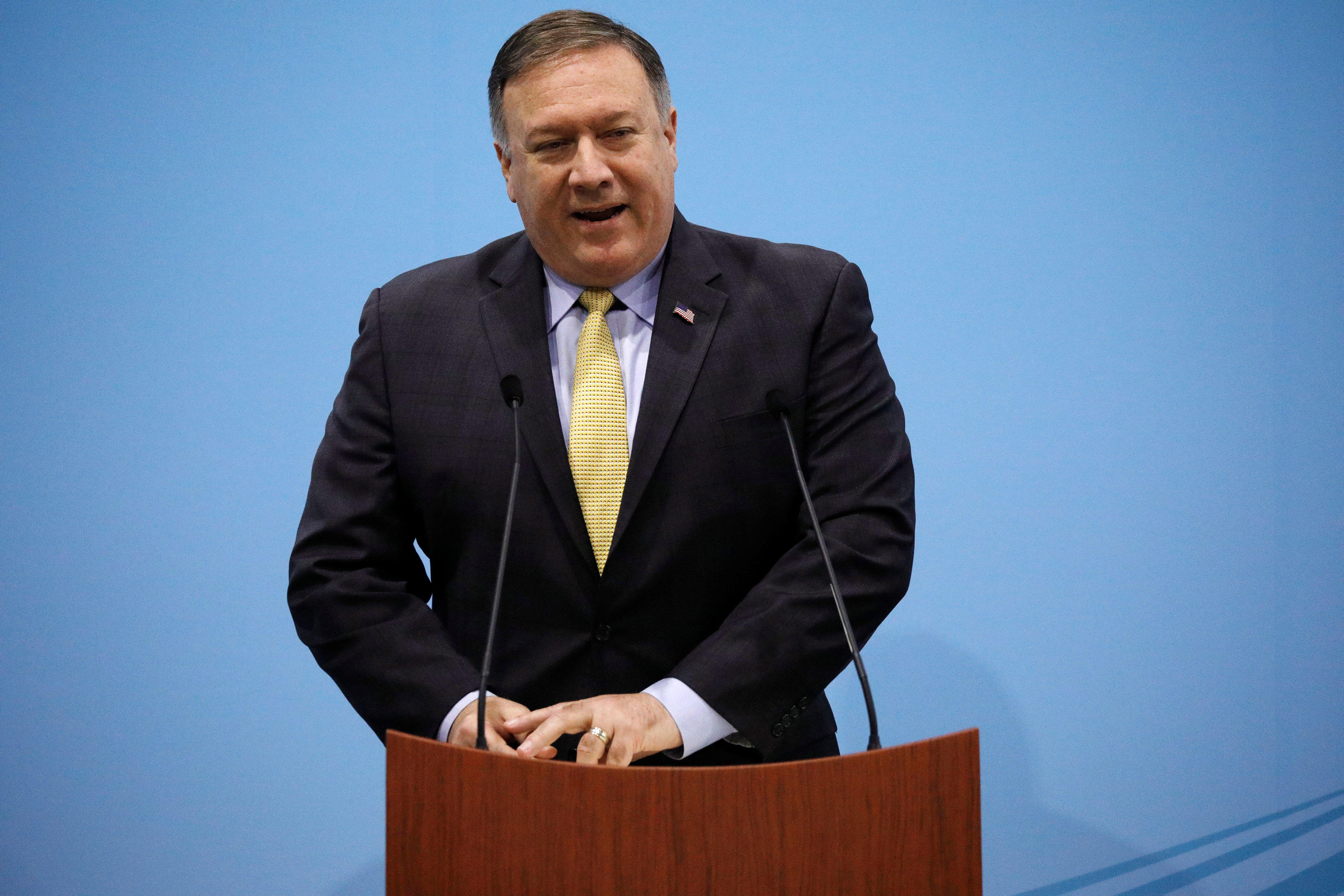 U.S. warns Russia, China and others on enforcing North Korea sanctions
SINGAPORE -- U.S. Secretary of State Mike Pompeo warned Russia, China and other countries on Saturday against any violation of international sanctions on North Korea that could reduce pressure on the North to abandon its nuclear weapons. Pompeo's comments came on the heels of a new United Nations report that found North Korea has not stopped its nuclear and missile programs and is violating U.N. sanctions, including through illicit ship-to-ship transfers of oil.
Speaking on the sidelines of an Asian security forum in Singapore, Pompeo told reporters that the U.S. has new, credible reports that Russia is violating U.N. sanctions by allowing joint ventures with North Korean companies and issuing new permits for North Korean guest workers. He said Washington would take "very seriously" any violations, and called for them to be roundly condemned and reversed.
"If these reports prove accurate, and we have every reason to believe that they are, that would be in violation," Pompeo said, noting that the U.N. Security Council had voted unanimously in favor of the sanctions. "I want to remind every nation that has supported these resolutions that this is a serious issue and something we will discuss with Moscow."
"We expect the Russians and all countries to abide to the U.N. Security Council resolutions and enforce sanctions on North Korea," he said. "Any violation that detracts from the world's goal of finally, fully denuclearizing North Korea would be something that America would take very seriously."
The North Korean foreign minister shot back at the U.S. over its warning to other countries, calling recent moves by the U.S. "alarming." Foreign Minister Ri Yong Ho said in a speech in Singapore that the U.S. "is raising its voice louder for maintaining the sanctions against" North Korea. Ri said that while North Korea has "initiated goodwill measures" including a "moratorium on the nuclear test and rocket launch test and dismantling of nuclear test ground," the U.S. has gone "back to the old, far from its leader's intention."
Earlier Saturday, during a group photo of the ASEAN Regional Forum ministerial meeting, Pompeo went to greet Ri. They shook hands and briefly exchanged smiles and a few words. Pompeo then went back to his place.
At the United Nations, a summary of a report by experts monitoring U.N. sanctions against North Korea was sent to the Security Council on Friday that said North Korea is continuing with both its nuclear and missile programs. And, in addition to the oil transfers, it said the North was violating sanctions by transferring coal at sea and flouting an arms embargo and financial sanctions.
Late Friday, U.S. Ambassador to the United Nations Nikki Haley raised the alarm, saying that "talk is cheap." ''Russia cannot support sanctions with their words in the Security Council only to violate them with their actions," she said in a statement. She made the remarks as the U.S. asked the Security Council to add a North Korean bank executive, a North Korean company, a Chinese company and a Russian bank to the U.N. sanctions blacklist.

In his discussions with Southeast Asian officials in Singapore, Pompeo said he had implored them all to "strictly enforce all sanctions," including an end to ship-to-ship transfers of oil for North Korea, and had been encouraged by the response.
Despite the warning to Russia, Pompeo said he remained optimistic that North Korean leader Kim Jong Un will follow through on his pledge to President Donald Trump to denuclearize. But he said the timeline for the North's full and final denuclearization remains a work in progress.
Earlier, in an interview with a Singapore's Channel News Asia, Pompeo had said the pace for the dismantlement of the North's nuclear weapons program would rest with Kim. An interviewer with Channel NewsAsia pointed out that leaving the process open-ended makes people incredibly nervous. Pompeo said the "world should be less nervous" than before the summit between Mr. Trump and Kim on June 12 in Singapore
"The ultimate timeline for denuclearization will be set by Chairman Kim, at least in part," he said. "The decision is his. He made a commitment, and we're very hopeful that over the coming weeks and months we can make substantial progress towards that and put the North Korean people on a trajectory towards a brighter future very quickly."
At the news conference, however, Pompeo appeared to step back from that comment, noting that the timeline is subject to negotiation between Washington and Pyongyang. He recalled that Kim had committed to denuclearization at the historic summit and that both sides "have been working since then to develop the process through which that will be achieved."
"The process of achieving denuclearization of the Korean peninsula is one that I think we have all known will take some time," Pompeo said, adding later: "I am optimistic that we will get this done in a timeline and the world will celebrate what the U.N. Security Council has demanded."
Pompeo said on Friday that while there's "still a ways to go," the United States remains "confident" in North Korea's commitment to denuclearize.
On Thursday, the White House announced that Mr. Trump had received a new letter from Kim and had responded quickly with a letter of his own. The correspondence came amid fresh concerns over Pyongyang's commitment to denuclearization despite a rosy picture of progress painted by Mr. Trump.
Thanks for reading CBS NEWS.
Create your free account or log in
for more features.