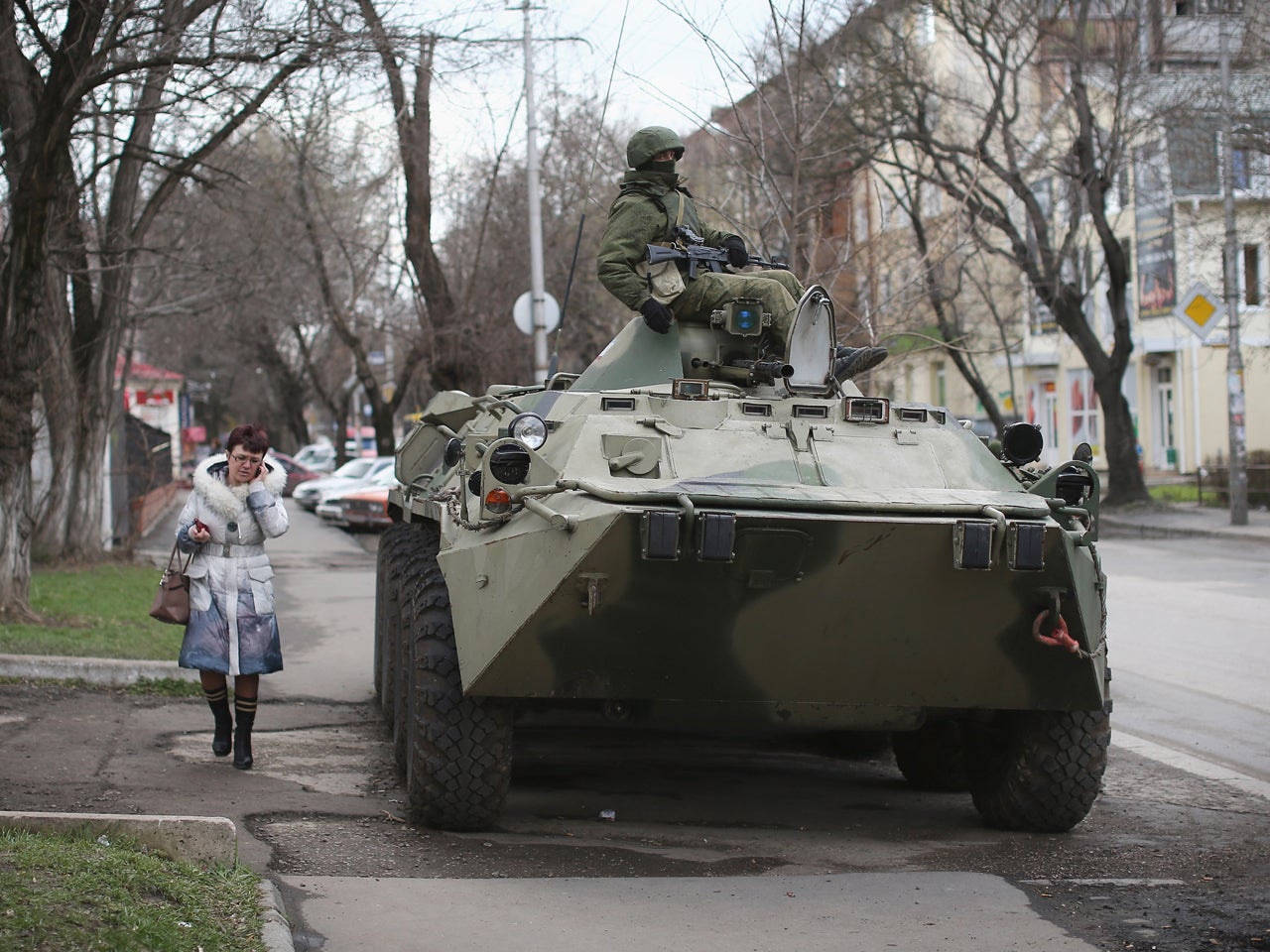 Ukraine navy base in Sevastopol, Crimea stormed by pro-Russia self-defense forces
SEVASTOPOL, Crimea -- Crimea's self-defense forces on Wednesday stormed the Ukrainian navy base in the Black Sea port of Sevastopol a day after Russia signed a treaty with local authorities to annex the region.
An Associated Press photographer witnessed several hundred self-defense forces take down the gate and make their way onto the headquarters' premises. They then raised the Russian flag on the square by the headquarters.
Ukrainian servicemen were standing guard by the main building. Crimean self-defense forces are not armed and seemed to be waiting for the Ukrainian army's decision whether to let them in.
The commander of the Russian Black Sea fleet was seen arriving at the base for talks. Ukrainian sailors were reportedly seen filing out of the base shortly after, carrying bags full of their belongings.
A similar situation developed Tuesday night at another Ukrainian base in Crimea, and CBS News' Elizabeth Palmer was there as a pro-Russian group surrounded the compound, sparking fears they might try and enter by force.
Palmer was forced to leave the scene by the pro-Russian forces when she tried to enter the base to speak with the Ukrainian soldiers barricaded inside. That base was never stormed, however, and the Ukrainians inside told CBS News on Tuesday that they were all still fine -- if, like all Ukrainian forces right now, on edge.
Palmer said the Ukrainian forces were paying close attention to a planned visit to Crimea later Wednesday by two senior Ukrainian officials.
The officials planned to travel to Crimea in a bid to avert an escalation in hostilities a day after two men were killed at a military facility in a gunbattle between Ukrainian troops and a militia loyal to the local government.
The prime minister in Crimea, however, said Ukraine's deputy prime minister and defense minister would be turned back.
"They are not welcome in Crimea," Sergei Aksyonov was quoted as saying by Interfax news agency. "They will not be allowed to enter in Crimea. They will be sent back."

Russian President Vladimir Putin on Tuesday signed a treaty to incorporate Crimea into its territory following a
referendum
in which residents of Ukraine's region overwhelmingly backed the move.
Jubilant crowds in Moscow and other cities across Russia hailed the annexation while Ukraine's new government called the Russian president a threat to the "civilized world and international security," and the U.S. and Europe threatened tougher sanctions against Moscow.
Thousands of Russian troops had overtaken Crimea two weeks before Sunday's hastily called referendum, seizing some Ukrainian military bases, blockading others and pressuring Ukrainian soldiers to surrender their arms and leave. Putin insisted the Russian troops were in Crimea under a treaty with Ukraine that allows Russia to have up to 25,000 troops at its Black Sea fleet base in Crimea.
The West and Ukraine described the Crimean referendum as illegitimate and being held at gunpoint.
The United States and the European Union on Monday imposed sanctions on Russia, targeting Russian and Crimean officials with visa bans and asset freezes.
Thanks for reading CBS NEWS.
Create your free account or log in
for more features.