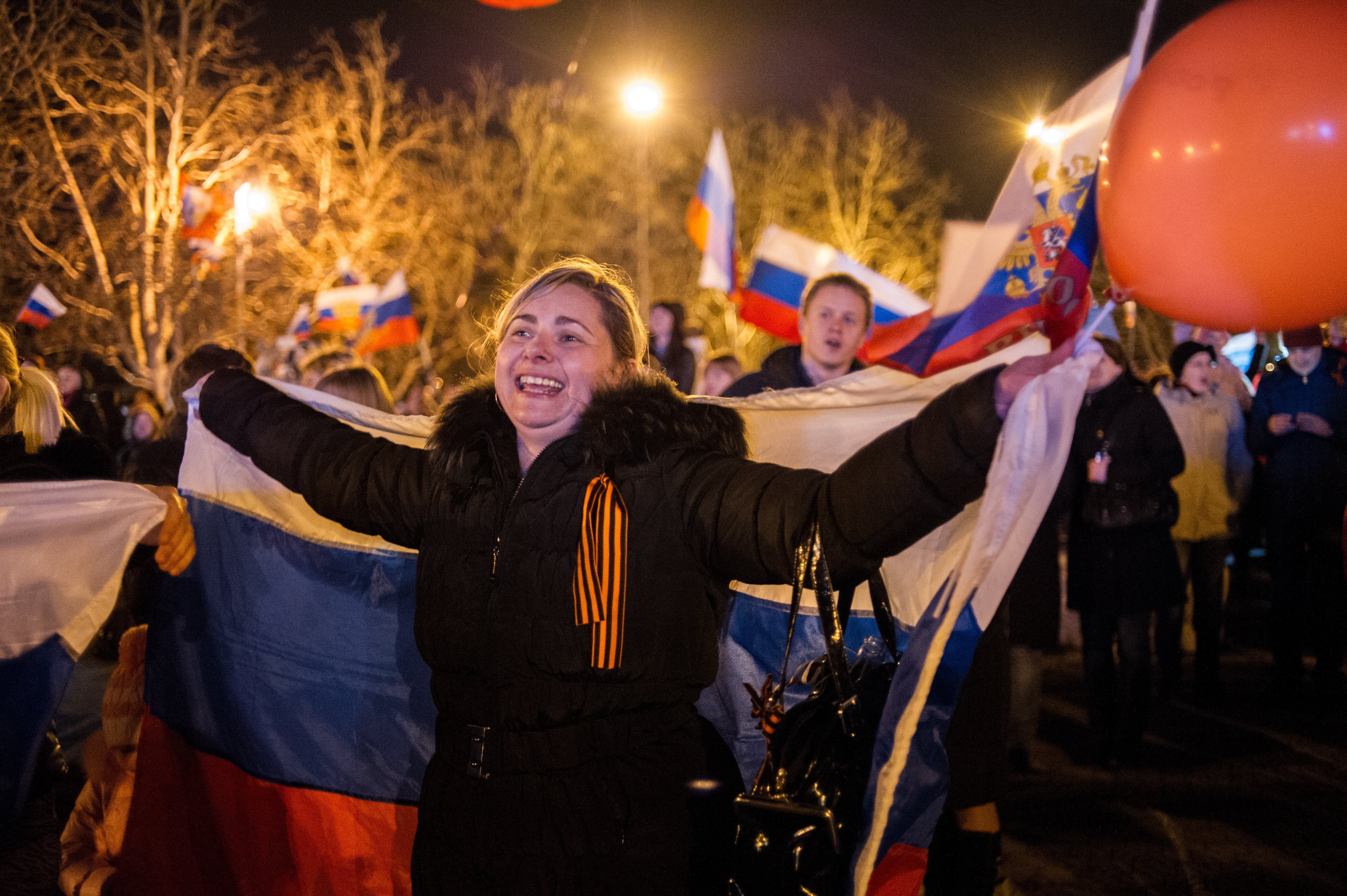 Official results: 97 percent of Crimea voters back joining Russia
SIMFEROPOL, Ukraine -- Ukraine's Crimean peninsula declared itself independent Monday after its residents voted overwhelmingly to secede and join Russia, while the United States and the European Union slapped sanctions against some of those who promoted the divisive referendum.
Ukraine's political turmoil has become Europe's most severe security crisis in years and tensions have been high since Russian troops seized control of Crimea two weeks ago. Large numbers of Russian troops are also massed near the border with Russian-speaking eastern Ukraine, which has sharp political differences with the country's new government in Kiev.
The U.S., EU and Ukraine's new government do not recognize the referendum held Sunday in Crimea, saying it violates both Ukrainian and international norms. Moscow, however, considers the vote legitimate and Russian President Putin was to address both houses of parliament Tuesday on the Crimean situation.
The Crimean referendum could also encourage rising pro-Russian sentiment in Ukraine's east and lead to further divisions in this nation of 46 million.

A delegation of Crimean lawmakers was traveling to Moscow on Monday for negotiations on how to proceed. Russian lawmakers have suggested that formally annexing Crimea is almost certain - with one saying it could happen within days.

Those living on the strategic Black Sea peninsula applauded the move, since it received over 97 percent backing from voters.

"We came back home to Mother Russia. We came back home, Russia is our home," said Nikolay Drozdenko, a resident in Sevastopol, the key Crimean port where Russia leases a naval base from Ukraine.
The Crimean parliament declared that all Ukrainian state property on the peninsula will be nationalized and become the property of the Crimean Republic. Lawmakers also asked the United Nations and other nations to recognize it and began work on setting up a central bank with $30 million in support from Russia.

The United States announced sanctions against seven Russian officials, while the EU's foreign ministers slapped travel bans and asset freezes against 21 officials from Russia and Ukraine following Crimea referendum. The ministers did not immediately release the names and nationalities of those targeted by the sanctions.

While the diplomatic standoff between Moscow and the West -- with Ukraine in the middle -- heats up, CBS News correspondent Elizabeth Palmer reports that the Crimeans who voted to join Russia are now ever more convinced they're on their way.
As soon as the tally was in, the party on the streets in the Crimean capital of Simferopol started. Palmer says Crimea's new prime minister said aloud what many in the crowd before him were feeling.

"Dear friends," said Sergei Aksyonov to the crowd in Lenin Square, "we are going home, to Russia!"

Palmer says the voting on Sunday was orderly, and turnout was heavy. The Crimean government said 83 percent of voters cast ballots -- most of them firmly convinced that a vote for Russia was a vote for a better life.

"We need to show solidarity with Ukraine and therefore Russia leaves us no choice," Polish Foreign Minister Radoslaw Sikorski told reporters in Brussels before the vote. "The 'Anschluss' of Crimea cannot rest without a response from the international community."

He was referring to Nazi Germany's forceful annexation of Austria.

Moscow, meanwhile, called on Ukraine to become a federal state as a way of resolving the polarization between Ukraine's western regions - which favor closer ties with the 28-nation EU - and its eastern areas, which have long ties to Russia.
In a statement Monday, Russia's Foreign Ministry urged Ukraine's parliament to call a constitutional assembly that could draft a new constitution to make the country federal, handing more power to its regions. It also said country should adopt a "neutral political and military status," a demand reflecting Moscow's concern about the prospect of Ukraine joining NATO.

Russia is also pushing for Russian to become Ukraine's state language.

In Kiev, Ukraine's new government dismissed Russia's proposal Monday as unacceptable, saying it "looks like an ultimatum."

The new government in Kiev emerged after pro-Russian President Viktor Yanukovych fled to Russia last month after three months of protests culminated in deadly clashes.

Ukraine's Foreign Minister Andriy Deshchytsya visited NATO headquarters in Brussels to request technical equipment to deal with the secession of Crimea and the Russian incursion there.

NATO said in a statement the alliance was determined to boost its cooperation with Ukraine, including "increased ties with Ukraine's political and military leadership, strengthening efforts to build the capacity of the Ukrainian military" with more joint training.

Deshchytsya said he also talked with NATO Secretary-General Anders Fogh Rasmussen about sending monitors to Ukraine - a move that would certainly inflame Russia.
Thanks for reading CBS NEWS.
Create your free account or log in
for more features.