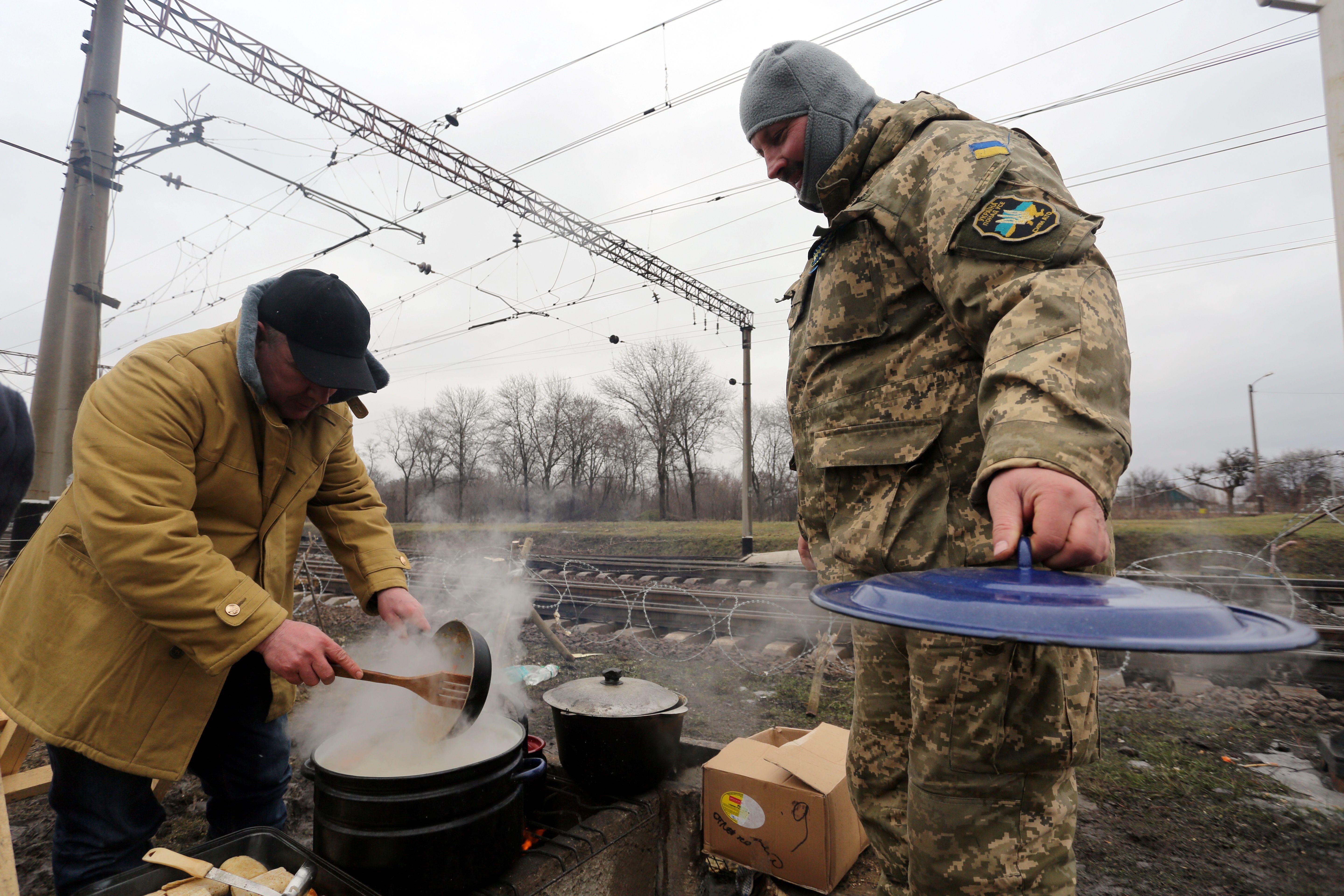 With aid cut, thousands on "verge of survival in the heart of Europe"
MOSCOW -- The largest provider of humanitarian aid in rebel-held eastern Ukraine said on Wednesday that it has suspended its operations there.
The charity foundation run by billionaire Rinat Akhmetov has been distributing food and other supplies to residents in the rebel-controlled east, where most of the international aid organizations have no access.
Akhmetov's foundation said in a statement on Wednesday that its work in the region has been paralyzed after rebels blocked access to Akhmetov's Shakhtar FC arena in the rebel capital Donetsk, which hosted the 2012 European football championships and now serves as a warehouse for the relief effort.
Efforts to block the foundation's access to its facilities in Donetsk "is a threat to the lives of Donbass civilians who became hostages of the armed conflict and found themselves on the verge of survival in the heart of Europe in the 21st century."
The foundation says it has given away more than 11 million food packages to local residents.
More than 9,800 people have been killed in fighting between Russia-backed separatists and government troops since 2014. Separatists do not allow Ukrainian aid and in recent months have barred virtually all international organizations from operating there.
Russia has been delivering aid to the rebel-controlled east, too, but some of the deliveries ended up in the fighters' hands and unlike Akhmetov's food packages, Russian aid was not distributed directly to the population.
The rebels' clampdown on Akhmetov comes several weeks after Ukrainian nationalists imposed a transportation blockade on the region, making it impossible for goods to cross between rebel- and government-controlled areas. Despite the hostilities, trade in the region has never fully stopped. A 2015 AP investigation detailed how Akhmetov, one of Ukraine's richest men, operates factories and coal mines on both sides of the front line, powering the country's economy and pouring hundreds of millions in taxes into government coffers. His companies provide more than 300,000 jobs across Ukraine, most in the rebel-held east.
Donetsk rebel leader Alexander Zakharchenko told local media on Wednesday that in retaliation for Kiev's blockade the rebels have taken over the management of 40 factory and coal mines, including Akhmetov's, which have been paying Ukrainian taxes and traded with Kiev.
Russian Foreign Minister Sergey Lavrov said in comments carried by Russian news agencies that, in view of the blockade, the rebel authorities "hardly had any other choice" other than to seize the businesses.
The Ukrainian government has criticized the blockade, saying it hurts ordinary Ukrainians in the rest of the country by cutting off coal shipments from separatist regions. That has resulted in power shortages in government-held parts of Ukraine.
Kremlin spokesman Dmitry Peskov told reporters on Wednesday that Moscow is concerned about a worsening humanitarian situation in the east and pledged that it "will do its best to contribute to a de-escalation" in the area.
Thanks for reading CBS NEWS.
Create your free account or log in
for more features.