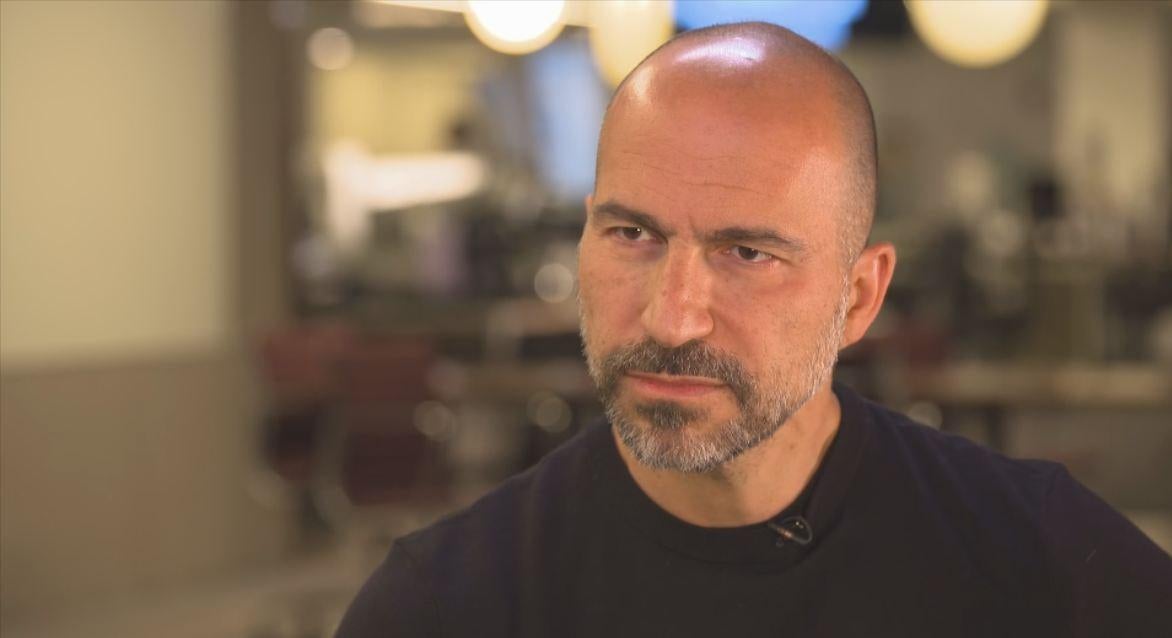 Uber, valued at $62 billion, still loses money on its rides
Three investors are looking to buy stakes in Uber in an offer that values the company at $62 billion.
The ride-hailing giant said Wednesday the investors want to buy up to $600 million worth of the private company's stock. They're offering $40 per share, giving Uber a valuation that's nearly 30 percent above the $48 billion set in a January stock sale.
The announcement comes as Uber posted a $2.46 billion first-quarter net profit largely due to one-time gains from the sale of businesses in Southeast Asia and Russia. Without the gains, the company still lost money before taxes and depreciation, but the $304 million in red ink was half the amount from a year ago.
Income statements released Wednesday show Uber's gross bookings and revenue rose dramatically during the quarter. Investors apparently believe that revenue growth will continue long enough to someday help turn the ride-hailing pioneer's red ink into black, even if it takes other emerging business lines -- such as food delivery and bicycle-sharing services -- to get the company across the line into profitability.
In a statement, Uber said that the Coatue Management, Altimeter Capital and TPG investment firms have offered to buy $400 million to $600 million worth of Uber stock. The offer, to be launched next week and last for 20 business days, would allow longtime investors and some employees to convert shares to cash ahead of a planned public stock offering sometime in 2019.
Japanese technology conglomerate SoftBank Group Corp. and others closed a deal in January to buy 15 percent of Uber. The investors, including Dragoneer Investment Group, sank about $9 billion into Uber at roughly $33 per share, including about $1.25 billion in new shares.
No new shares will be sold in the latest offer. Eligible sellers will be limited in how many shares they can sell. They can offer 25 percent of their total shares, or $10 million worth of stock, whichever is of lower value, according to the company.
The stock offer and Uber's first-quarter numbers point to progress for Uber as it heads toward an initial public stock offering sometime in 2019 that was promised by new CEO Dara Khosrowshahi shortly after his arrival last August.
Uber's gross bookings from ride-hailing and other services rose 55 percent from a year ago to $11.29 billion. Net revenue, which is gross bookings minus payments to drivers, incentives and promotions, rose 70 percent to $2.59 billion, the company said.
Uber said it will restate and reduce gross bookings retroactively by about 2 percent due to the way it counts what it considers to be promotional costs. Uber gives each rider a cost estimate for a trip, but the actual cost can be higher or lower depending on road construction, traffic or other factors. The company either pays the difference if the estimate is too low or keeps the money if it's too high.
In the first quarter of last year, Uber posted a net loss of $847 million. Uber had one other previous quarterly net profit, in 2016, on a one-time gain from combining its China operations with competitor Didi Chuxing.
In a statement, Khosrowshahi said the business is beating internal goals as the company cuts losses and holds onto its ride-hailing leadership. He hinted that Uber will not try to boost profits artificially ahead of the stock offering, saying it will continue to invest in the business. "We plan to reinvest any over-performance even more aggressively this year, both in our core business as well as big bets like Uber Eats globally."
The Uber Eats food delivery service is operating in more than 200 cities at present, and the company says it will continue to expand the service to more cities. It also plans to add its bicycle-sharing services to more cities as it tries to become more of a mobility service company.
Core business investment would be for subsidies to keep prices lower in highly competitive markets.
During the first quarter, Uber closed on deals to sell its businesses in Southeast Asia and Russia for stakes in rival companies. The Southeast Asia business went to Grab in exchange for a stake in the ridesharing, food delivery and financial services business. Uber also agreed to merge its Russian ride-hailing business with Yandex, the search-engine leader that also runs a popular taxi-booking app.
Uber is trying to distance itself from a year of scandals in 2017 including allegations of sexual misconduct and charges that it deployed an espionage team to plunder trade secrets from its rivals. The company's full-year net loss widened to $4.5 billion last year.
Earlier this year one of Uber's self-driving cars struck and killed a pedestrian near Phoenix, Arizona. As two federal agencies continue investigations into the crash, the company announced Wednesday that it would stop testing on Arizona public roads.
Thanks for reading CBS NEWS.
Create your free account or log in
for more features.