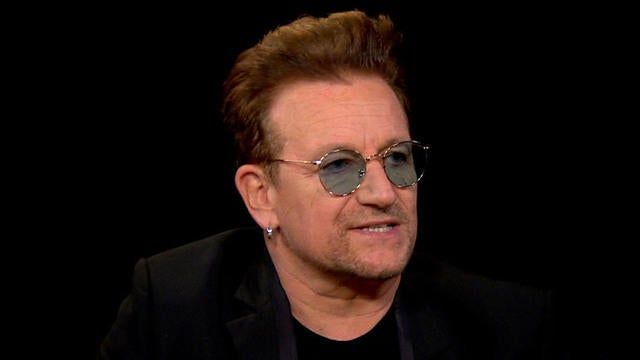 U2's Bono: Trump is "potentially the worst idea that ever happened to America"
U2 is now in its 40th year in music business, but in addition to its legendary music, the band's lead singer is also well-known for his philanthropic work around the world.
"Our music was always wrapped around social justice, which is where you and I met, you know," Bono told "CBS This Morning" co-host Charlie Rose. "In these, you know, in the fight against extreme poverty. But I -- that's how I got in the door. People weren't expecting that I wouldn't leave. But... when I would be up on Capitol Hill here, or any capital, people would take the meeting just to sort of have a look at this exotic creature or whatever -- you know, a rock-and-roll person -- but then I didn't leave."
"With all the passion you have for social activism, is -- in any way, does it diminish the music?" Rose asked.
"Well, you know, it has been some pride for the band…. the work that I've done. But it's also -- I know, I've embarrassed them a lot. You know, there's people I meet that they just wouldn't want me to meet," Bono said.
Rose also asked Bono about his views on the presidential election.
"Does Trump come to you as somebody who is a change agent, because people are so unhappy about the status quo? Or does he come to you as something else?" Rose asked.
"Look, America is like the best idea the world ever came up with. But Donald Trump is potentially the worst idea that ever happened to America, potentially," Bono said. "It could destroy it, because of what we're saying, because America's not just a country. Ireland is a nice country. Great Britain is a great country -- all the rest of it. It's not an idea. America is an idea, and that idea is bound up in justice and equality for all -- equality and justice for all, you know? I think he's hijacked the party, and I think he's trying to hijack the idea of America. And I think it's bigger than all of us. I think it's -- this is really dangerous."
But Trump's race against Hillary Clinton – a former secretary of state, former United States senator and first lady – is tight. When asked why he thought the race was so even, Bono said, "I would not diminish Trump supporters or underestimate their angst, because I feel that in a way, they have correctly assessed that the center parties haven't yet become clear."
"In other words, you're saying their angst is real and genuine, a sense that 'I worry about my country and where it is,'" Charlie said.
"Yeah, yeah. But there are very real problems facing not just America, but facing Europe. And remember, who's in the White House? I'm Irish. I don't have a vote. And I can't be telling people how to vote and don't want to, but I have a voice, and I can say that who sits in that office really affects everyone in this world," Bono said.
Thanks for reading CBS NEWS.
Create your free account or log in
for more features.