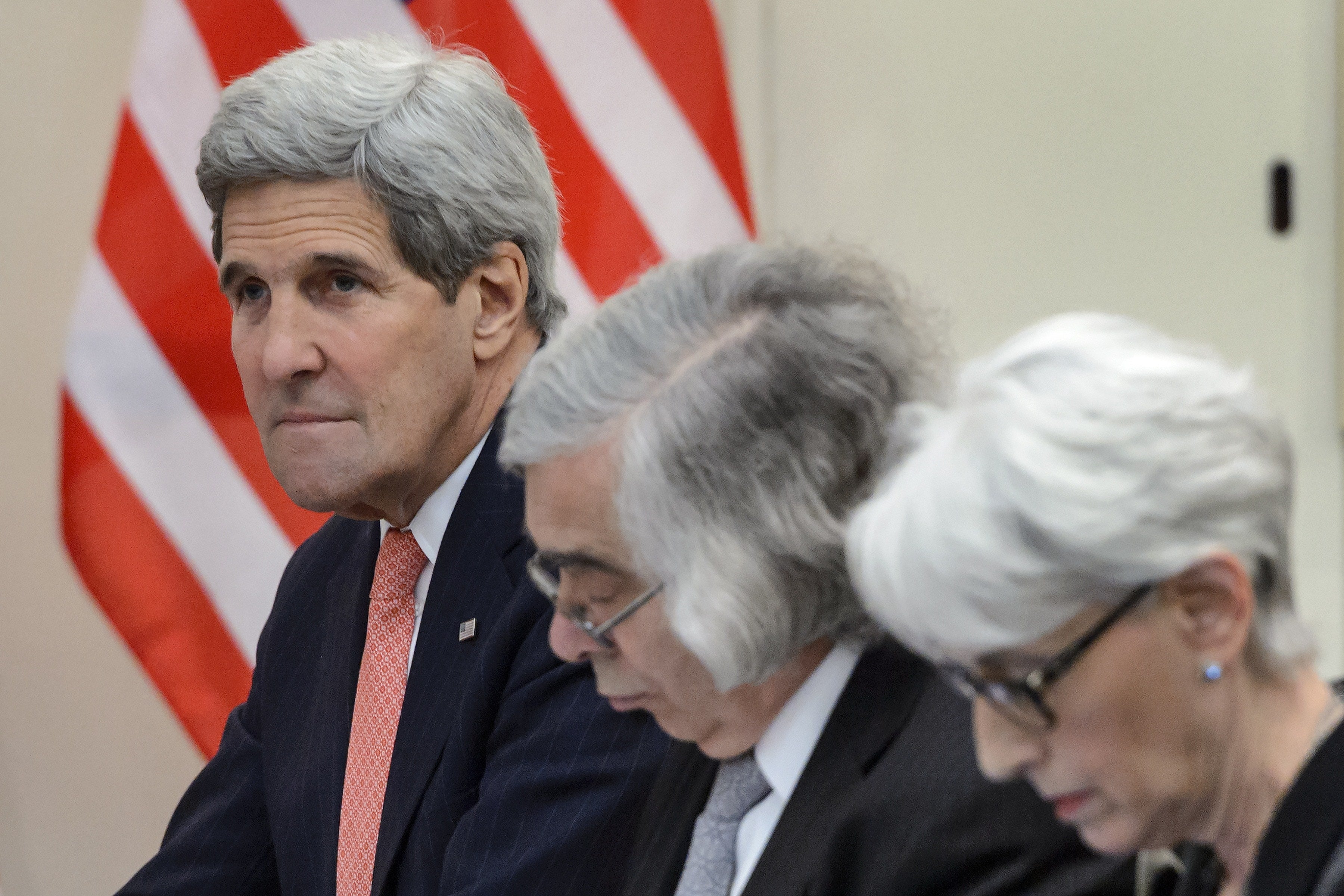 U.S. officials continue to press Iran to accept nuclear deal near deadline
LAUSANNE, Switzerland -- With Congress nipping at their heels, American officials are huddling with diplomats from the world powers to pressure Iran to accept a U.S.-brokered deal that would constrain its nuclear program for around 15 years. Yet just 36 hours ahead of the self-imposed deadline, U.S. officials are still negotiating on some of the very biggest hurdles that would prevent Iran from using its nuclear technology to build an atomic weapon.
A self-imposed deadline of midnight March 31st may be reconsidered. Western diplomats tell CBS News that an extension of a few hours or even a few days past the self-imposed end of March deadline for a nuclear deal is possible.
The amount of research and development into uranium enrichment that Iran is allowed to conduct in the final five years of the emerging 15-year agreement is a key sticking point. During the first ten years, Iran would freeze its nuclear development but would be allowed to enrich to higher levels after year eleven. Iran wants that movement to happen quickly. The U.S. and its negotiating partners want a slower progression.
Another outstanding question under discussion is how to dispose of Iran's existing stockpile of atomic fuel. Abbas Araqchi, Iran's deputy foreign minister, told reporters here in Lausanne late Sunday that Tehran had refused to ship its uranium stockpile to another country. That appeared to rule out a proposal that would involve Iran sending its uranium to Russia for reprocessing into a form that would be difficult to use in a nuclear weapon.
A senior State Department official insisted that no decisions had yet been made on the matter and called destruction of the stockpile an essential step in ensuring that Iran's program is entirely peaceful. Other Western diplomats said that there were plenty of alternative measures being considered and that shipping the uranium out is not the only solution to the problem. The bottom line seemed to be that this core issue has yet to be decided on and may not be within the remaining hours ahead of the Mar. 31 deadline.
Another obstacle to the negotiations - Russian Foreign Minister Sergei Lavrov has already departed Lausanne, although he has said that if there is a breakthrough, he will return to Switzerland. Earlier, the Russians rejected a proposal that would suspend but threaten to snap back U.N. Security Council sanctions on Iran, if the regime violates a deal. Russian negotiators think that the snap-back provision would set a dangerous precedent because it would bypass a Security Council vote, thus diluting Russia's ability to vote on the matter.
Lifting those U.N. sanctions tops Iran's wish list. These sanctions effectively label it a pariah state under international law and lock it out of the global markets. They range from designation of financial institutions, to arms embargos and bans on weapons proliferation. Iran wants to see that stigma removed and those sanctions repealed quickly after implementation of the emerging deal. Western diplomats say that there are ways to tinker with the U.N. sanctions but there are two non-negotiable parts. Specifically, the U.S. and its P5+1 allies refuse to repeal the arms embargo, nor will they agree to allow Iran to import so-called dual use items that could be used in a nuclear reactor.
Instead the U.S. and European Union have offered to suspend but not lift the unilateral sanctions that they have ordered on Iran. That would provide financial relief that is estimated to be in the hundreds of billions of dollars. However, those sanctions do not have the symbolic weight of the U.N. sanctions that essentially estrange Iran from the international community. It would be a political win for the Iranian negotiators to be able to return to Tehran and say that they brought Iran in from the cold.
Ali Vaez, senior Iran analyst for the International Crisis Group, told CBS News that both sides are taking tougher positions on some issues and more flexible positions on others. "This process, at this point, is one step forward, two steps back, or two steps forward and one step back. It is a very complicated diplomatic dance that will go on until the last minute of the last day in these negotiations."
Still, there are some elements of the potential deal that are emerging, including its rather clunky name. If all of the parties are able to come to an understanding, the agreement will be dubbed the Joint Comprehensive Plan of Action (JCPOA.) The name itself is a nod to the existing interim deal - known as the Joint Plan of Action (JPOA) - which has kept Iran's nuclear development frozen since 2013 in exchange for limited sanctions relief. That interim deal between Iran and the P5+1 (Russia, China, EU, Germany, U.K., U.S. and France) is in place until June of 2015. That gives negotiators another three months to hammer out the level of technical detail required for a comprehensive written accord.
The agreement being negotiated right now will likely not be an agreement signed by Iran until June, in part because the Supreme Leader of Iran has said he will only sign one comprehensive text. Even if there is a breakthrough in talks within the next 36 hours, it would be next to impossible to hammer out the legal detail of such an accord. Instead, the US and its negotiating partners are expected to announce a framework "understanding" that will sketch out in broad parameters just what Iran has agreed to do.
The end of March had been a goal post set by nuclear negotiators in 2014 but the White House later made it a hard deadline in part to force decision-making but also to get ahead of a Congressional-threat to leverage sanctions that could torpedo the delicate diplomatic talks.
Privately, Senior White House aides say they would be open to an extension if it were a matter of hours and not days or weeks. However, that is not completely certain. Aides have said they would be open to as much time as 72 hours if that is what it took to finalize the political framework.
Thanks for reading CBS NEWS.
Create your free account or log in
for more features.