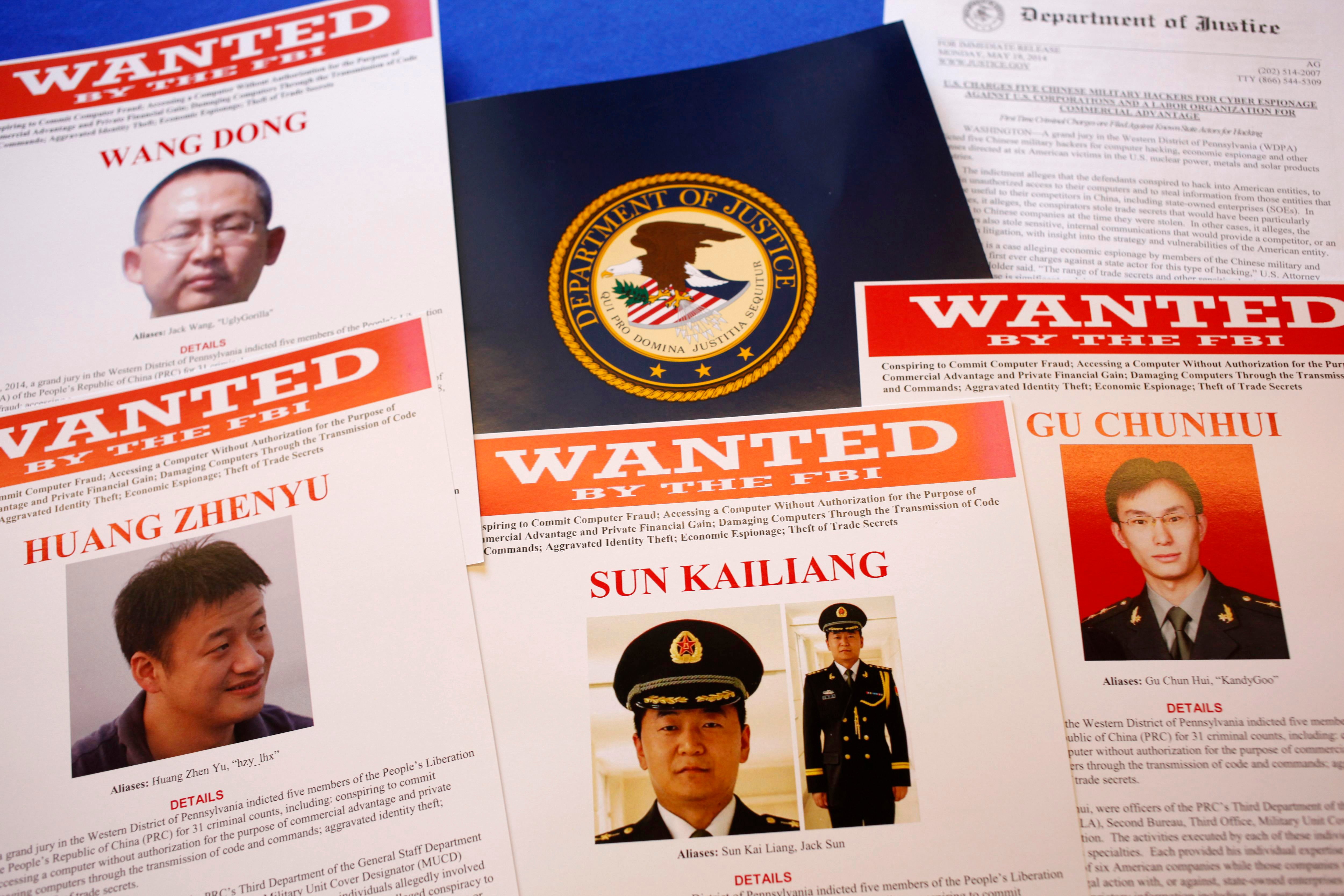 U.S. files economic espionage charges against Chinese military hackers
WASHINGTON - In a landmark case, the Department of Justice announced Monday charges against five Chinese military hackers, accusing them of stealing trade secrets and other proprietary or sensitive information online.
The hackers targeted big-name makers of nuclear and solar technology, stealing confidential business information, sensitive trade secrets and internal communications for competitive advantage, according to a grand jury indictment.
The DOJ specifically named "Wang Dong, Sun Kailiang, Wen Xinyu, Huang Zhenyu, and Gu Chunhui, who were officers in Unit 61398 of the Third Department of the Chinese People's Liberation Army (PLA)," as perpetrators in the first-ever case of economic espionage charges against hackers working for a foreign government.
Unit 61398 of the PLA has been openly recruiting computer experts for at least a decade, but only recently came to wider renown for a host of alleged hacking activities.
The charges dramatize a longtime Obama administration goal to prosecute state-sponsored cyber threats, which U.S. officials say they have grappled with for years. A recent government report said that more than 40 Pentagon weapons programs and nearly 30 other defense technologies have been compromised by cyber intrusions from China.
In a statement, China's Foreign Ministry said the U.S. charges were based on "fabricated facts" and jeopardize China-U.S. "cooperation and mutual trust."
"China is steadfast in upholding cybersecurity," said the statement. "The Chinese government, the Chinese military and their relevant personnel have never engaged or participated in cybertheft of trade secrets. The U.S. accusation against Chinese personnel is purely ungrounded and absurd."
Federal prosecutors say four major manufacturing firms that are based or do much of their work in western Pennsylvania were the victims of the group, which one official said engaged in nothing more than "21st Century burglary."
The indictment unsealed Monday says Westinghouse, U.S. Steel, Alcoa, and Allegheny Technologies Inc., or ATI, a specialty steelmaker, were targeted in the scheme that allegedly began in 2006.
Despite the ominous-sounding allegations, at least one of the firms downplayed the hacking.
"To our knowledge, no material information was compromised during this incident, which occurred several years ago," said Monica Orbe, Alcoa's director of corporate affairs. "Safeguarding our data is a top priority for Alcoa, and we continue to invest resources to protect our systems."
Federal prosecutors from Pittsburgh will handle the case, which was announced Monday in Washington by Attorney General Eric Holder.
The other companies that were targeted are SolarWorld AG, a German company with operations in Oregon, and the United Steelworkers of America, which is headquartered in Pittsburgh.
"The range of trade secrets and other sensitive business information stolen in this case is significant and demands an aggressive response," Holder said.
Intelligence officials have estimated that American companies are losing about $250 billion per year in intellectual property -- much of that to the Chinese, reports CBS News correspondent Bob Orr.
"For too long, the Chinese government has blatantly sought to use cyber espionage to obtain economic advantage for its state-owned industries," said FBI Director James B. Comey.
Chinese hackers have also breached the computer systems of American media companies including the New York Times and Washington Post to monitor U.S. coverage of Chinese politics.
"This is the new normal," said Bob Anderson, Jr., executive assistant director of the FBI's criminal, cyber, response and services branch. "This is what you're going to see on a recurring basis."
It's not yet clear if federal prosecutors can actually succeed with a case against foreign suspects. Since the accused are allegedly working for the government itself, it's unlikely China would cooperate.
The indictment will put a greater strain on the U.S.-China relationship and could provoke retaliatory acts in China or elsewhere.
"What we can expect to happen is for the Chinese government to indict individuals in the United States who they will accuse of hacking into computers there," said Mark Rasch, a former U.S. cybercrimes prosecutor. "Everybody now is going to jump into the act, using their own criminal laws to go after what other countries are doing."
China has itself said that it faces a major threat from hackers, and the country's military is believed to be among the biggest targets of the NSA and U.S. Cyber Command.
Last August, Foreign Ministry spokeswoman Hua Chunying repeated China's assertion that it is firmly opposed to cyberattacks and that it is one of the countries that has suffered most from them. She said the country cracks down on such hackers according to the law.
Hua said: "Cyberspace needs rules and cooperation, not wars. China is willing to have constructive dialogue and cooperation with the global community, including the United States."
Last September, President Barack Obama discussed cybersecurity issues on the sidelines of a summit in St. Petersburg, Russia, with Chinese President Xi Jinping.
White House spokesman Ben Rhodes said at the time that Obama had addressed concerns about cyber threats emanating from China. He said Obama told Xi the U.S. sees it not through the prism of security but out of concern over theft of trade secrets.
In late March, Defense Secretary Chuck Hagel revealed that the Pentagon planned to more than triple its cybersecurity staff in the next few years to defend against Internet attacks that threaten national security.
Hagel's comments at the National Security Agency headquarters in suburban Washington came as he prepared to visit China.
"Our nation's reliance on cyberspace outpaces our cybersecurity," Hagel said at the time. "Our nation confronts the proliferation of destructive malware and a new reality of steady, ongoing and aggressive efforts to probe, access or disrupt public and private networks, and the industrial control systems that manage our water, and our energy and our food supplies."
Thanks for reading CBS NEWS.
Create your free account or log in
for more features.