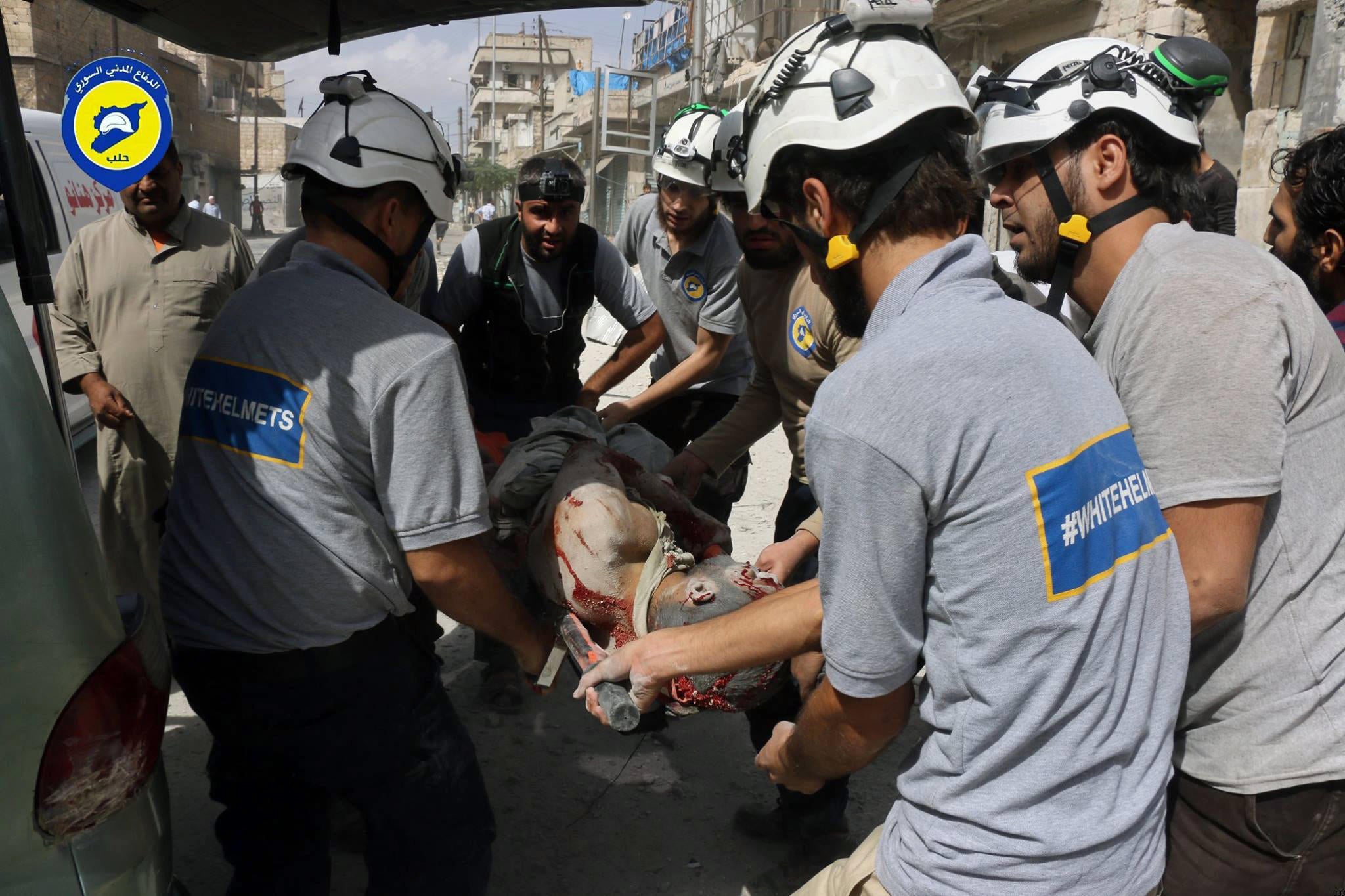 U.S. freezes funding for Syria's "White Helmets"
Less than two months ago the State Department hosted members of the White Helmets at Foggy Bottom. At the time, the humanitarian group was showered with praise for saving lives in Syria.
"Our meetings in March were very positive. There were even remarks from senior officials about long-term commitments even into 2020. There were no suggestions whatsoever about stopping support," Raed Saleh, the group's leader, told CBS News.
Now they are not getting any U.S funding as the State Department says the support is "under active review." The U.S had accounted for about a third of the group's overall funding.
"This is a very worrisome development," said an official from the White Helmets. "Ultimately, this will negatively impact the humanitarian workers ability to save lives."
The White Helmets, formally known as the Syrian Civil Defense, are a group of 3,000 volunteer rescuers that have saved thousands of lives since the Syrian civil war began in 2011. A makeshift 911, they have run into the collapsing buildings to pull children, men and women out of danger's way. They say they have saved more than 70,000 lives.
Having not received U.S. funding in recent weeks, White Helmets are questioning what this means for the future. They have received no formal declaration from the U.S. government that the monetary assistance has come to a full halt, but the group's people on the ground in Syria report that their funds have been cut off.
The group has an "emergency plan" if the funding is halted for one or two months -- but they are worried about the long-term freeze.
"If this is a long-term or permanent halt, it would have a serious impact on our ability to provide the same intensity and quality of services that we currently provide to civilians," said Saleh.
An internal State Department document said that its Near East Bureau needed confirmation from the administration to green light funding for the White Helmets in Syria by April 15th or the department would initiate "shut-down procedures on a rolling basis." That document also said that the department needed to be notified by April 6th that it could continue programs that focus on removing land mines, restoring essential services and providing food to moderate forces and their families or those programs would also have to be shut down.
However, U.S. government officials are not talking on the record about the date of the actual funding cutoff for each program, which is leading to confusion.
State Department spokesperson Heather Nauert has previously called the White Helmets "selfless men" and asked journalists to watch a documentary about their work. But the State Department did not respond to a CBS News inquiry earlier this week about which programs are still receiving funding, and the date for when certain programs will lose their funding.
President Trump put a freeze on the $200 million in U.S. funding for recovery efforts in Syria in late March. This freeze means that U.S. support for the White Helmets is not the only project in jeopardy. There are also many other stabilization efforts that are backed by the U.S. -- including the clearing of explosive devices, bringing back electricity, rebuilding schools, and getting water running -- that may end soon.
U.S. officials are working to see if there is a way to adjust existing funding to cover the costs for these projects. They are also trying to get other countries, such as Germany, to cover some of the costs. Earlier this year, at the Brussels for the donor conference for Syria, German Foreign Minister Maas pledged more than $1.1 billion to help people in need in Syria. But as of now, Germany has not officially committed to stepping in beyond this initial commitment.
Observers are also increasingly concerned about Syria's young people, who are more prone to radicalization if they don't get the security and support that they need. As a result of the fighting in the country, thousands of schools have been destroyed. The handful of schools that opened their doors again have received simple necessities like chairs, tables and blackboards from the U.S. -- but in most schools children are still sitting on the ground, and teachers are extremely hard to come by.
"The amount of U.S. support is very limited but it is better than nothing, so if that will stop, that will be a disaster. After ISIS they started to open the schools and if money stops, that will be done," said a senior member of the Deir ez-Zor city council. "Without education the people only have ISIS ideas."
This week, the State Department said it would continue to defend its partners on the ground in Syria when they announced the final operations to liberate ISIS strongholds in the country.
"The fighting will be difficult, but we and our partners will prevail. We will defend United States, Coalition, and partner forces if attacked. The days of ISIS controlling territory and terrorizing the people of Syria are coming to an end," wrote State Department Spokesperson Heather Nauert. She did not write anything about the stabilization projects.
Meanwhile, much of Syria that has been cleared of ISIS control -- such as Raqqa, its self-proclaimed capital -- is still in ruins and almost impossible to live in.
"Raqqa is like a sick person in an emergency room. So the money or treatment should come faster than the routine way. He is not a normal sick person," Abdullah al-Arian, a lawyer in Raqqa advising the governing Civil Council.
"The passion and power the U.S. put in to liberate Raqqa does not at all equal the passion to rebuild Raqqa. It is very much different, much less, much more slow," says al-Arian. "They give us very beautiful words and promises but not much else."
Thanks for reading CBS NEWS.
Create your free account or log in
for more features.