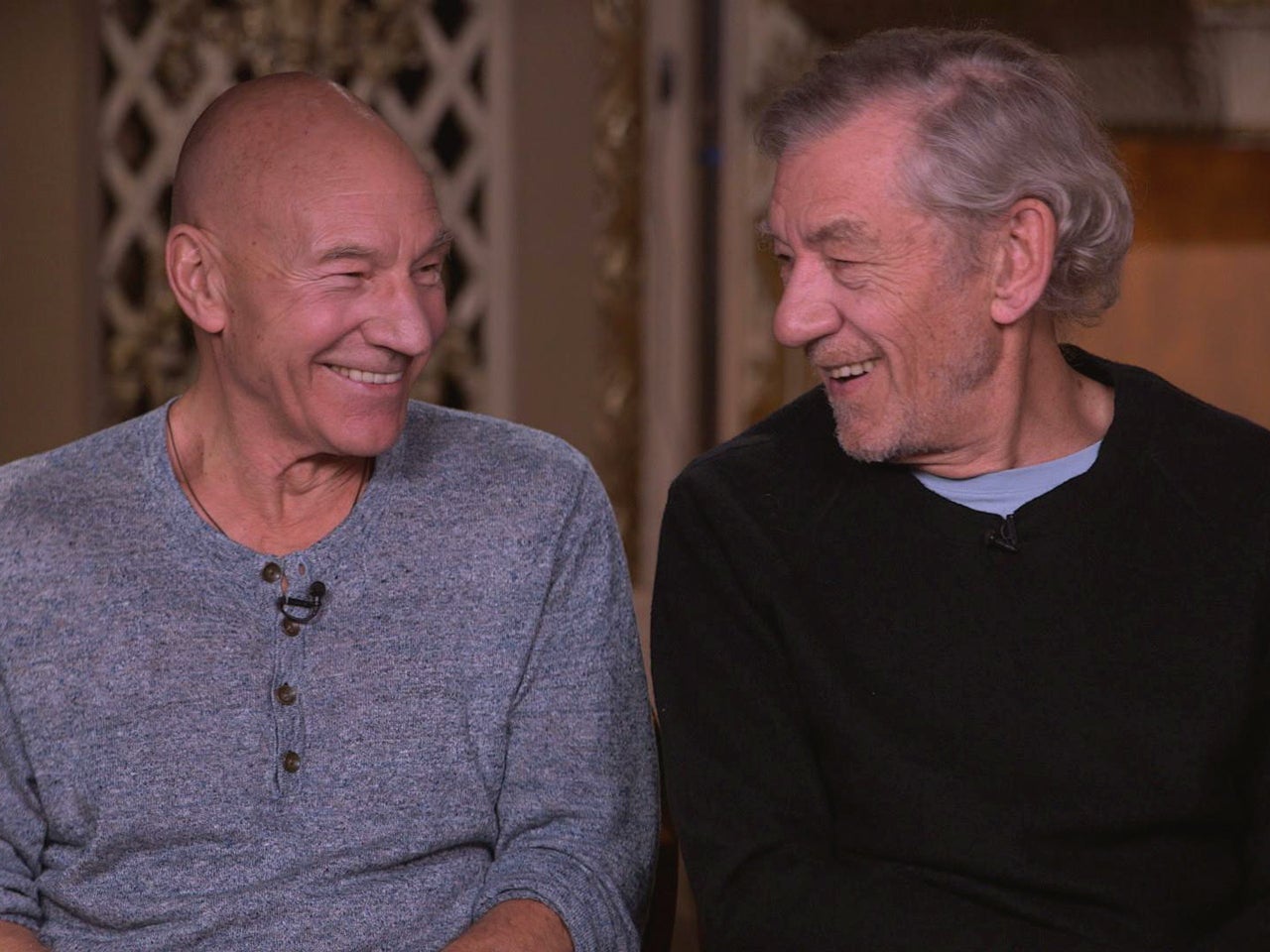 Two Sirs: Ian McKellen and Patrick Stewart
(CBS News) Sir Ian McKellen and Sir Patrick Stewart played fierce rivals in the popular 2000 film, "X Men." Now the "Two Sirs" are rehearsing for a double-header of a theatrical run on Broadway . . . while making time to talk to Lesley Stahl of "60 Minutes":
It is rare, if not unprecedented, that two of the world's greatest stage actors star together on Broadway in not one, but two classic plays: "Waiting for Godot" by Samuel Beckett some nights, and Harold Pinter's "No Man's Land" on others.
They're known as "The Sirs": Ian McKellen, going strong at 74; the same for Patrick Stewart at 73.
Who knew that these two enemies in the "X Men" movies -- Professor X and Magneto -- are in real life such close friends that Professor X asked Magneto to marry him!
"Yes! I didn't marry him as his partner, you understand," said McKellen. "I was the minister."
Sir Ian married Sir Patrick and 35-year-old singer-songwriter Sunny Ozell.
"It was my wife's idea," said Stewart, who has been married all of three weeks. "That word still sits a little uncomfortably on my lips."
The Two Sirs, both knighted by Queen Elizabeth, met in the 1970s in the Royal Shakespeare Company, where McKellen was already playing the great parts.
Stewart, who worshipped him, found him to be, well, intimidating.
Was he austere, Stahl asked?
"In my glimpses of him in the green room at Stratford, a certain aloofness or austerity about him, which I know -- you see this charming, smiling man now -- will seem unbelievable to you. But he was younger."
He's softened? Mellowed?
"Yes, yes, of course," said McKellen. "I think I've become more modest as the years have gone on. I've become less -- "
Cough! Cough! "Excuse me . . . Oh God, I'm really sorry," said Stewart. "I think I need a strong drink or something!
"That was a dreadful bit of overacting," said McKellen. "Well, they do that in Yorkshire."
WEB-ONLY VIDEO: The two thespians discuss their regional differences in the video clip below.
Normally people from Yorkshire, like Stewart, and those from McKellen's Lancashire aren't supposed to get along, going back to the War of the Roses in the 15th century.
But they bonded on the set of "X Men."
"With that kind of movie, you do tend to spend more time in the trailer than actually on the set," said Stewart. "And we had very comfortable trailers. And we hung out and -- "
"You schmoozed?" asked Stahl.
McKellen laughed, "It was great fun for me though, because Patrick and I have had very similar careers, really."
They worked their way on stage in England through the great playwrights, from Shakespeare to Chekhov to Ibsen, and then, somewhat later in life, into television and the movies, where they both gained worldwide recognition.
Stewart, in his late forties, played Captain Picard for seven seasons in "Star Trek: The Next Generation."
McKellen was in his 60s when he took on the role of the wizard Gandalf in "The Lord of the Rings" trilogy.
Both men have used acting to escape from their personal struggles. McKellen kept his being gay a secret for years, coming out almost inadvertently on a radio show in the late '80s.
Once he did, he says he grew as an actor.
"It was only when I actually came out that I cried freely for the first time on stage, because this great emotional block, this secret that I'd been keeping my own nature down, was cracked, destroyed," McKellen said. "Then, suddenly everything flowed. I was a real person."
As a young boy, Stewart tried to keep his abusive father from beating up his mother. He, too, turned to acting as an escape.
When asked why he wanted to play Captain Picard, Stewart replied, "I was simply channeling my father, who was a professional soldier for much of his life. He was the regimental sergeant major of the parachute regiment."
"But you had conflict with your father," said Stahl. "You've been open about this. He was abusing your mother."
"Yes, he was. And I hated him for that. But I also wanted to adore him, too. And I know that a lot of what I did early on in my career -- and still possibly what I do now -- is somehow in some way to please him."
He may have made career choices to please his father, but Stewart felt no obligation to please Sir Ian when it came to choosing roles.
"At the time I was one of I don't know how many who advised Sir Pat not to go and do 'Star Trek,'" McKellen laughed.
"The only one, actually," Stewart said.
"Oh, was I? Okay. We happened to bump into each other in Los Angeles and he said this opportunity was his. And I said, 'Well, you'll be seven years out of London.' And knowing what his career had been so far, I thought it was a very dangerous corner to turn.
"But my advice was spurned, quite rightly," added McKellen. "And here we are."
And where they are is rehearsing for their two plays: Pinter's "No Man's Land," and Beckett's "Waiting for Godot," which they starred in together in 2009 in London.
Sir Ian had so loved doing it back then, he pushed Stewart to revive it on Broadway.
After McKellen did "Godot" with Stewart, he wept when it was over.
"I recall vividly," laughed Stewart. "In fact, it's on film. I had no idea it was going to come. But the curtain came down on our last performance, and he went into the wings and sat on some stone steps and sobbed, heartbroken that it was over."
"Yes, I was heartbroken,' said McKellen. "And then we were going to say goodbye to each other. You were going off to do other things and I just felt I would never be as happy again."
The final performance was captured in a documentary called "Theatreland."
"I don't think you'll see me crying," said McKellen. "I think you'll hear me crying, 'cause I go into another room where the camera didn't follow."
"You're saying that my recollection of you sitting on the steps with your head in your hands is not accurate?" asked Stewart.
"Well, that's the nature of your own memory, and mine. I don't know," replied McKellen.
"This could be a moment out of either one of our two plays!" Stewart laughed.
Both "Godot" and "No Man's Land" explore aging and friendship, which apply not just to the two plays, but the Two Sirs as well.
"We are the same actor, really," said McKellen. "We've had the same career, really. Doesn't it feel like that to you?"
"Yes, very often," replied Stewart.
"So we're peers," said McKellen. "We're equals. We're not rivals."
WEB EXCLUSIVE VIDEO: Patrick Stewart and Ian McKellen on "X Men" & wizards (Click on the video player below)
MORE VIDEO:
Patrick Stewart on Yorkshire dialect and "Star Trek"
The actor discusses with Lesley Stahl how playing Captain Picard changed his life.
Ian McKellen on shyness and playing Gandalf
The actor tells Lesley Stahl that "Lord of the Rings" fans are like "surrogate grandchildren."
For more info:
Thanks for reading CBS NEWS.
Create your free account or log in
for more features.