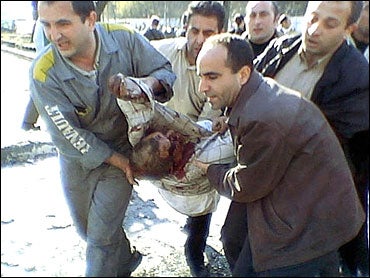 Turks Bust Alleged Qaeda Plotter
Turkish authorities have captured a Turkish man suspected of planning last month's deadly truck bombings in Istanbul after meeting with Osama bin Laden, an intelligence official said Friday.
Adnan Ersoz, who was captured Monday in Istanbul, confessed that he underwent explosives training in al Qaeda camps in Afghanistan in 2001 and 2002, said the official, who spoke on condition of anonymity.
Police said in a statement a man was seized as he entered the country upon his arrival by plane. They did not identify the man or give details but said they had been hunting him.
The semiofficial Anatolia news agency also quoted police sources as saying that Ersoz was the suspect.
The police statement said the man told interrogators that "a local structure has been established in Turkey in link to an international terrorist organization." Intelligence officials said the statement was referring to al Qaeda.
"He is one of the top guys who met with bin Laden and received his blessing for the attacks," the intelligence official said.
Intelligence officials already have named Habip Aktas and Ibrahim Kus as two conspirators who met with bin Laden in 2002 and received his consent and approval to stage terrorist attacks in Turkey.
It was not clear if Ersoz participated that meeting or met separately with bin Laden, the official said.
Ersoz was expected to be charged with involvement in the bombings later Friday. The official said that Ersoz was believed to be a messenger between the al Qaeda and the Turkish militants.
Aktas and Kus are still at large.
The intelligence official identified another key but lower ranking suspect as Gokhan Bac, who also was at large. Bac was suspected of preparing the bomb with another captured militant, Fevzi Yitiz.
Ersoz was captured in Istanbul only one week after Turkish forces arrested Yitiz after he sneaked into Turkey from Iran. Ersoz's name was first learned by the police during the interrogation of another key suspect, Yusuf Polat, captured earlier.
In his interrogation, Ersoz allegedly confirmed that their first target was a Turkish military base used by the United States in southern Turkey, but militants stymied by tight security bombed two synagogues on Nov. 15 and the British Consulate and a London-based bank in Istanbul only five days later.
The daily newspaper Hurriyet also reported Friday that Ersoz has said the militants have been preparing for the attacks for about two years.
The Istanbul bombings, simultaneous attacks against two synagogues on Nov. 15 and two attacks against British targets only five days later, bore the signature of al Qaeda, an anti-terrorism police official said. The attacks killed 62 people.
The attacks appear to be part of a growing trend in terrorism — bombings by al Qaeda trained activists who have returned to their home countries and are maintaining only weak ties with the central group, terrorism experts say.
Almost all of the world's terrorist attacks attributed to al Qaeda or groups linked to the terror network since the Sept. 11 terror attacks have taken place in Muslim countries — including Indonesia, Pakistan, Saudi Arabia, Turkey, Morocco, Tunisia and Yemen.
Bin Laden, during his meeting with Aktas and Kus, first suggested an attack against Incirlik Air Base, a sprawling facility used by U.S. troops or U.S. or Israeli ships using the Mediterranean port of Mersin, according to the police description of Yitiz's interrogation.
But security at the air base and the Mersin harbor made the attack too difficult. Coast guard cutters protect the harbor and Turkish forces patrol the base's perimeters. A high wall also was erected around the base before the Iraq war.
That forced the alleged conspirators, Aktas, Kus and Azad Ekinci — all of whom are believed to have trained in Afghanistan — to change the attack plans, the police official said.
It took a few months for the attackers to pick new targets and recruit four suicide bombers, the police said. Binoculars, wireless radios and cameras were seized in raids after the attacks.
Turkey has been chasing possible links between local Islamic groups and al Qaeda since a notebook containing instructions in Turkish on how to carry out suicide bombings was found in a deserted al Qaeda training camp in Afghanistan in 2001.
While most Turks are Muslims, Turkey's government has always been strictly secular, and the powerful military has taken power three times since 1960 to repress Islamic parties. The current government is led by an Islamic party, though, which is under pressure to stamp out militants.
Thanks for reading CBS NEWS.
Create your free account or log in
for more features.