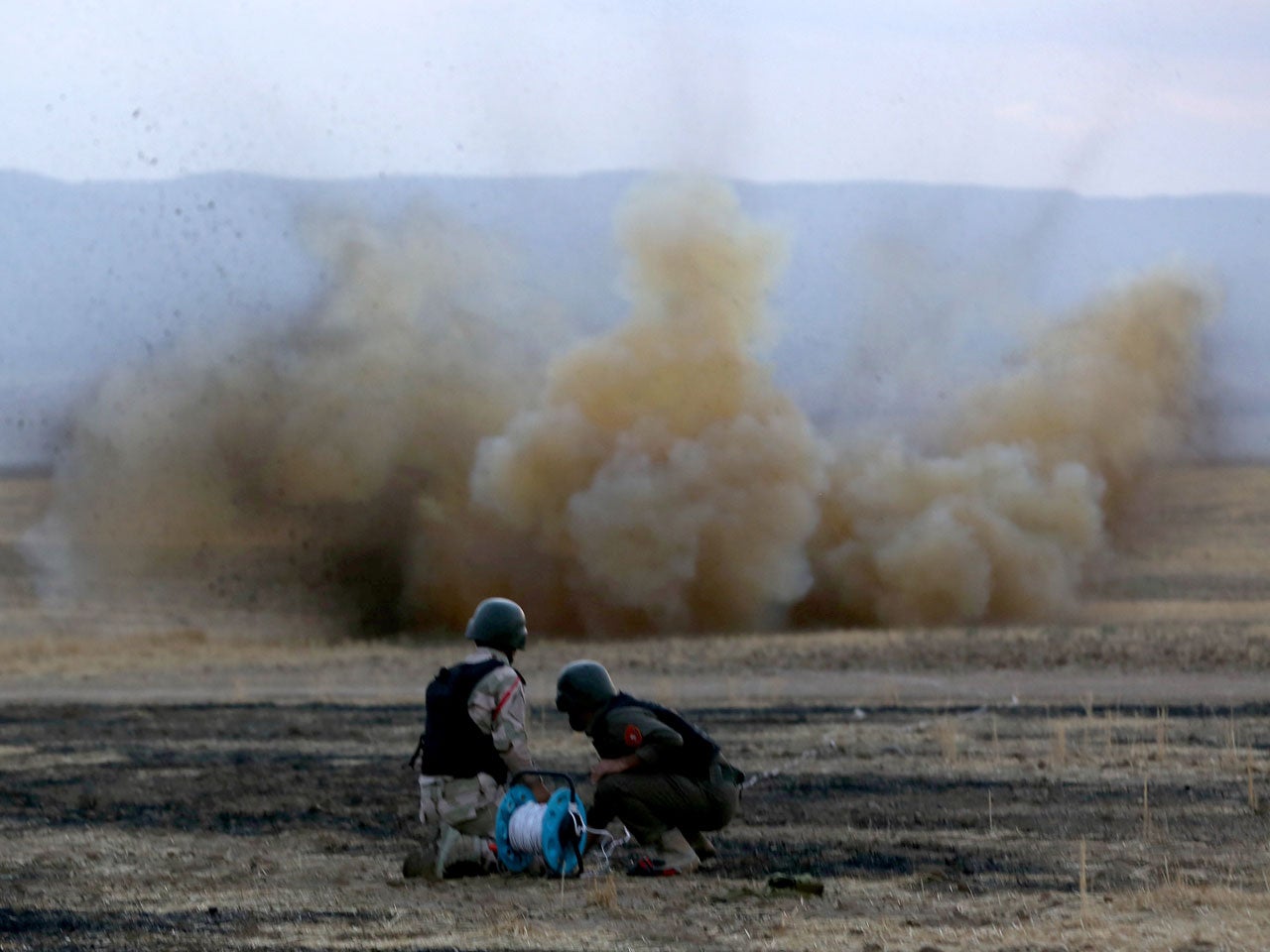 Turkey balks at arming Kurds against ISIS
SURUC, Turkey - Turkey would not agree to any U.S. arms transfers to Kurdish fighters who are battling Islamic militants in Syria, President Recep Tayyip Erdogan was quoted as saying Sunday, as the extremist group fired more mortar rounds near the Syrian-Turkish border.
Turkey views the main Syrian Kurdish group, the PYD - and its military wing which is fighting the Islamic State of Iraq and Syria (ISIS) - as an extension of the PKK, which has waged a 30-year insurgency in Turkey and is designated a terrorist group by the United States and NATO.
The United States has said recently that it has engaged in intelligence sharing with Kurdish fighters and officials have not ruled out future arms transfers to the Kurdish fighters.
"The PYD is for us, equal to the PKK. It is a terror organization," Erdogan told a group of reporters on his return from a visit to Afghanistan.
"It would be wrong for the United States - with whom we are friends and allies in NATO - to expect us to say 'yes' to such a support to a terrorist organization," Erdogan said. His comments were reported by the state-run Anadolu agency on Sunday.
Turkey's opposition to arms transfers to the Kurdish forces is hampering the U.S.-led coalitions' efforts to fight the extremists and further complicating relations between Turkey and the United States. The countries are involved in negotiations about Ankara's role with the U.S. and NATO allies fighting ISIS, which is attempting to capture the strategic town Kobani on the Syrian-Turkish border.
Turkey is demanded that the coalition widen its campaign against the militants by providing greater aid to Syrian rebels, who are battling both ISIS' and President Bashar Assad's forces. Turkey has so far provided sanctuary to an estimated 200,000 Syrians fleeing Kobani, and recently agreed to train and equip moderate Syrian rebel fighters trying to remove Assad from power.
Fighting between ISIS the Kurdish fighters defending Kobani continued on Sunday. Mortar strikes hit the town, sending plumes of smoke into the air. Three mortars also fell on the Turkish side of the border, landing in an open field where they caused no injuries. On Saturday and Sunday, ISIS appeared to be targeting the border crossing area, potentially in a bid to hamper Kobani's last link to the outside world.
In an attempt to stave off the advance, a U.S.-led coalition has been carrying out airstrikes on ISIS positions in and near the town, as well as in other parts of Syria, particularly in the oil-rich eastern province of Deir el-Zour, as well as in Iraq. Several airstrikes hit Kobani on Saturday evening.
The flow of migrants into Turkey has intensified since ISIS intensified its push to take Kobani and cut access for Kurdish fighters to other areas of Syria they control.
The United Nations' humanitarian chief, Valerie Amos, visited one of the refugee camps set up in a school in the Turkish border town of Suruc.
While 900,000 people have been registered as refugees in Turkey since the Syrian crisis began four years ago, "the reality is that the numbers are nearer to 1.6 million," Amos said.
"Of course countries have concerns about security, and about the impact on their economies and on essential services like health and education. But it's also a crisis with a huge human impact," she said. "The international community has to continue to do all it can to find a political solution to this crisis."
Thanks for reading CBS NEWS.
Create your free account or log in
for more features.