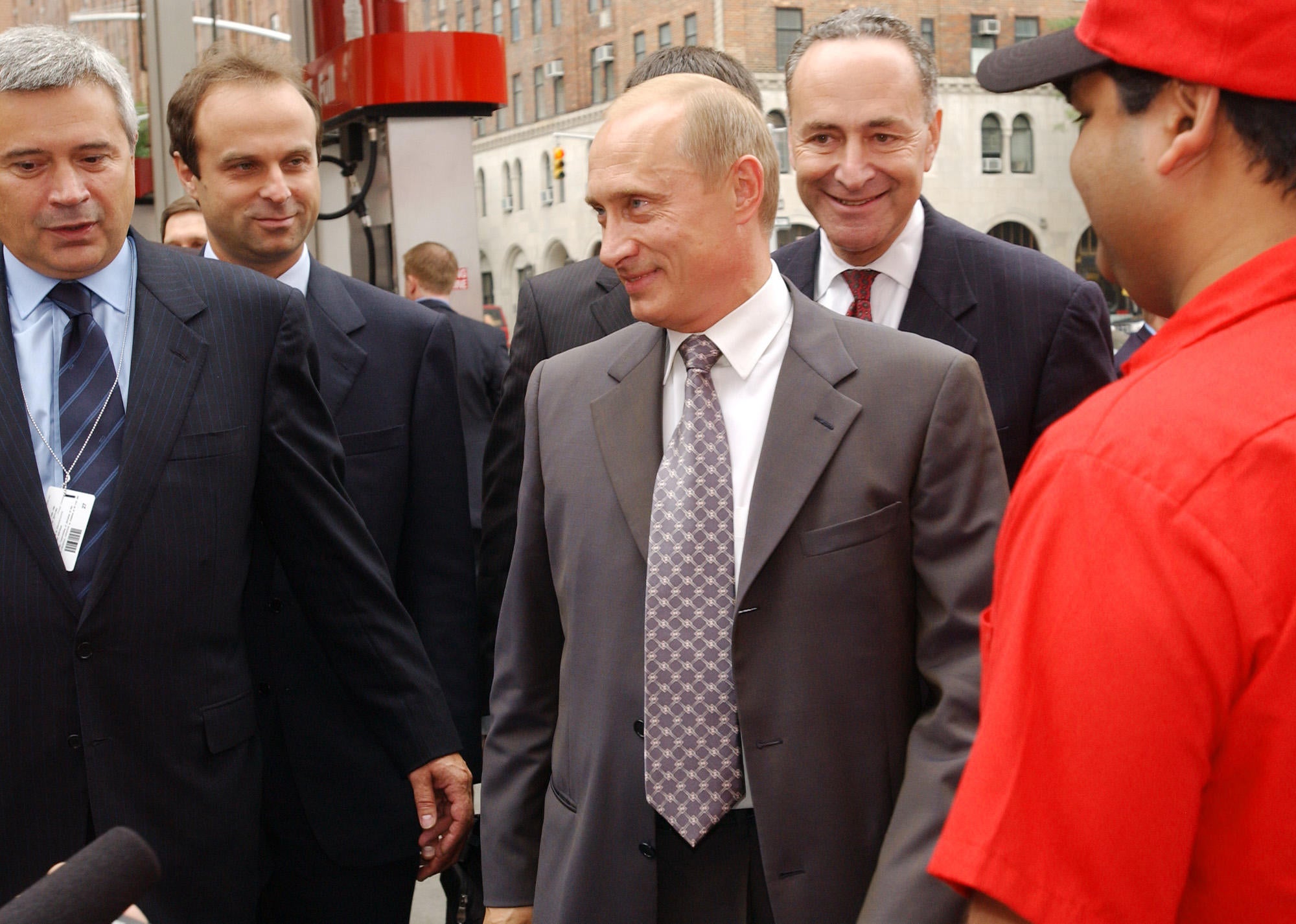 Trump tweets about Chuck Schumer, Nancy Pelosi photos with Putin, Russian envoy
After a week of noticeably less Twitter activity, President Trump is lashing out against Democrats over their treatment of Attorney General Jeff Sessions because of his contacts with Russian Envoy Sergey Kislyak.
Mr. Trump tweeted a demand for an investigation of Sen. Minority Leader Chuck Schumer over a photo of him with Russian President Vladimir Putin from 2003, and over House Minority Leader Nancy Pelosi over a photo showing her seated at a table with Kislyak, whom she denied having met.
Later in the afternoon Pelosi's Deputy Communications Director, Caroline Behringer, issued an official statement.
"Leader Pelosi's answer to the question today was clearly about private, one-on-one meetings, which she has never had with Ambassador Kislyak. The Ambassador was incidental to the 2010 meeting between then-Russian President Medvedev and then-Speaker Pelosi. Clearly, one needs to remind that Attorney General Sessions lied under oath about a secret meeting amidst Russia's hacking of our election, which he also didn't disclose in a written questionnaire."
Pelosi also offered a counter tweet.
Earlier Friday, Trump tweeted about Schumer.
Shortly after, Schumer tweeted that he would be "happy" to discuss the details of the photo. USA Today reported that Schumer's office confirmed the photo had been taken at the opening of a Lukoil gas station in New York City. The Associated Press also had a photo of the event.
Schumer disclosed one thing about the photo --
The Trump tweets come on the heels of Attorney General Jeff Sessions' recusal Thursday from any investigation into Mr. Trump's presidential campaign. Sessions had faced political pressure to recuse himself, and some Democrats demanded his resignation. He said in a news conference that ethics officials at the Department of Justice encouraged him to recuse himself. The day before, a Washington Post report revealed that he had met with Kislyak twice during the presidential campaign, although he had said in his Senate confirmation hearing that he had not had communications with Russian officials.
Thanks for reading CBS NEWS.
Create your free account or log in
for more features.