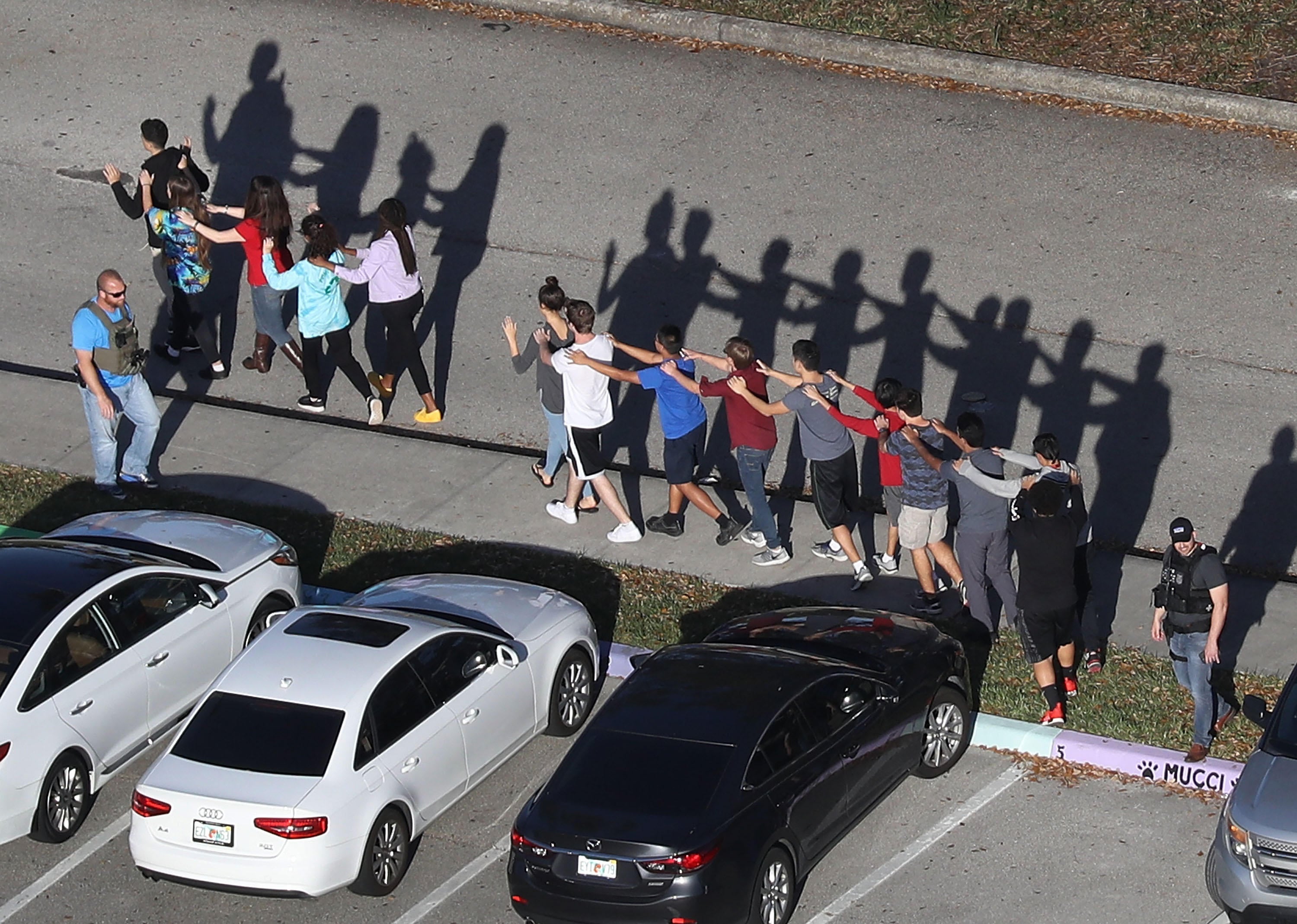 Trump calls on states, Congress to help "harden" schools against shootings
President Trump tweeted his opposition to keeping schools gun-free Monday morning, as his administration rolled out a plan to harden schools against school shooters, including a recommendation to train teachers and staff to use firearms.
The president's plan to combat school shootings is putting the pressure on states to pass measures to help stop would-be school shooters, as well as Congress, to slow the growing trend of mass shootings across the United States. The administration laid out its goals to prevent future mass shootings during a background call with senior administration officials on Sunday, nearly a month after the deadly school shooting in Parkland, Florida, that left 17 students and staff dead.
The plan recommends the president's more controversial suggestion of arming school personnel and appears to punt on background checks and raising the minimum purchasing age of long guns -- two areas the president appeared to be shifting his support toward.
During the background call, Education Secretary Betsy DeVos also announced she'll be chairing a new Federal Commission on School Safety as part of the administration's focus on studying the larger issue of school shootings.
"We will bring together a wide array of practitioners, including teachers, those on the front lines, to help identify best practices and solutions that are working in communities and states across our country. We really need to focus on prevention, and I identifying risks early on, and that starts by addressing social and emotional well being and increasing access and consistency and transparency to mental health services," said DeVos.
The DeVos commission currently does not have deadline to issue its recommendations, but a senior administration official explained this is an "urgent matter," and "we will be moving very promptly and urgently."
Among the line items the president is calling for in the effort to harden schools are:
States to pass risk protection orders which are temporary court issued orders that allow for law enforcement to remove firearms from individuals who are a demonstrated threat to themselves or others; and temporarily prevent such individuals from purchasing new firearms all while still protecting their due process rights

Congress to pass the Cornyn/Murphy legislation that will strengthen and improve the national instant criminal background check system.
Congress to pass the Stop School Violence Act, which provides state based grants to implement evidence based violence prevention programs and to fund it nationwide.
Rigorous firearms training at the state level to specifically qualified volunteer school personnel with funding to come from the DOJ

Increasing the integration of mental health primary care and family services as well as support programs that utilize court ordered treatment.

A full audit and review of the FBI's tip line in light of missed red flags during the recent Parkland, Florida shooting.

In the weeks since the massacre, Mr. Trump has held listening sessions with lawmakers, survivors of recent school shootings and the families of victims. He's also met and spoken with the heads of the powerful National Rifle Association. The NRA on Friday sued Florida over a new gun law signed by Republican Gov. Rick Scott that bans the purchase of firearms by anyone under the age of 21.
Asked why raising the minimum purchase age, as the President also showed interest in, was not included in the newly released plan, a senior administration official said that would be a state-based decision and something the DeVos Commission will also be looking at.
During previous meetings, Mr. Trump also advocated arming certain teachers and school staffers, arguing that gun-free schools are "like an invitation for these very sick people" to commit murder.
"If you had a teacher who was adept at firearms, they could end the attack very quickly," he has said. A senior administration explained that there were no hard numbers yet on how much such a training would cost, but the president had said during a listening session that arming teachers would be "much less expensive than the guards" and would more effective.
During the often free-wheeling conversations, Mr. Trump also seemed to voice support for "universal" background checks, which would apply to private gun sales and those at gun shows, instead of just from licensed dealers. He also raised eyebrows by suggesting that law enforcement officials should be able to confiscate guns from those they deem a safety risk even before a court has weighed in.
"Take the guns first, go through due process second," Mr. Trump said.
On why there was no mention of the Toomey/Manchin background check bill, which the President had shown interest in, a senior administration official said the president wants to improve our background check system, but wants Congress to act now on legislation that can pass immediately.
Sarah Huckabee Sanders, the White House press secretary, later walked back both suggestions, saying "Universal means something different to a lot of people." She said the president wanted to expedite the court process, not circumvent it.
Mr. Trump has also vowed to ban the use of bump stock devices that enable guns to fire like automatic weapons. The Department of Justice has also been moving forward with that effort. While there was no specific language for a ban on bump stocks included in the plan, a senior administration official said the president has already taken action to put the process in motion and there will be "action coming in the next few days" as to a formal announcement.
CBS News' Brian Gottlieb contributed to this report.
Thanks for reading CBS NEWS.
Create your free account or log in
for more features.