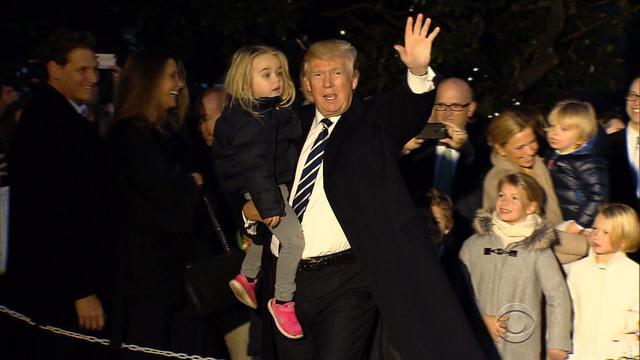 Trump offers full support for embattled Republican Roy Moore
WASHINGTON -- President Donald Trump is throwing his full support behind embattled Republican Roy Moore in the Alabama Senate race.
Mr. Trump tweeted early Monday that "Democrats refusal to give even one vote for massive Tax Cuts is why we need Republican Roy Moore to win in Alabama."
It was Mr. Trump's most full-throated endorsement of Moore, who has lost backing of many top Republicans since he was hit with allegations of sexual misconduct decades ago.
The president also called Moore to offer his endorsement.
"The President had a positive call with Judge Roy Moore during which they discussed the state of the Alabama Senate race and the President endorsed Judge Moore's campaign," said White House Principal Deputy Press Secretary Raj Shah.
Moore's wife, Kayla, posted about the call on Facebook.
Mr. Trump has assailed Democratic candidate Doug Jones and has defended Moore against allegations of child molestation. But the White House has said he has no plans to make campaign appearances.
Mr. Trump tweeted: "We need his vote on stopping crime, illegal immigration, Border Wall, Military, Pro Life, V.A., Judges 2nd Amendment and more. No to Jones, a Pelosi/Schumer Puppet!"
The president continued:
Moore responded that he was thankful for the president's endorsement :
Mr. Trump's tweets come as a new CBS News poll finds 71 percent of Alabama Republicans say the allegations against Roy Moore are false, and those who believe this also overwhelmingly believe Democrats and the media are behind those allegations.
The poll found 92 percent of Republicans who don't believe the allegations against Moore say the Democrats are behind the charges, and 88 percent say newspapers and the media are behind them.
Multiple women have come forward to accuse Moore of inappropriately pursuingor touching them when they were teenagers. The youngest woman to accuse Moore says she was 14 and he was 32 at the time.
Thanks for reading CBS NEWS.
Create your free account or log in
for more features.