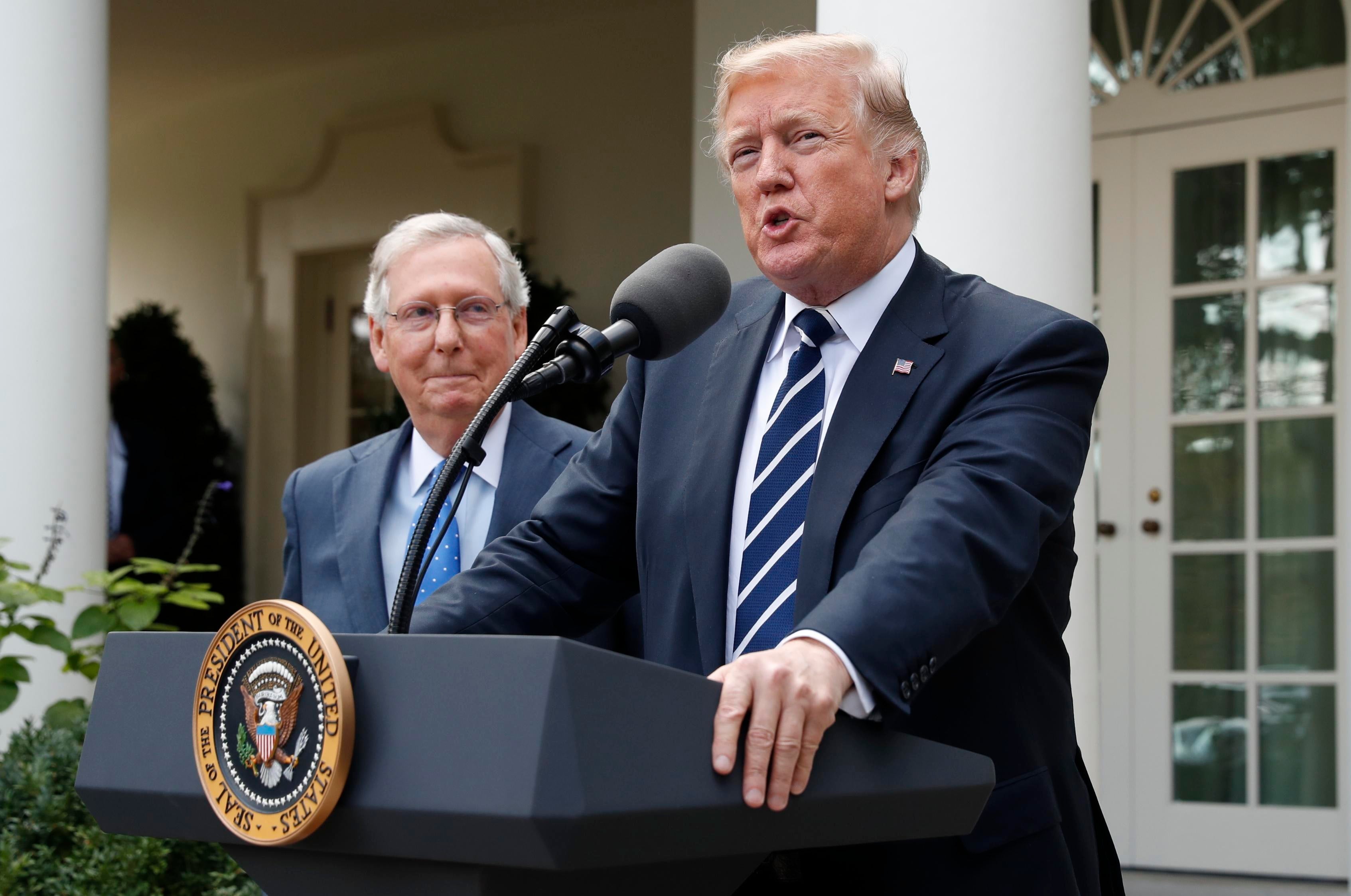 Trump says he and Mitch McConnell are "closer than ever before"
President Trump, with Senator Majority Leader Mitch McConnell standing by his side, declared that the relationship between the two of them is "very good," and the two are "closer than ever before."
After lunch at the White House, the president and Senate majority leader walked out to the Rose Garden for a last-minute news conference that lasted almost 50 minutes and touched on a number of topics. The president told reporters shortly beforehand, during a Cabinet meeting that he and McConnell would "say a few words on the steps" after their lunch.
The president, who has berated McConnell for failing to repeal the Affordable Care Act, said that he and McConnell have been "friends for a long time." "My relationship with this gentleman is outstanding," he declared, and said the two are "working very hard" on tax cuts for Americans.
While Mr. Trump wouldn't reveal whether he had an exact timetable in mind, he did tell reporters that he'd like to to see the tax measure completed sometime before the end of the year. McConnell echoed Mr. Trump's assessment, saying Republicans were "going to get this job done," comparing their effort to that of President Obama's long fight to provide Americans with health insurance.
"Legislatively, the top priority is tax reduction and I think what the president and I would like to say to you contrary to what some reported, we are together totally on this agenda to move America forward," added McConnell.
Their lunch meeting took place shortly after former White House adviser Steve Bannon called for the removal of McConnell as speaker.
Bannon said conservative voters, like those in his audience at the Values Voter Summit on Saturday, would be dropping their funding for McConnell's establishment candidates. "We've cut your oxygen off, Mitch," Bannon said.
Mr. Trump, who addressed the tensions at the cabinet meeting earlier on Monday, said "Steve is doing what Steve thinks is the right thing," but he added, "I'm going to see if we talk him out of that, because, frankly, they're great people."
He added that the Republican party was in fact "very, very unified" despite the fact that "we have no Democratic support, we have nobody."
McConnell's response to Bannon's declaration of war on him was to assert that his goal was to hold onto the majority, which, he said, "is not complicated."
"You have to have nominate people who can actually win, because winners make policy and losers go home," McConnell said. "We changed the business model in 2014; we nominated people who could win everywhere." He told reporters that his approach would be to support incumbents and to help nominate people who "can actually win." McConnell recalled 2010 and 2012, when Republicans nominated more candidates outside the mainstream -- Tea Party favorites Christine O'Donnell, Sharron Angle, Todd Akin and Richard Mourdock -- all of whom lost because they failed to appeal to a broader electorate.
While Mr. Trump spoke warmly of his relationship with McConnell, he was more dismissive of Democrats, who, he said "are doing nothing but obstructing. He said he hopes that he can have a relationship with Minority Leaders Sen. Chuck Schumer and Nancy Pelosi, "but if we don't, we don't."
During the news conference, President Trump also told CBS News chief White House correspondent Major Garrett that that he would declare a national emergency on opioid addiction next week. The president also said that he has not yet spoken with the man he has nominated to head the Drug Control Policy Office, Rep. Tom Marino, since CBS News' "60 Minutes" aired an investigation with the Washington Post that reported that Marino had introduced a bill that was promoted as a way to ensure Americans could access pain medication. But in fact, according to a DEA whistleblower, the measure interfered with the authority of the Drug Enforcement Administration to stop drug companies from pumping opioids into American communities. Mr. Trump called Marino "a good man," but he said that if Marino's actions have been "negative," he will make a change.
No confirmation hearing has been set up for Marino yet.
Thanks for reading CBS NEWS.
Create your free account or log in
for more features.