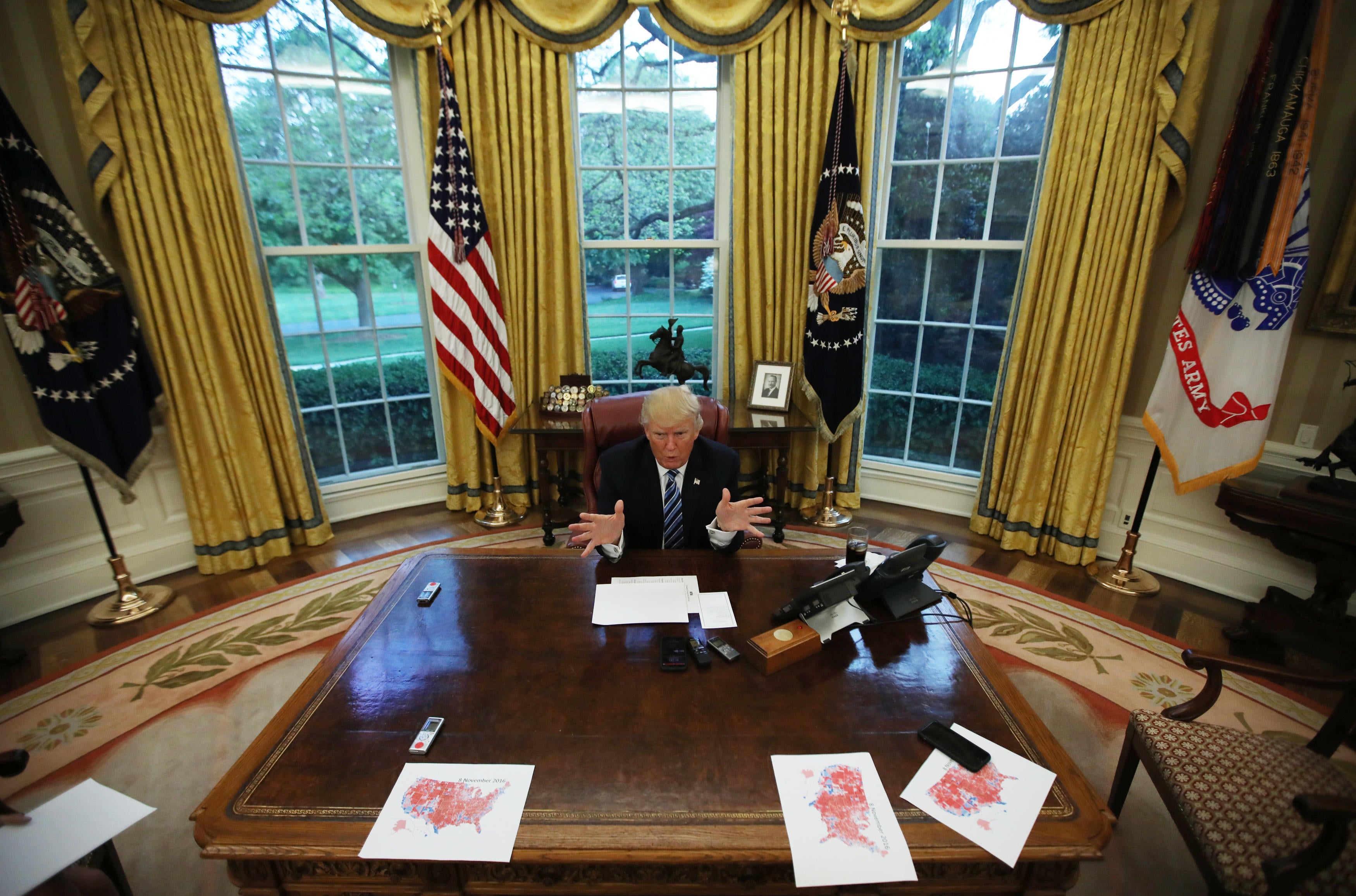 Trump focuses on first 100 day successes, triumphs in weekly address
In his weekly address to the American people, President Donald Trump focused on the triumphs and successes his administration has made in its first 100 days in office.
"I truly believe that the first 100 days of my administration has been just about the most successful in our country's history," said Mr. Trump.
However, Mr. Trump has failed to achieve many of the goals he set out during the campaign. Of 38 specific promises Trump made in his 100-day "contract" with voters, he has accomplished 10, mostly through executive orders that don't require legislation. None of the 10 pieces of legislation he promised to sign have been passed by Congress, and most have not been introduced.
In his weekly address, the president went on to say that "in just 14 weeks, my administration has brought profound change to Washington, the most fundamental change can be found in the relationship between the people and their government."
From his first day in office, Mr. Trump said, "I have governed by a simple idea, my only allegiance is to you, our wonderful citizens." He added, "Together we are seeing that great achievements are possible when we put the American people first."
The president noted he was the first president in modern political era to confirm a Supreme Court Justice in his first 100 days with the confirmation of Supreme Court Justice Neil Gorsuch early April.
"The last time it happened was 136 years ago in 1881," said Mr. Trump.
Mr. Trump hailed the auto industry as an economic success, saying car companies have come "roaring back" to the United States and that the country is "going up and it's going up fast."
The president also touched on the recent unveiling of his tax-cut plan, one Treasury Secretary Steve Mnuchin called "the biggest tax cut ever," saying it will have an enormous effect for the middle class and for American businesses.
Experts have cast doubt on Mnuchin's claim of the Trump plan representing the largest tax cut in U.S. history, pointing to the 1981 tax cuts under President Ronald Reagan and the extension of the Bush tax cuts under President Barack Obama in 2010.
Mr. Trump ended his speech by saying he was focused on the renewal of the American spirit, adding "as long a we always have faith in each other and trust in God, then the sun will always shine on our very glorious republic."
---
CBSN Originals recently returned to Erie, Pennsylvania to reconnect with locals who hoped a fresh approach in Washington would bring about change in their struggling home town. Airing on May 21 at 8 p.m. EST, "America | Redefining Hope" looks at how that hope has evolved.
Thanks for reading CBS NEWS.
Create your free account or log in
for more features.