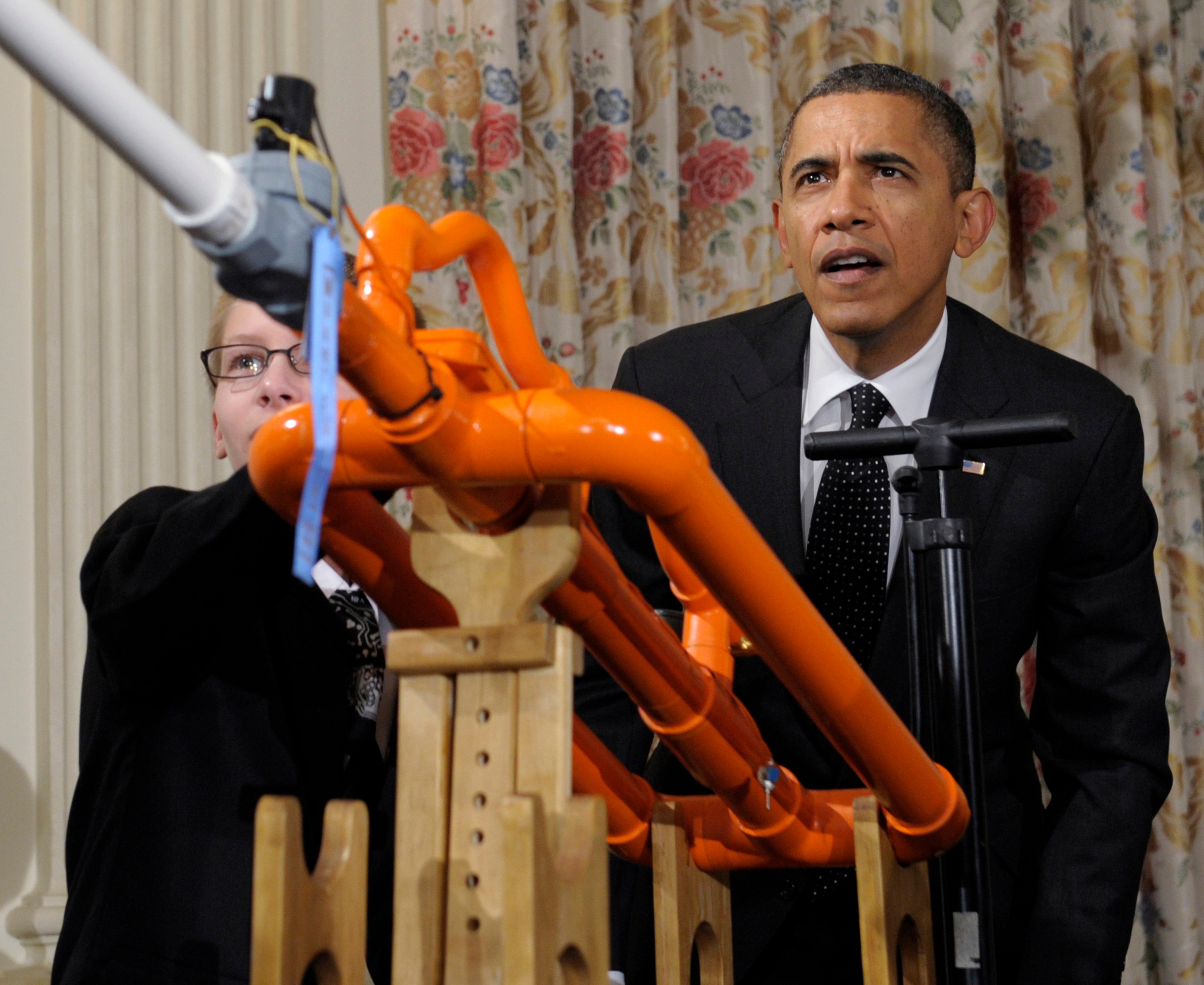 Trump administration to continue White House Science Fair
When college senior Maria Britton Hanes learned Donald Trump had won the presidency, her thoughts quickly turned to the fate of an Obama-era program that had profoundly impacted her.
What would become of the White House Science Fair?
"I didn't know how Trump would feel about it," she said.
In 2014, Britton Hanes presented her science project, the "Concussion Cushion," at the White House. The next day, the White House invited her back for its summit, which, as it happened, was on kids, sports and concussions. Hanes called the experience "life-changing."
While many in the science community have been apprehensive about the Trump administration's commitment to science, given the doubts he has expressed about climate change, and the cuts to scientific research in the White House's proposed budget, they have been relieved to find out that the administration plans to continue the science fair in 2017. A White House official confirmed to CBS News that the fair will continue under the Trump administration.
It will be the seventh White House Science Fair, and the first to be held outside of the Obama administration.
The event was conceived at the end of 2009 after President Obama promised to elevate math and science achievements.
"If you win the NCAA championship, you come to the White House. Well, if you're a young person and you produce the best experiment or design, the best hardware or software, you ought to be recognized for that achievement, too," President Obama said in November 2009.
The first White House Science Fair was held the next year, with five more in subsequent years.
The fairs produced memorable presidential moments, most notably, in 2012 when 14-year old Joey Hudy and President Obama shot a marshmallow from Hudy's "Extreme Marshmallow Cannon" across the State Dining Room, past George P. A. Healy's 1869 portrait of Abraham Lincoln.
Kumar Garg, who led the planning of the White House Science Fair in the Obama administration is glad the fair will continue beyond his tenure at the Office of Science and Technology Policy.
"Science is not partisan; nor are the wonderful STEM students who will keep fueling American innovation -- they deserve to be celebrated," Garg said. STEM is the acronym for science, technology, engineering and mathematics, and it describes curriculum geared to preparing U.S. students for an increasingly tech-focused workforce.
Though the 2017 event is likely still months away, planning has usually begun by now. The White House has not yet begun contacting organizations typically involved. Five organizations integral to the planning of past White House Science Fairs confirmed they haven't heard from the administration yet.
Maya Ajmera, President and CEO of the Society for Science & the Public, said if and when the Trump administration does reach out, her organization would be eager to participate. She runs three science education programs -- the Regeneron Science Talent Search, the Intel International Science and Engineering Fair and the Broadcom MASTERS -- and Ajmera's organization has participated in planning every White House Science Fair since the event's inception.
Some of the event's past teenage participants have come up with remarkable projects -- from cancer treatments to algorithms identifying black holes. It's a collection of real and inspiring talent. The high-profile event, Ajmera told CBS in a statement, "can only serve to encourage more young people to pursue a STEM field."
DiscoverE, the organization that runs the Future City Competition, has also participated in every past White House Science Fair. Executive Director Leslie Collins has not yet heard from the Trump administration and didn't expect to, but she said she believes the way this event makes STEM students feel goes beyond politics.
"For kids to be with the president, particularly homeless kids who have participated and underserved kids, just being there – it's hard to overstate how special they feel," Collins said.
Ivanka Trump has highlighted STEM education since Mr. Trump took office, urging young women to pursue careers in the field. On Thursday she announced she has set up a fund that will donate the unpaid advance and royalties from her book to charitable organizations. One of the first will be a grant of $100,000 to Boys & Girls Clubs of America's STEM program for girls and underrepresented youth.
"Boys & Girls Clubs' STEM program and STEM Centers for Innovation are helping produce a generation of STEM-ready youth who are equipped to fill the jobs of the future, become our next generation of innovators and solve our nation's most critical challenges," Ms. Trump said in a Facebook post.
But if her father has her way, STEM programs in areas like NASA's Education Office and the Education Department will see deep cuts to their funding. This also comes amid concerns of an understaffed Office of Science and Technology Policy (OSTP), the office that typically organizes the White House Science Fair.
The New York Times reported in March that OSTP's Office of the Chief Technology Officer has dwindled from a staff of 24 to just one, Deputy Chief Technology Officer Michael Kratsios. He's the former chief of staff for Peter Thiel's Thiel Capital. Thiel has been one of Mr. Trump's most prominent Silicon Valley supporters.
It is unclear if Mr. Trump plans make additional appointments in that office -- including a chief technology officer. One adviser to Mr. Trump's transition team, James Carafano, wrote a report for the Heritage Foundation last summer that questioned the functionality of OSTP and called it "largely redundant."
Meanwhile, on Saturday, the science community will channel its energy toward the "March for Science" -- demonstrations in Washington, DC and around the globe that "call for science that upholds the common good and for political leaders and policymakers to enact evidence based policies in the public interest," according to the March's website.
Thanks for reading CBS NEWS.
Create your free account or log in
for more features.