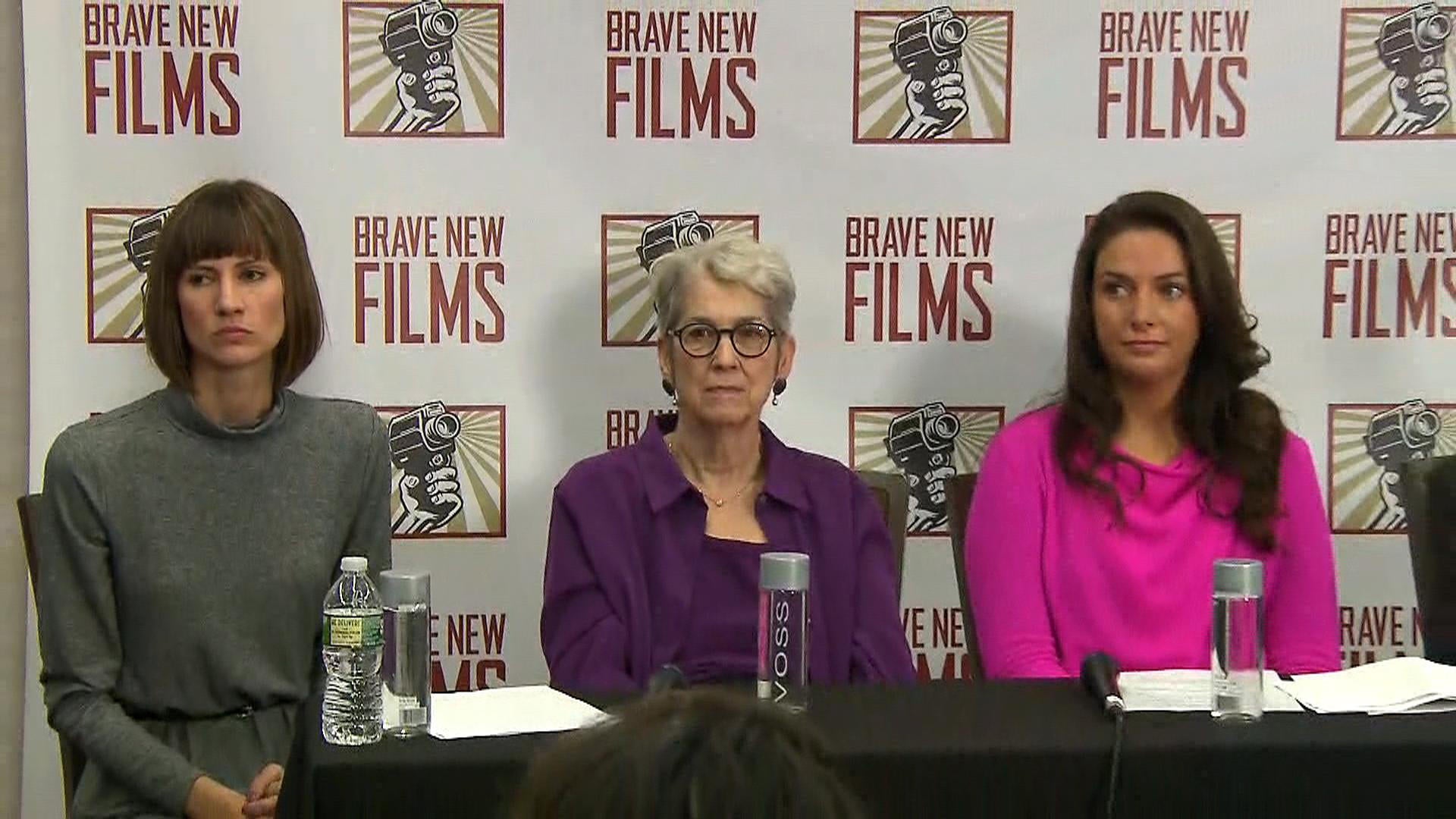 Female accusers of Trump call for Congressional investigation into misconduct
Several women who have publicly accused President Trump of sexual misconduct are speaking out together at a joint news conference on Monday in New York City, calling for Congressional action in light of the growing "Me Too" movement across the country.
Samantha Holvey, Jessica Leeds and Rachel Crooks all shared their past experiences with Mr. Trump jointly at Monday's event, which was held by the organization Brave New Films, a non-profit that creates media and film campaigns surrounding social justice issues.
The president of Brave New Films Robert Greenwald said that the 16 women featured in a video that share similar stories of sexual misconduct by the president now demand action.
"We know better, we know a lot better, predators and harassers must be held accountable," said Greenwald.
He added that Mr. Trump should be investigated and that "elected officials no matter what party affiliation should act."
One accuser, Rachel Crooks, called for Congress to "put aside party affiliations and investigate Trump's history of sexual misconduct." She called the actions carried out by the president "serial misconduct and perversion."
Accuser Jessica Leeds said she hopes with the popularity of the "Me Too" movement, it will fuel further pressure on the president.
"I am hoping that this will come forward and produce enough pressure on Congress to address it more than just for their own members but to address it with the president," said Leeds.
Samantha Holvey echoed that sentiment, saying a "non-partisan" effort to investigate Mr. Trump was imperative.
"They've investigated other Congress members so I think it only stands fair he be investigated as well," said Holvey.
She added, "A non-partisan investigation is important not just for him but for anybody that has allegations against them, this isn't a partisan issue, this is how women are treated everyday."
Mr. Trump had previously vowed to take legal action against the numerous women who have already leveled accusations of misconduct against him during the 2016 campaign.
Asked if the women were considering taking similar legal action as Summer Zervos, a former contestant on NBC's "The Apprentice" who accused the president of similar allegations and has since sued for defamation, they all said the "court of public opinion" would decide his fate.
Lawyers for Mr. Trump said he was "too busy" to attend a recent court appearance in that case.
The women all agreed that the president should resign as a result of the repeated claims of misconduct, but conceded it was unlikely that would come to fruition.
"Unfortunately I feel the sexual aggression issue is kind of low on the list of issues wrong with Trump but it's important enough to me to bring this up and hope we can get some sort of change in our culture that will improve the situation going forward," said Leeds.
Holvey agreed, saying, "I believe other folks have resigned so I think he should, I don't think he ever will, but I think it's the public that needs to be aware this is the type of person he is."
When asked how the women felt about Mr. Trump's endorsement of embattled Alabama Senate candidate Roy Moore, they called it "horrifying" and "disgusting." Moore has been accused by several women of sexual misconduct when they were minors.
"It's confusing because you would think that the good people of Alabama could see through this, but we've gotten so polarized with politics, they want to keep a Republican seat even though it's a pedophile," said Leeds.
Crooks meanwhile said the endorsement of Moore made "perfect sense for him", saying after the president was elected amid misconduct allegations, he is now "passing the torch" to Moore.
The women's comments come after Mr. Trump recorded a robocall for the Moore campaign in a final push ahead of Tuesday's special election.
Earlier, the women that attended today's event also shared their story with NBC's Megyn Kelly on Monday morning, where the White House responded to their claims.
The statement, citing a White House spokesperson, was read during Kelly's segment of the Today show.
"These false claims, totally disputed in most cases by eyewitness accounts, were addressed at length during last year's campaign, and the American people voiced their judgment by delivering a decisive victory. The timing and absurdity of these false claims speaks volumes and the publicity tour that has begun only further confirms the political motives behind them," the statement read.
The press conference comes just one day after Mr. Trump's ambassador to the United Nations Nikki Haley told CBS' "Face the Nation" that female accusers of the president have the right to be "heard" and "dealt with."
"I think we heard from them prior to the election. And I think any woman who has felt violated or felt mistreated in any way, they have every right to speak up," said Haley.
She added, "I know that he [Trump] was elected. But, you know, women should always feel comfortable coming forward. And we should all be willing to listen to them."
Thanks for reading CBS NEWS.
Create your free account or log in
for more features.