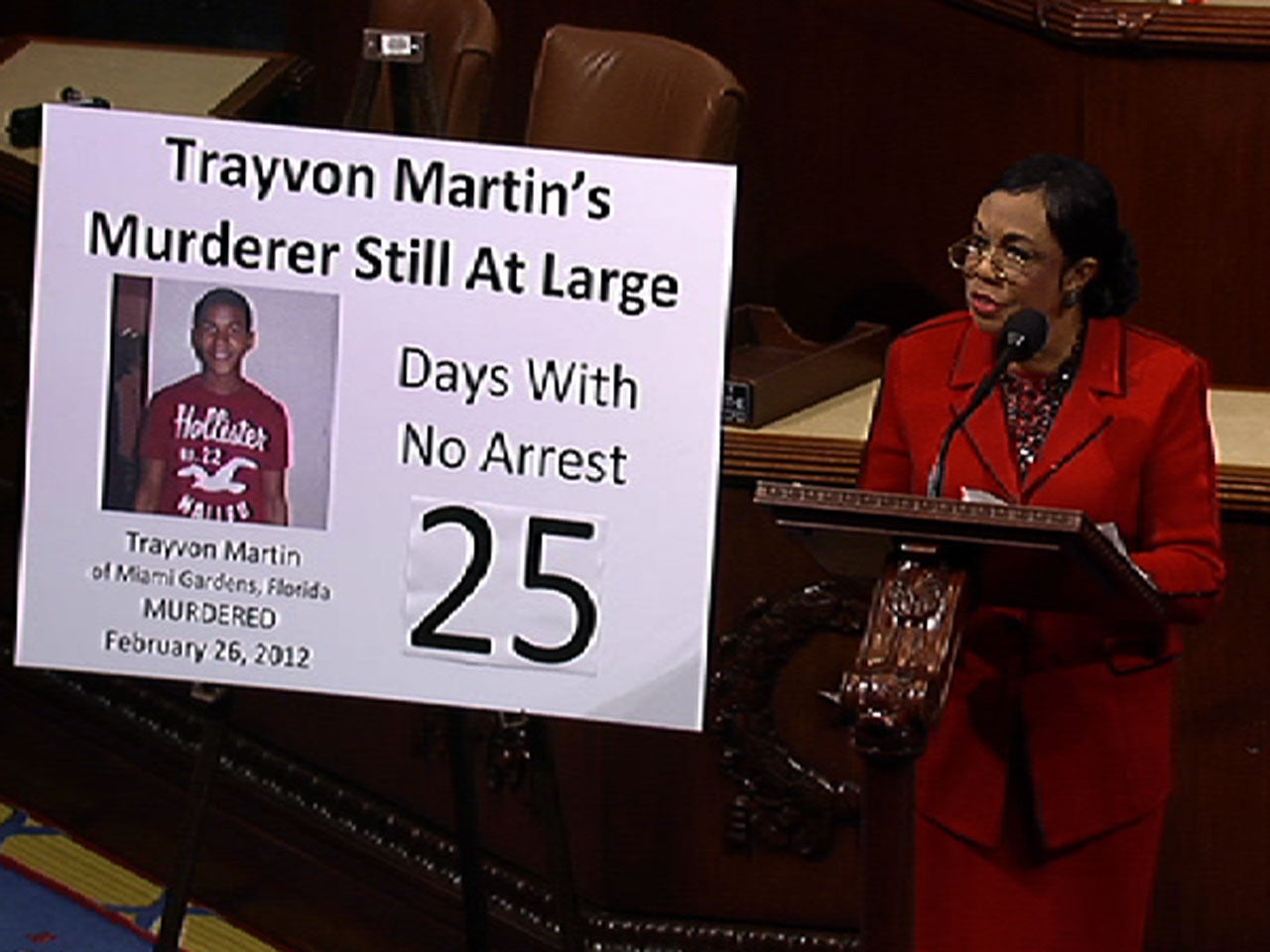 Trayvon Martin shooting spurs lawmakers to call for more action
The ongoing controversy surrounding the fatal shooting of an unarmed 17-year-old in Florida is spurring state and federal lawmakers to call for more action, including the arrest of shooter George Zimmerman and a review of the law that has so far let him go free.
Democratic Rep. Frederica Wilson of Florida took to the House floor on Wednesday to call for justice for Trayvon Martin, the 17-year-old African-American teen who was shot 25 days ago. Martin lived in Wilson's Sanford, Florida district, and the congresswoman said she would take to the House floor every day "and announce to America how long justice for Trayvon Martin has been delayed."
"Every single day new evidence emerges, and still there is no arrest," Wilson said. "What does it take? What more does it take?"
She called the incident "a classic example of racial profiling quickly followed by murder."
Three weeks ago, Zimmerman shot and killed Martin after a confrontation in a gated community. Zimmerman was acting as a self-appointed neighborhood watch captain and maintains he shot Martin in self-defense. But Martin's girlfriend, who was on the phone with him when it happened, says Zimmerman was the aggressor. Before he shot Martin, Zimmerman called 911 and told an operator an unfamiliar African-American was in the neighborhood. The 911 operator told Zimmerman to stop following him.
The U.S. Justice Department has opened a civil rights investigation in the case and the local Florida prosecutor has convened a grand jury to consider criminal charges, but outrage continues to grow.
On Tuesday, Wilson said on the House floor she's "tired of burying young black boys."
Democratic Rep. Corrine Brown, another Sanford congresswoman, similarly said on the House floor Wednesday that there should be an arrest in the case.
"In a society that we live in, it's very important that we have to feel that the criminal justice system is fair. And it's fair to all parties," she said. "I cannot stand before you today saying that I feel that the system operated fairly."
On Tuesday, Florida Gov. Rick Scott told activists the state needs to revisit the law that has allowed Zimmerman remain free.
"If there's something wrong with the law that's in place, I think it's important we address it," Scott told a group of about 50 protesters in the lobby of his office, the Palm Beach Post reports. "I'm going to look at it. If what's happening is it's being abused, that's not right. We all want to live in a safe place."
Multiple Florida lawmakers have, along with Scott, called for a review of the "stand your ground law," passed in 2005, that allows individuals to use of deadly force when they feel threatened.
Meanwhile, activists continue to organize rallies and events to bring attention to the issue. On Wednesday, NAACP President Benjamin Todd Jealous joined local NAACP leaders at an open forum at which residents complained of other alleged incidences of abuse and discrimination from the Sanford Police Department. The NAACP is submitting this testimony to the Justice Department.
Martin's parents have started an online petition calling for Zimmerman's arrest that has so far garnered more than 800,000 signatures.
Photos: Trayvon Martin
"Stand your ground" author: Zimmerman not covered
Rev. Al Sharpton plans rally over Trayvon Martin killing
Activists demand George Zimmerman's gun permit
Thanks for reading CBS NEWS.
Create your free account or log in
for more features.