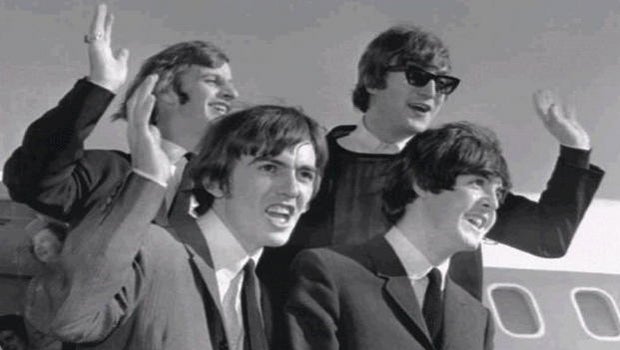 Transistor radios: The technology that ignited Beatlemania
This piece by Steve Greenberg is part of a series of essays to mark the 50th anniversary of the Beatles' first American television appearance on CBS's "The Ed Sullivan Show." It culminates with CBS News, 50 Years Later...The Beatles at The Ed Sullivan Theater: Presented by Motown The Musical, a live, interactive multimedia event at The Ed Sullivan Theater on Feb. 9.
Had Capitol Records stuck to its original launch plan for the Beatles' "I Want to Hold your Hand," the insanity which gripped American teens could never have happened in time for the Ed Sullivan broadcast on Feb. 9.
Capitol had intended to release the Beatles' single in mid-January of '64, but reluctantly brought the release date up to Dec. 26, 1963 after a Washington, DC radio station leaked the record in response to to a request by a teenage girl who'd seen a piece on British Beatlemania air on the "CBS Evening News With Walter Cronkite."


Moving the release date up had an unexpected benefit. In 1963, the average American teen listened to the radio for slightly more than three hours per day. With kids out of school for all of Christmas week, that number was undoubtedly even higher. And, importantly, the most common stocking-stuffers received by teens that Christmas were transistor radios, which had become cheaper than ever.

Although wildly popular since the mid-50's, the Japanese-made transistor radio experienced exponential sales growth in the mid-60's, as inexpensive off-brands proliferated. While 5.5 million sets had been sold in the U.S. in 1962, by 1963 that number nearly doubled to 10 million. So ubiquitous was the transistor radio as a holiday gift in 1963 that the popular comedy songwriter Allan Sherman recorded a "12 Days of Christmas" parody keyed around having received a Japanese transistor radio "on the first day of Christmas," with more and more details about the radio provided with each successive verse.

The transistor radio was the technological spark that lit the fuse of teen culture in the '60's. It enabled both public and private listening behaviors in a combination equaled by neither prior nor subsequent technologies. Public, because you could take it anywhere and share music with your friends in the schoolyard, on the beach, wherever, in an unprecedented fashion. Private, because you could listen through an earplug as you walked down the street, or sat in the back of the class, or lay in your bed at night, under the covers, so your parents wouldn't know.
Prior radios had neither portability nor the earplug; subsequent technologies--boomboxes, walkmen, iPods -- enhanced the public or private listening experience, but not both. The Maysle Brothers' film documentary about the Beatles' first U.S. visit shows the band members taking their Pepsi-branded transistor radio everywhere, listening both collectively and on earplugs to Top 40 stations. The Beatles even had a what we'd today call a "meta" moment, doing a face-to-face interview with New York DJ Murray The K in their hotel suite while simultaneously listening to that same interview being broadcast live on their transistor radio.

So imagine if you will teenagers across America, turning on their brand new transistor radios during Christmas vacation, 1963; listening for hours at a time, everywhere, alone and with their friends;,; and hearing—over and over again--a new sound that excited them even more than their new piece of hardware. Within its first three days of release, "I Want to Hold Your Hand" sold 250,000 copies, certainly more than any other single over that same period, and the Beatles were immediately the most talked about group in the country. DJs were quick to inform their listeners that the band would be coming to America in February for the Sullivan show, heightening the sense of excitement. "I Want to Hold Your Hand" was the floor-filler of choice at countless New Year's Eve parties as teens ushered in 1964.

And then things really got interesting…

Steve Greenberg is the author of "How the Beatles Went Viral in '64." He is a Grammy-winning record producer (Joss Stone, Baha Men), who has produced acclaimed historical compilations including "The Complete Stax/Volt Singles: 1959-1968." He is the Founder/CEO of S-Curve Records.

Thanks for reading CBS NEWS.
Create your free account or log in
for more features.